Dua Lipa is the pop star of our generation.
I've been a fan of Dua Lipa since "New Rules" and the release of her first self-titled album. It's been amazing to see her grow as an artist and as a true fashionista. While 2020 was no doubt the hardest year of my life, when I look back on the year, I remember how her album "Future Nostalgia" added some much needed light and dancing to the dreaded months. Topping the charts, winning awards, and making some iconic collabs, Lipa is truly on the top of her game.
From The Grammys to her Versace runway debut, I thought it was only right to take a look down memory lane and revisit some of Lipa's most iconic fashion moments. Styled by Lorenzo Posocco, Dua Lipa shares her bubbly spirit and good vibes through every outfit she graces us with. Her outfits — just like her music — are always one thing: fun. With life being as crazy as ever, it's refreshing to see a successful woman taking over the world on her own terms while having fun doing it. That's why I love Dua Lipa and her great personal style. From March 2021 to now, here are 20 of Dua Lipa's best fashion moments.
01. "The Vinyl Countdown!"
In between rehearsing for the 2021 Grammy awards and shooting her campaign for Evian Water, Lipa documented some of her looks for Vogue. "After Grammy rehearsals, I traded in my sweats for this vinyl moment…The Vinyl Countdown"' Lipa told Vogue. Wearing a Courrèges top and bottom with Casadei heels, and Martyre jewelry, Lipa looked stunning. This girly biker-esque look fits the star perfectly. It truly inspires me to step up my "in between class and running errands" looks.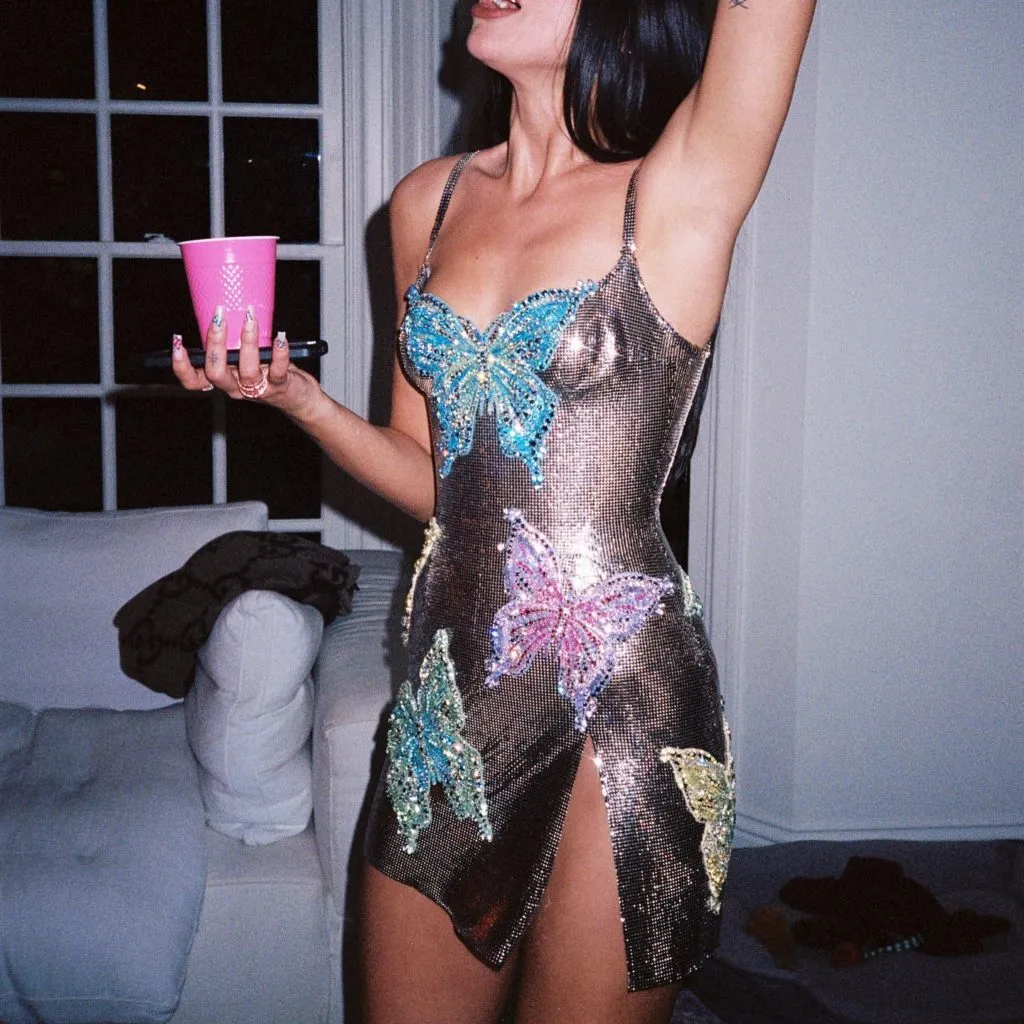 02. The Grammy After Party Look
This one is a double whammy. For the 63rd Annual Grammy Awards, Lipa wore two custom made Atelier Versace dresses. Her dress for the red carpet drew similarities to Mariah Carey's Emanuel Ungaro butterfly top look and Cher's iconic butterfly outfits. After winning a Grammy for Best Pop Vocal Album for "Future Nostalgia" and giving an amazing performance of some of her biggest hits of the year, Lipa celebrated in another jaw-dropping butterfly dress. This time, the dress resembled the butterfly dress Christiana Aguilara wore to the award show in 2000, and the iconic Versace dress has also been seen on supermodel Naomi Campbell.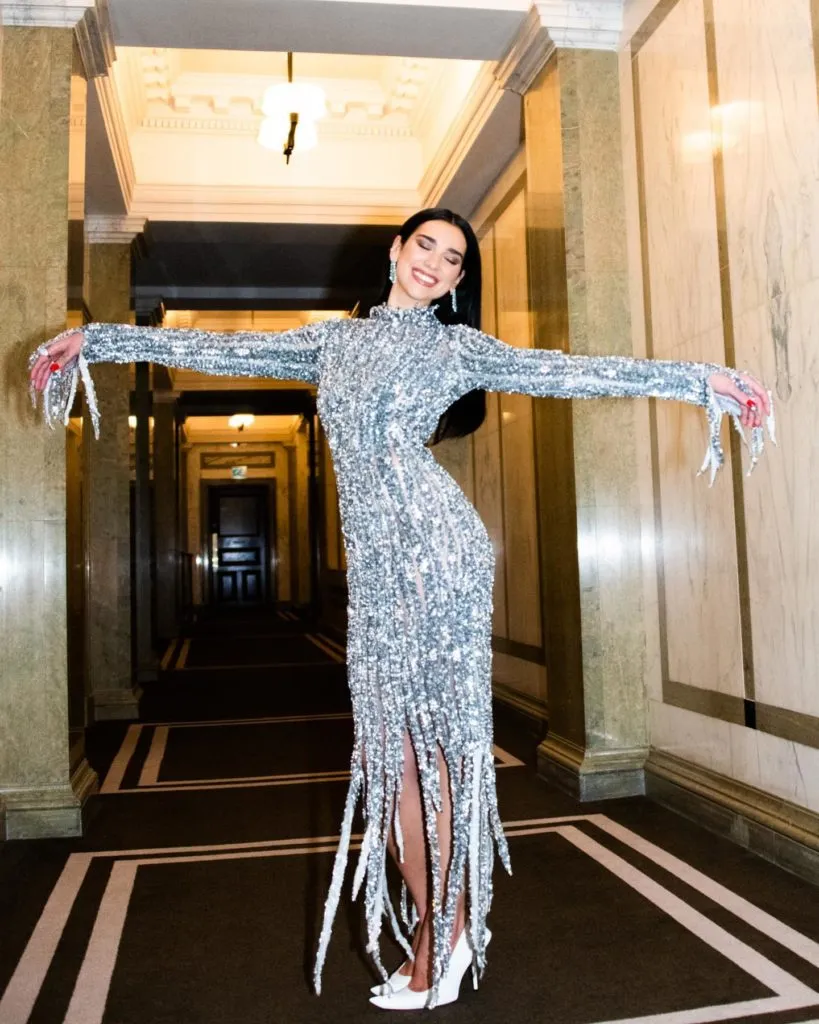 03. Disco Diva
Last year in April, Lipa performed at the 29th Annual Elton John's AIDS Foundation Oscar Party. The two sang John's hit "Bennie And The Jets" and Lipa's single "Love Again." Her fringe Balenciaga gown was magical. It reminds me of something Cher would wear (designed by Bob Mackie, of course) in the '70s. Definitely one of the singer's best looks.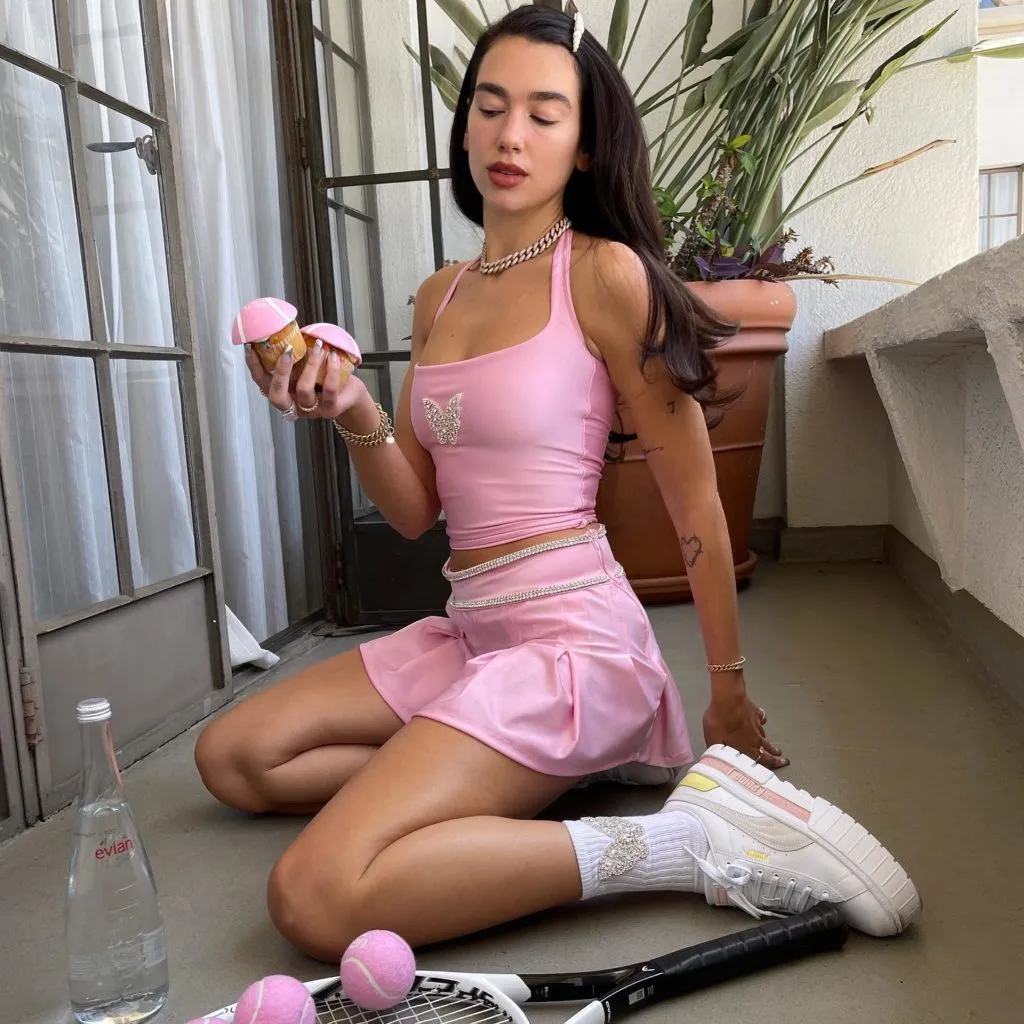 04. The Pink Tennis Look
Designer Yung Reaper makes custom outfits for the coolest girls in LA including Devon Lee Carlson, Barbie Ferreira, and MARINA. When I saw this look pop up on my feed I instantly knew who made it. In a promotion for Evian Water, Lipa wore this custom Yung Reaper set and Puma Mayze Leather sneakers ($90). This makes me want to hit the tennis court immediately.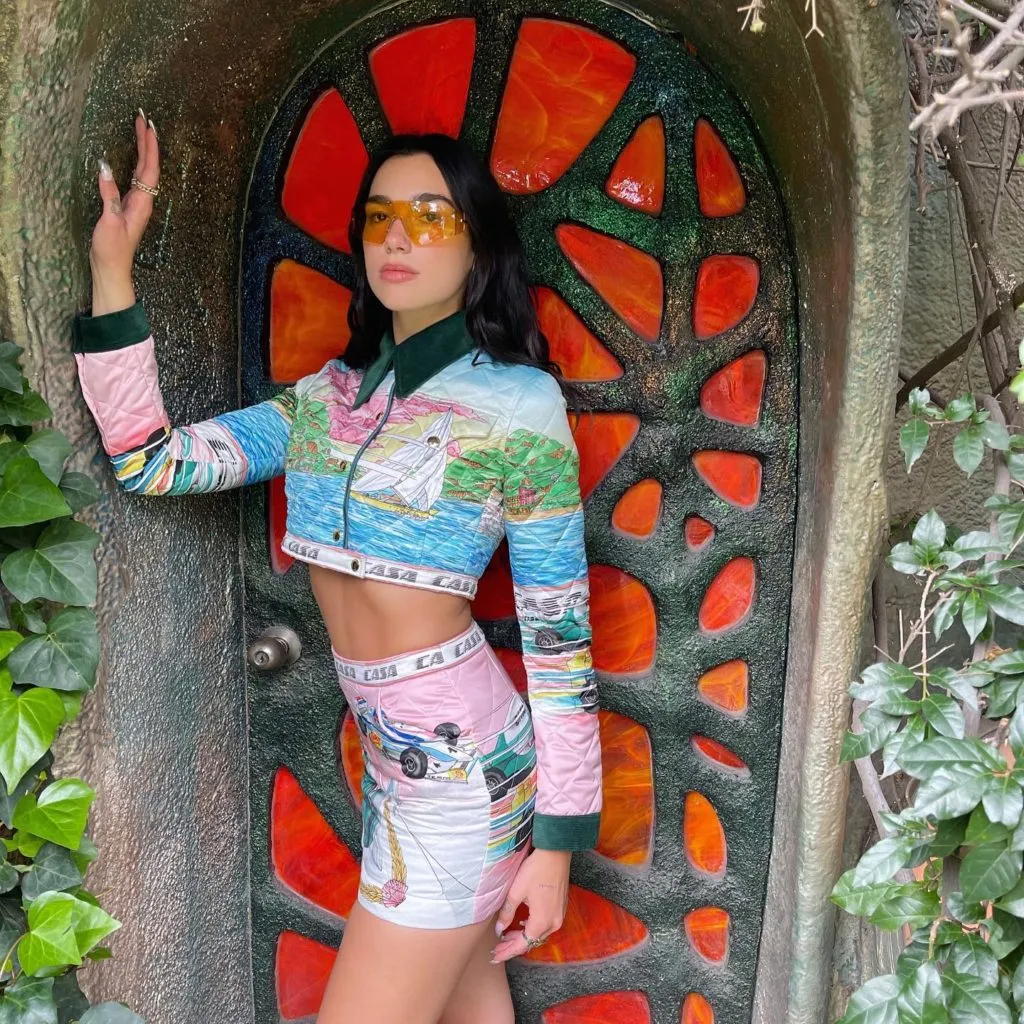 05. Vacation Vibes
No vacation is complete without the proper vacay looks. Later in the month of July, Lipa went on a trip to Mexico City. She paired this super cute Casablanca set styled with big, orange tinted sunglasses. You can never go wrong with a matching set, they're easy and fun. Lipa keeps it simple and stylish with this one from the brand's FW21 collection.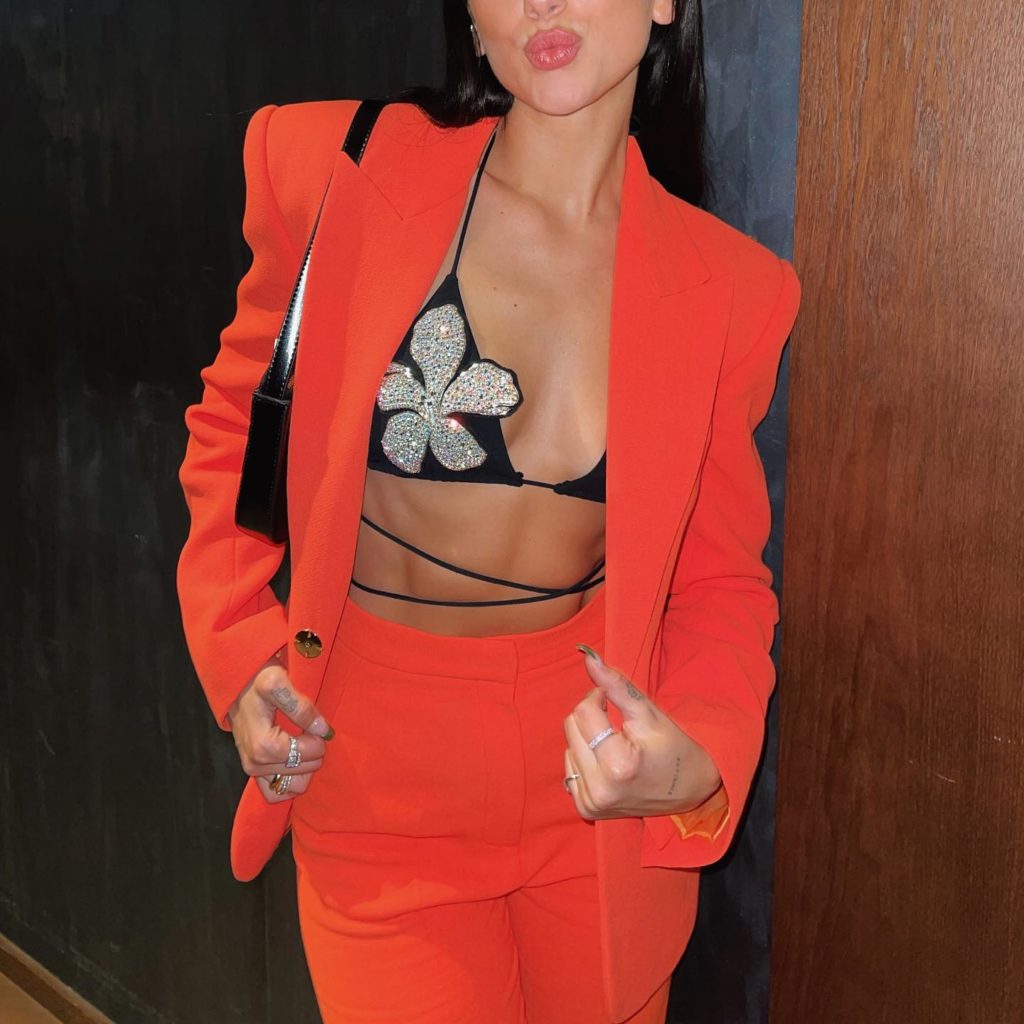 06. The Bikini and Blazer Look
I love a good suit moment. Colorful suits have been trendy for awhile, and here Lipa wears head-to-toe David Koma with a matching orange suit set and a floral bikini top. This is my dream spring look, perfect for getting through your morning meetings and then hitting the beach after. You'll definitely see me recreating this look soon.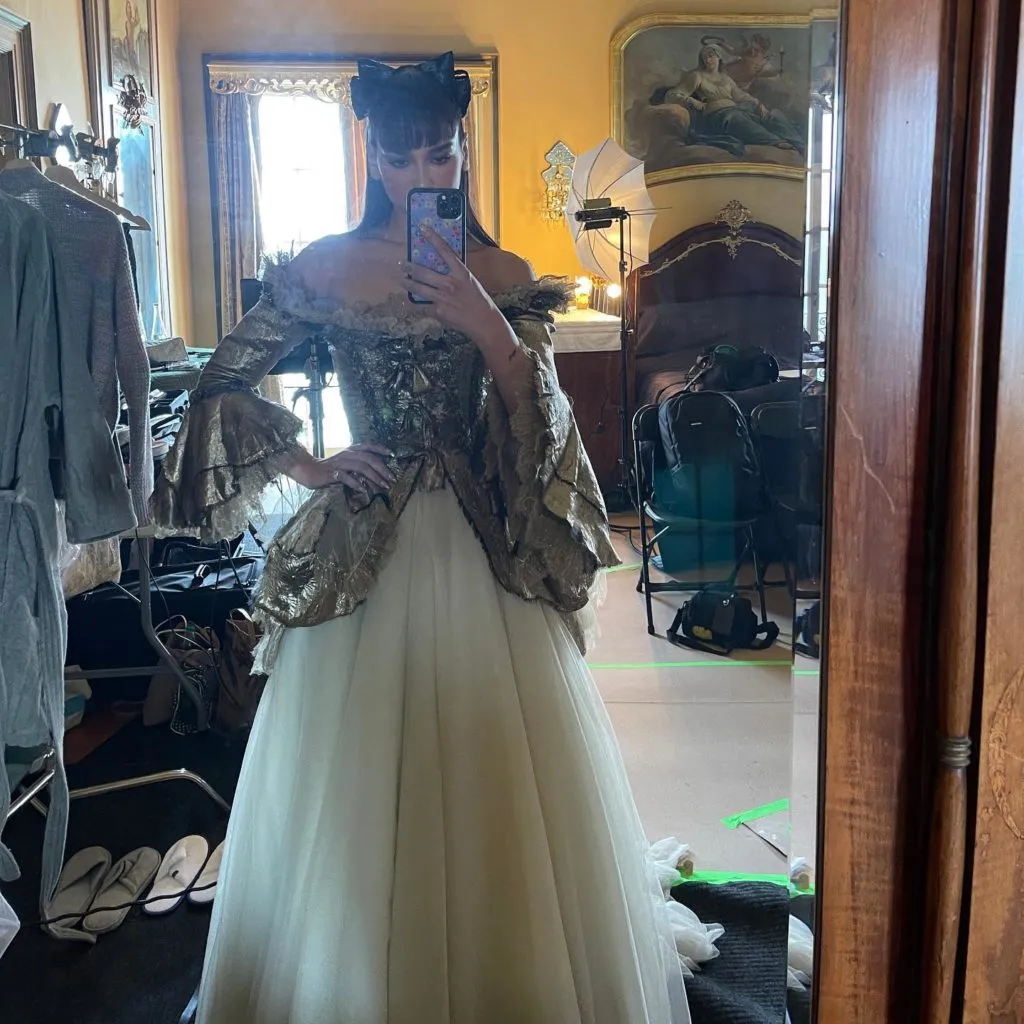 07. Divine Deamonor
Dua Lipa starred in her music video for Demeanor, her collab with the late Pop Smoke, in Jean Paul Gaultier couture circa 1998. It's giving major Bridgerton vibes and I love it. The jewelry from Vram really added to the look. My favorite part however is the work done by hairstylist Chris Appleton. Styling Lipa's hair into bows is so chic and avant garde.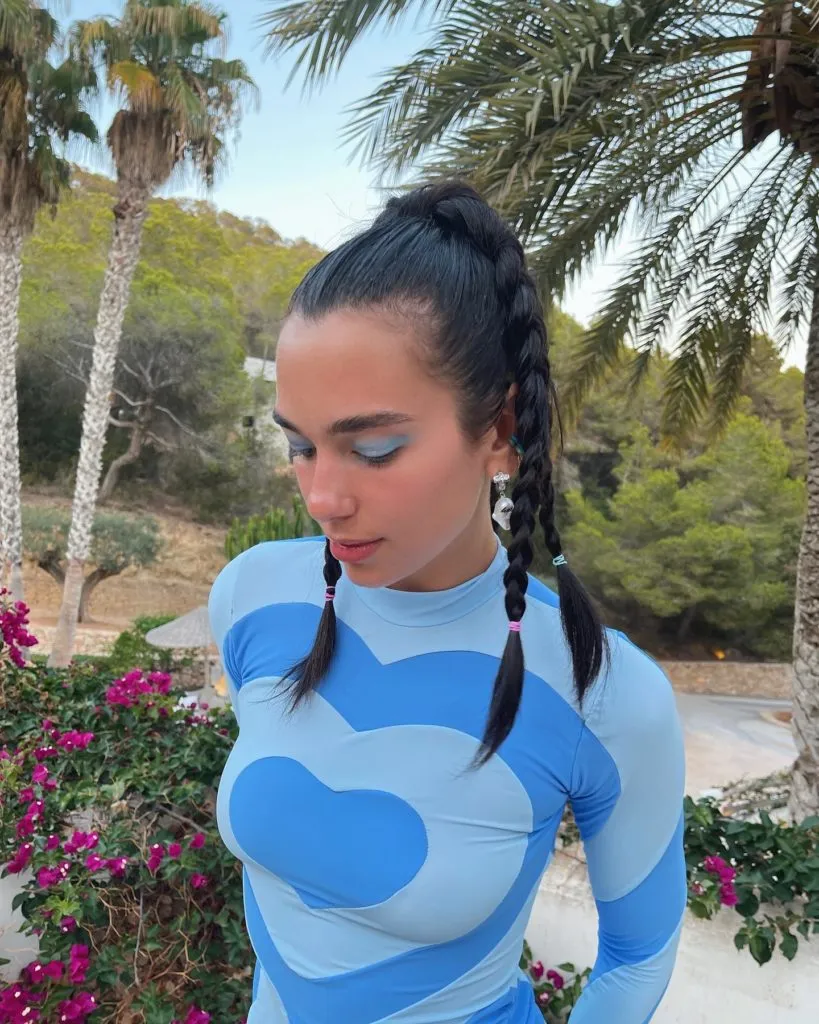 08. Bubbles Blue
This looks gives me major PowderPuff Girl energy. I love the matching blue eyeshadow and the fun hair braids. Still on vacation, the singer wore the Charlotte Knowles Vines dress. The outfit matches Lipa's playful energy and would definitely be Bubbles approved.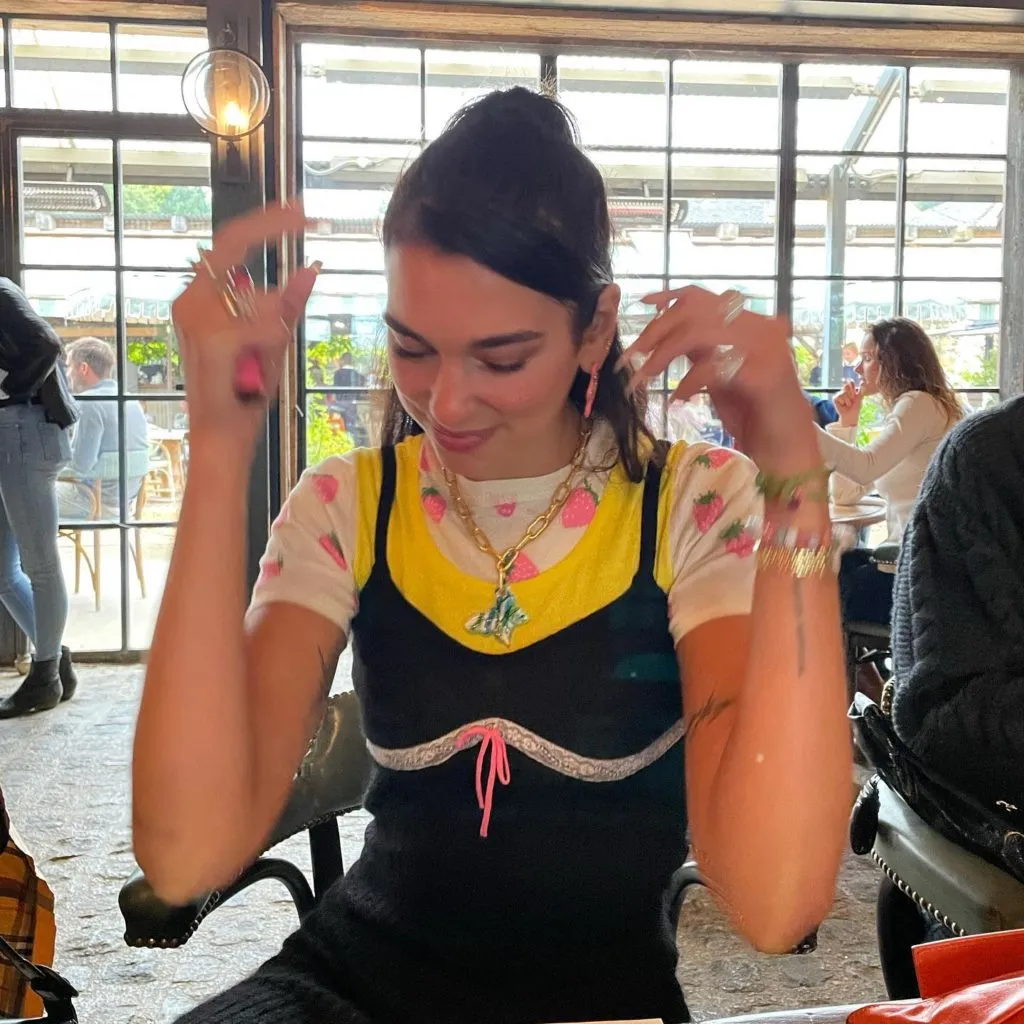 09. Birthday Beauty
A few days after turning 26, Lipa gave us this colorful layered look. Still seen with her birthday glow, the singer is wearing the Lily dress from Cormio, the Flower Power hoops from Bea Bongiasca, and the Jenna necklace from Mayol. Shoutout to @dua_outfits on Instagram for helping identify the details of this iconic fit.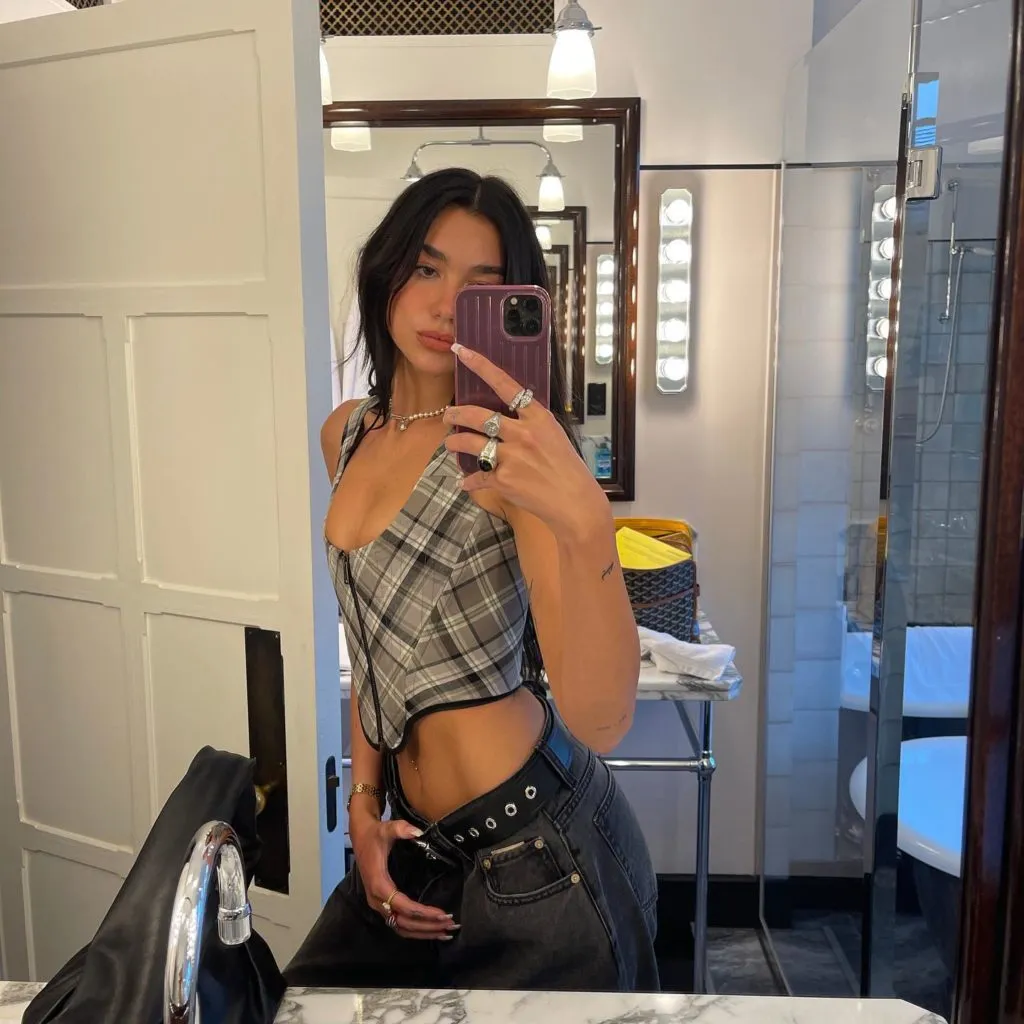 10. Edgy Dua Lipa
Bringing out another corset look, Lipa rocks this plaid corset by Viviene Westwood. Reminiscent of the Prisoner era with Miley Cyrus from the year before, this is an edgier look for Lipa, who usually keeps it colorful and fun. It's just proof that on and off the stage she serves versatility and taste.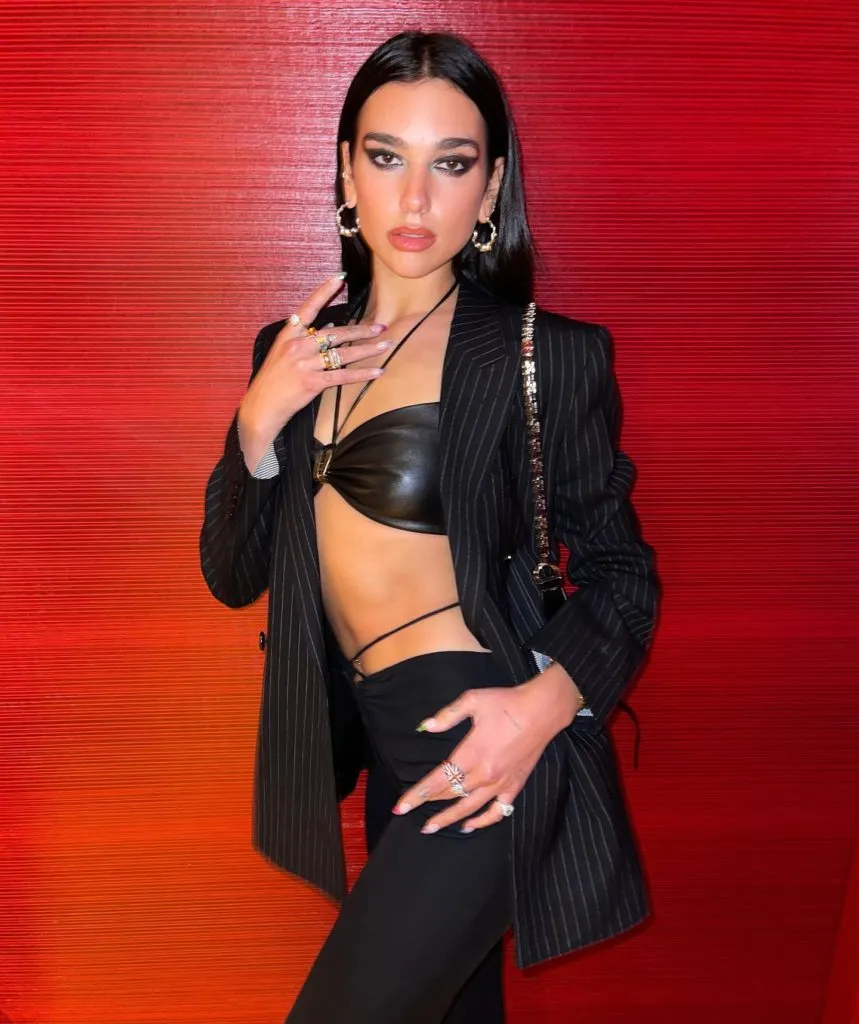 11. All Black Everything
This Dua Lipa look truly lives in my head rent free. It's simple and sophisticated, and the grungy makeup just adds to the punk vibe. Her top and bottoms are from Dion Lee and her bag is from Givenchy. This was at the height of the cutout, midriff-showing pants trend, with brands like I. AM.GIA and Miaou hopping on the bandwagon. It may be a hot take, but I think if worn right this is still a great trend and Lipa killed it.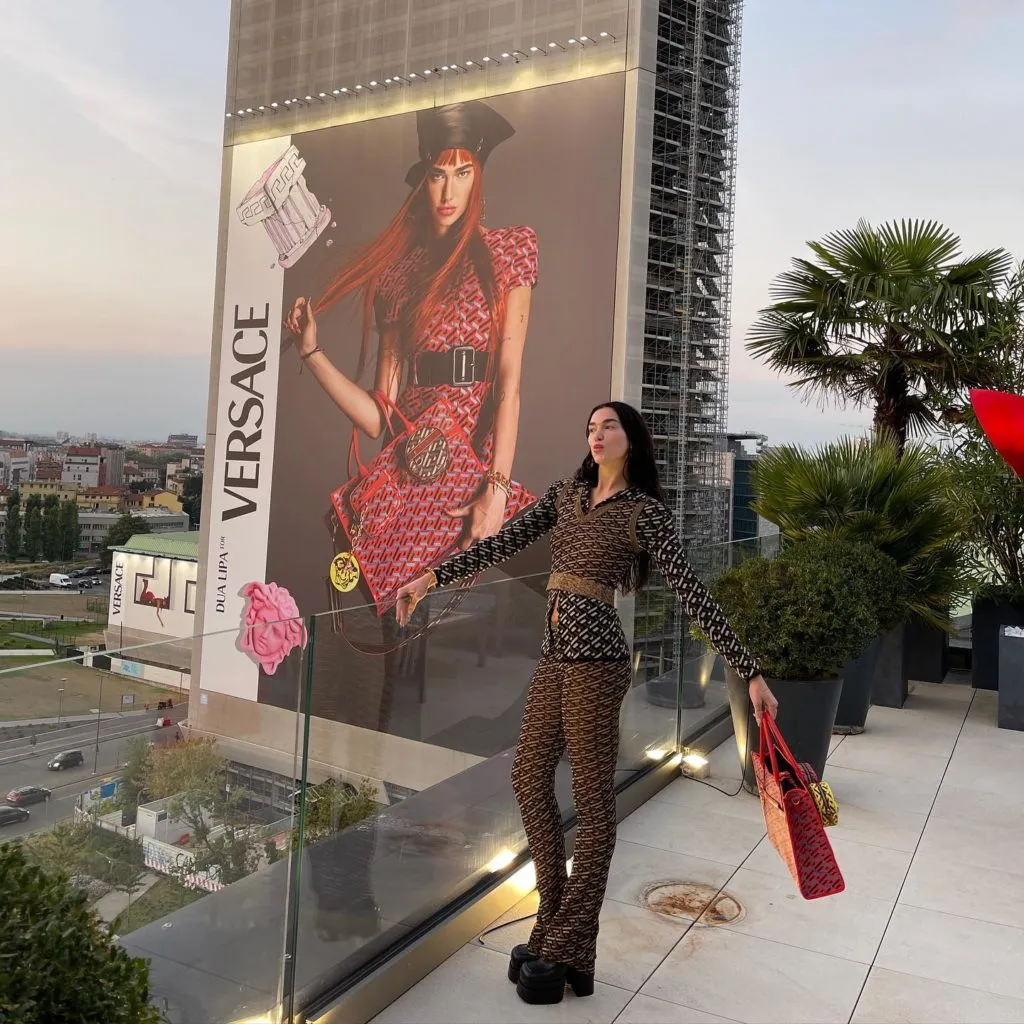 12. Versace Queen
Fresh off of her runway debut at the Versace SS22 show in Milan, Lipa rocked a full Versace look to visit her billboard outside the Versace office. The singer was the face of the fall-winter 2021 Versace campaign. Lipa also showed support at the Fendance show, shown just two days prior. It seems like she's Versace's new It girl, and I'm so here for it.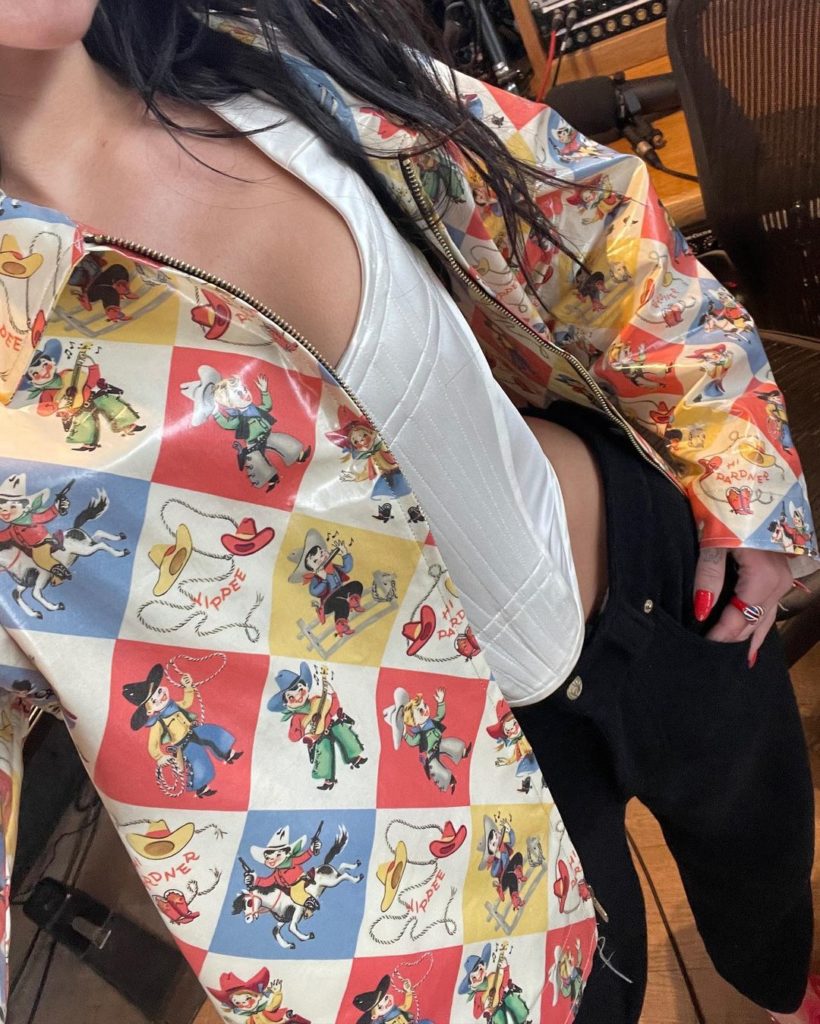 13. Cowgirl Dua Lipa
Back at home and in her studio, Lipa wore this incredible Laminated Cotton Rain Jacket from Jetpack hom(m)e. She paired it with yet another Vivienne Westwood corset. These outfit details were also found with the help of @dua_outfits on Instagram. I love experimental looks like this from Lipa. She always keeps it interesting, and this country-cute look is no exception.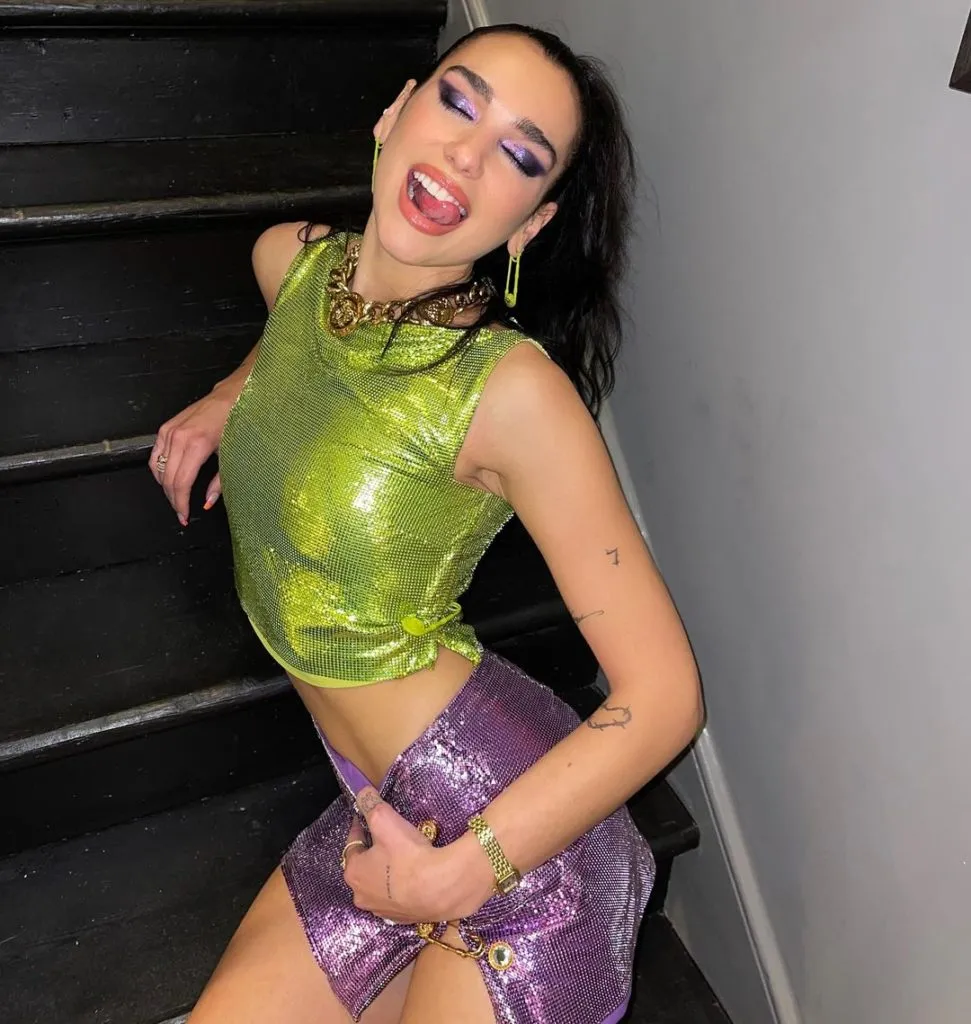 14. Frieze Fierce
At a Versace and Frieze party in London hosted by Donatella Versace, Lipa wore another full Versace look. The look features Versace's signature safety pin embellishments and bright colors. The color coordinating earrings, heels, and eye makeup finish off the look. I think Versace is a fabulous match for Dua Lipa. Their recent collections have been fresh and fun, which matches her personality perfectly.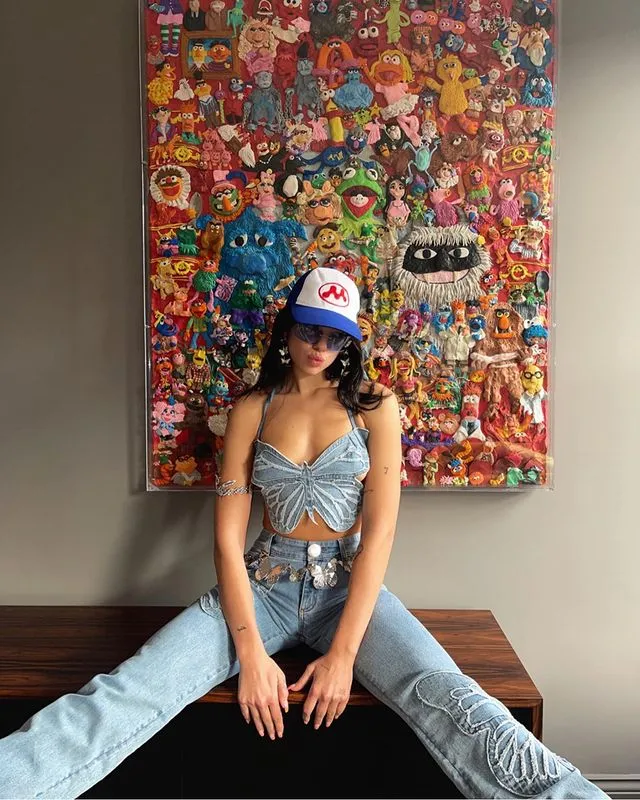 15. Butterfly Baby
This look is Y2K heaven. The matching denim, the butterflies, the trucker hat — all giving major Britney Spears vibes. This set is from Blumarine — a brand that has been killing it lately — and the hat is from Mowalola. The hat dresses the look down and makes it modern and cool. Butterflies seem to be a running theme in the Future Nostalgia era and Lipa has no doubt added to my obsession with them in fashion.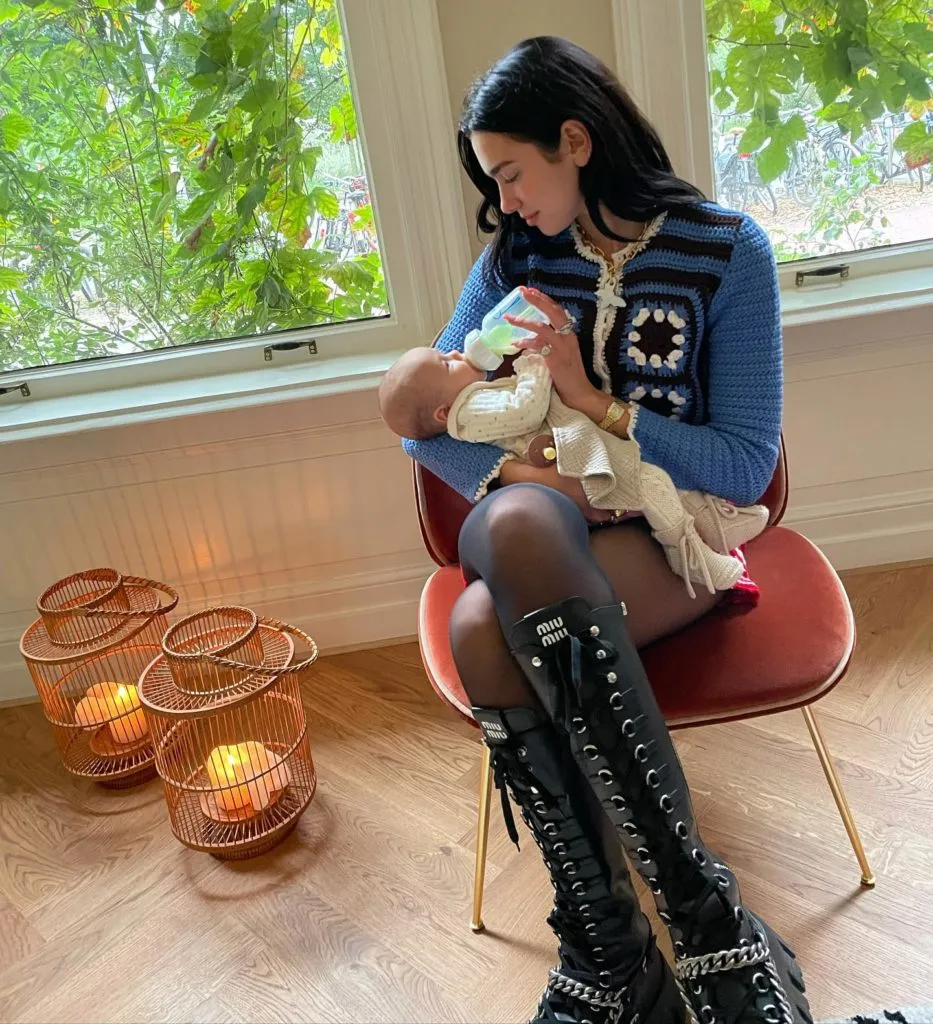 16. Matching Miu Miu Moment
While posing with her adorable niece in October, Lipa wore a matching Miu Miu look we need to talk about. Wearing the Miu Miu Wool Crochet Cardigan and their black leather boots, Lipa is truly the cool aunt. This look has an edge but also plays on Lipa's fun side with the added colors.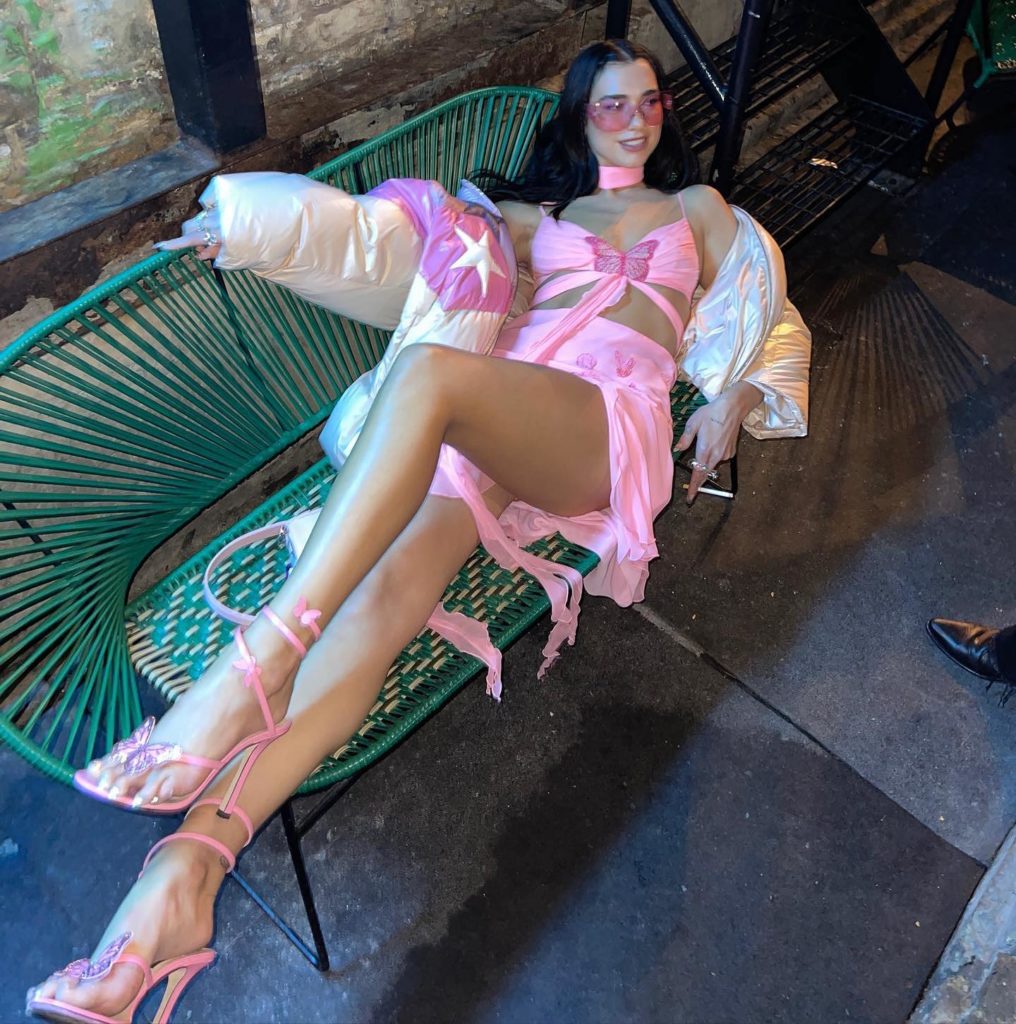 17. Girls Night Glam
Bringing back the butterfly aesthetic, Lipa wore this super cute all pink look on a night out with her girl squad seeing the taping of An Audience with Adele for NBC. This is peak Y2K realness, serving a mix of Paris Hilton and Sharpay Evans from the High School Musical series. This is a full Blumarine outfit, with the artist seeming to favor the brand having worn it multiple times.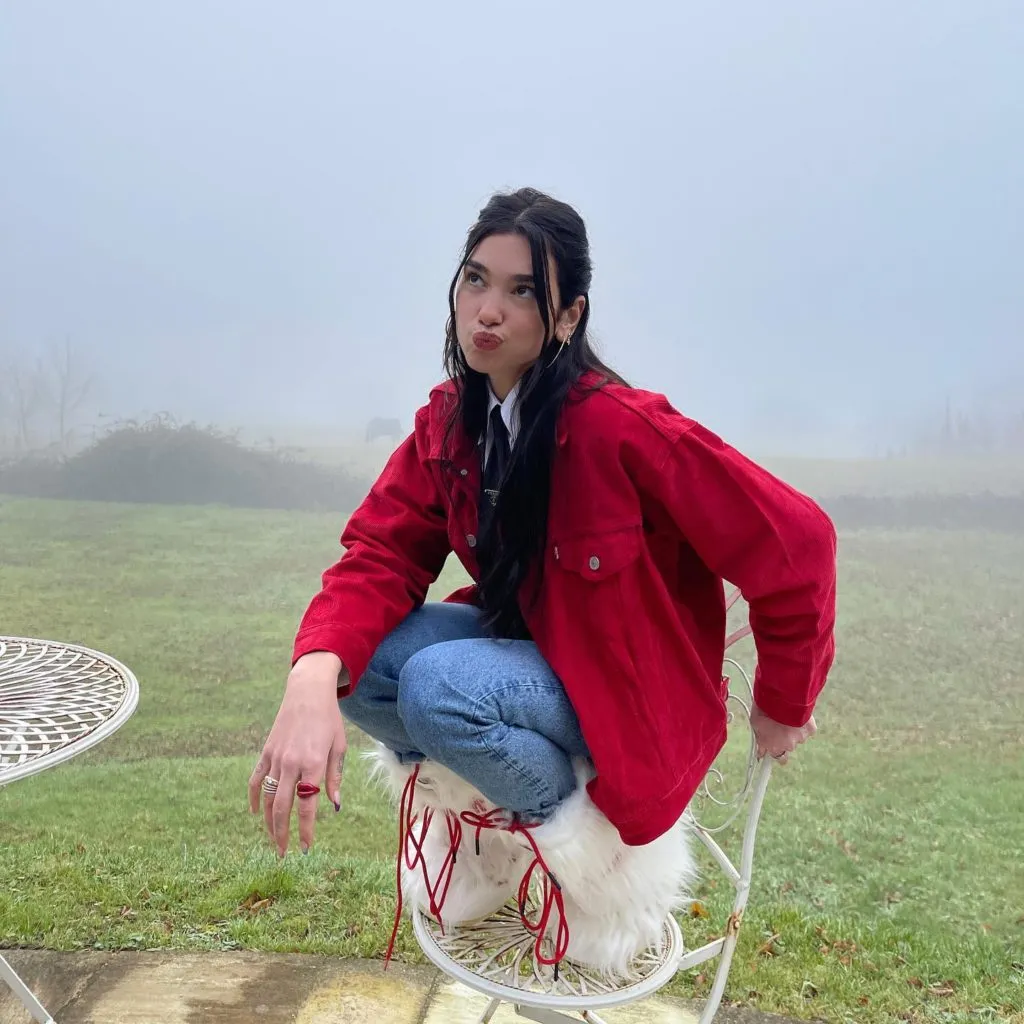 18. Hello Kitty in the Country
In a getaway to the country, Lipa wore one of my all-time favorite looks. It's truly giving country school girl, and I love it. She paired denim blue jeans with a red jacket, a collared shirt, and a prada tie. The highlight of the outfit is the Hello Kitty Moon Boots collab. The boots are currently sold out, but we can only pray for a restock soon.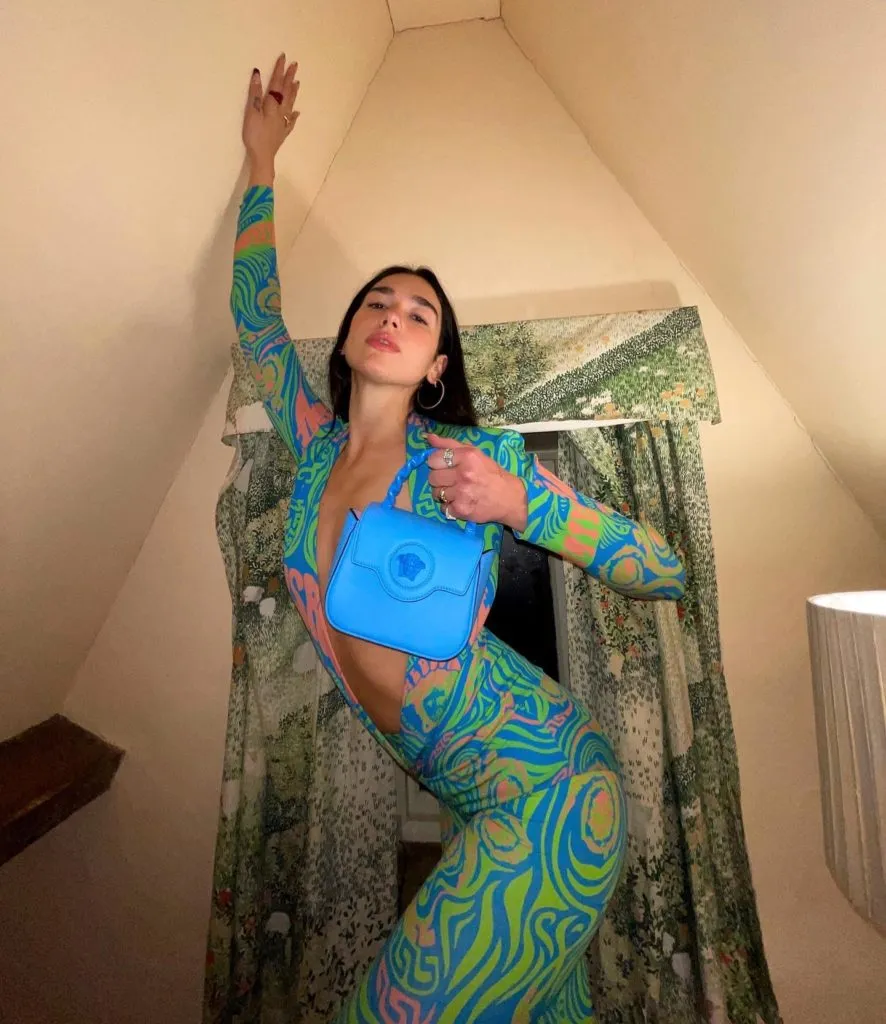 19. Very Versace
Repping Versace yet again, Lipa wore another head to toe look in December to promote the brand's blue La Medusa bag. Now, this is how you do a promo shot! If you were bored scrolling on your Instagram feed, you weren't when this popped up. She's stunning and she makes Versace look so good.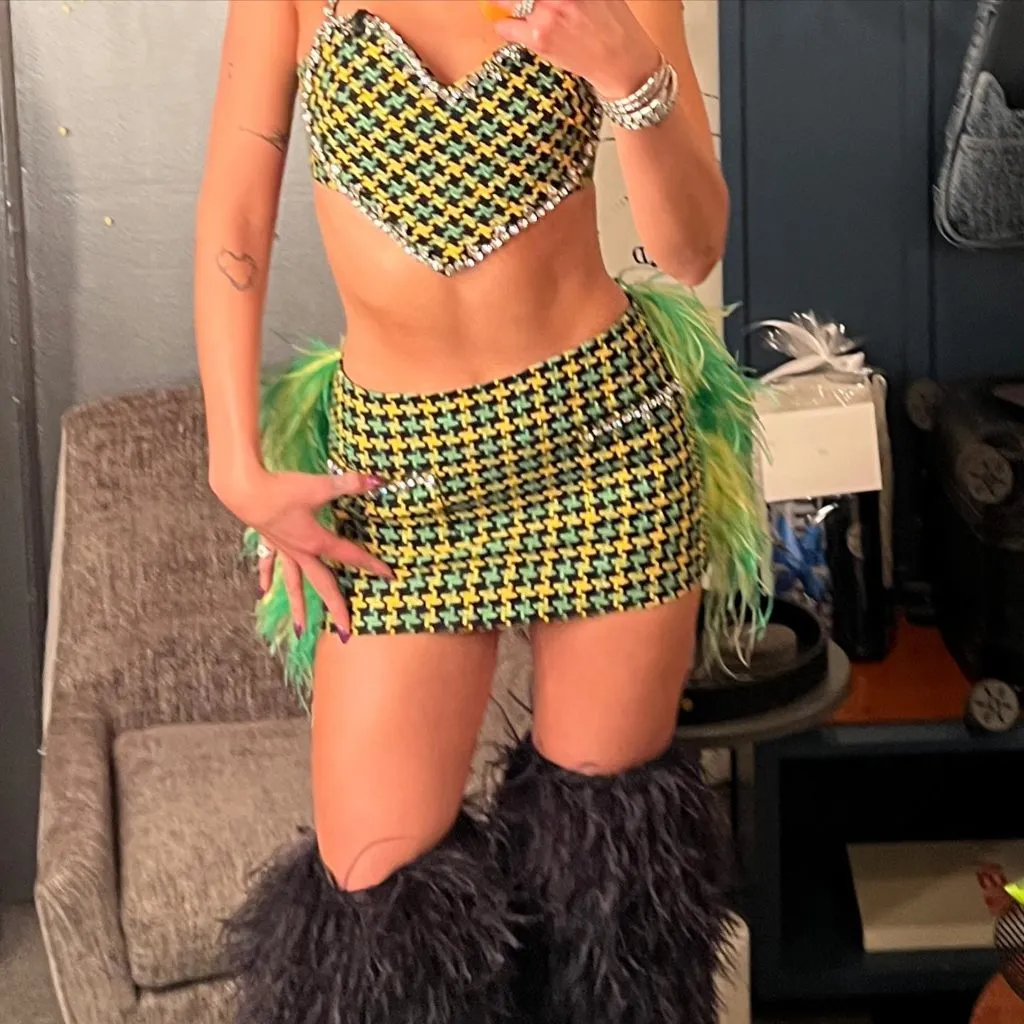 20. The Area Look
Flash forward to early March, 2022, Lipa turned heads in this AREA outfit on The Tonight Show Starring Jimmy Fallon. Surprising a super-fan, 80-year-old Papa Richy, Lipa danced the night away in this green and black fur ensemble. Whether she's on tour or on TV, Dua Lipa knows how to put on a show.
Now killing it on the Future Nostalgia tour and already having her third studio album "50% done," as she shared on her podcast Service95, Lipa is continuing to take over the world. Never scared to take a risk in fashion or in music, the reason I love Lipa is because of her fearlessness and promotion of girl power. I can't wait to see more of her looks and how far her career will go.
Feature image courtesy of Dua Lipa.