Que the gorgeous outfits, crazy relatives, sleepless nights, and pop the champagne because it's time for a wedding! I am going to take you across the world to Jaipur, India and show you how weddings are really done. An Indian wedding is unlike any other typical marriage ceremony. If done traditionally, it is a week-long celebration filled with various functions to commemorate the union of two individuals. With each religious ritual, social event, and after-party comes a new outfit and look. Whether it be a sari (a traditional garment draped on a woman), a lengha (an elaborate long skirt and crop-top style), or even a western dress, the goal of any individual at these weddings is to dress to impress.
This particular outfit can be worn at the sangeet (a pre-wedding party), the wedding ceremony, or the reception. It is a sari, but with a modern twist.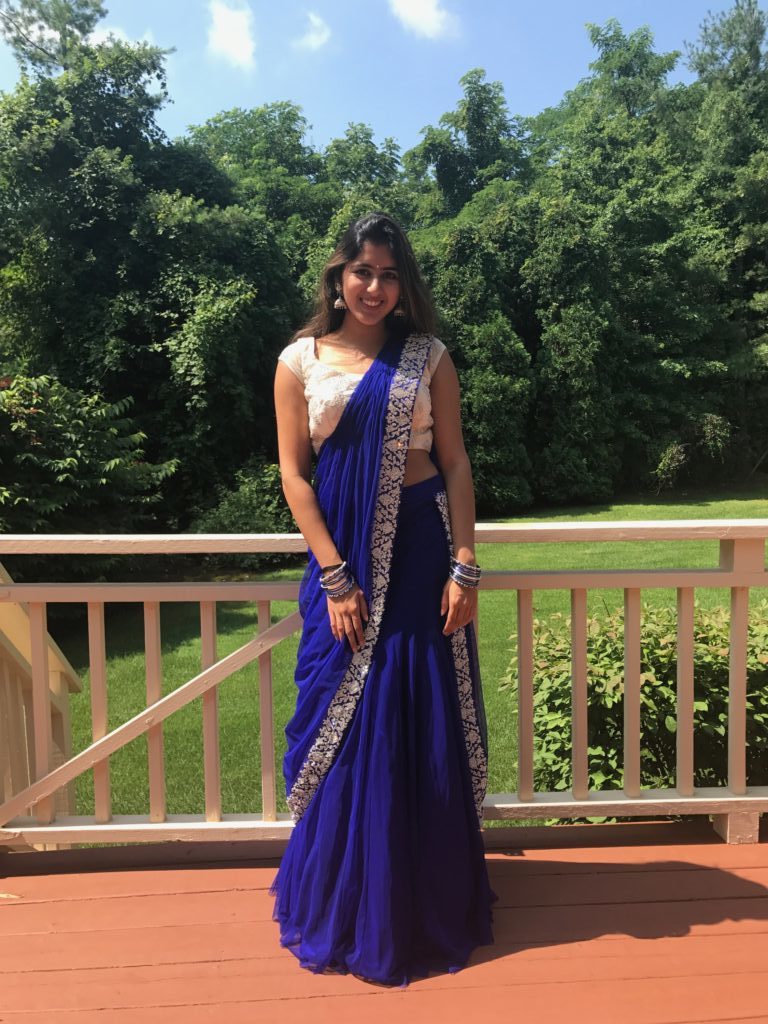 For many, the process of putting on a sari can be complicated because the abundance of the garment can make it hard to drape properly. If one can do this art, they are considered very valuable especially around wedding time. This specific sari is ready made, which means it doesn't involve much drape work. It entails a white blouse, with silver embroidery, a blue skirt and a blue drape with silver rhinestones.
In having this type of sari, the process of getting ready becomes hassle free. Accessories, accessories, accessories—the epitome to any Indian look. This sari is accompanied with a pair of silver heels, blue and sliver authentic bangles, traditional silver jhumka earrings,and a simple bindi (a decorative sticker worn on your forehead). Regarding beauty, one important tip to keep in mind when traveling to India is the intense humidity. To tame our luscious hair for outdoor functions, any product of Frizz Ease is highly recommended.
A wedding in the Indian community, or in any community for that matter, is deemed to be the happiest of times for families to get together and mark the marriage of two individuals. Though we all make a fuss about what to wear at these events and the importance of our wardrobe choices, it's really not about us; it's about the bride and groom and the beginning of their new life together. These weddings bring families together, the party animal in every individual, and a sense of bliss to our lives.
Have other tips about Indian weddings or weddings in general? Show us on social media or in the comments below! Don't forget to tag @CFashionista.