For many, including myself, the arrival of summer equates the arrival of some free time. Being away from school allows for the opportunity to do things you normally wouldn't have time or energy for during the academic year. I myself have been slowly checking items off my summer bucket list. One of the said items was getting my motorcycle license. My dad has ridden bikes practically his whole life and being a bit of an adrenaline junkie myself, I couldn't wait to learn to ride.
Like any good Fashionista, my next thought after passing the motorcycle safety course was an obvious one… what do I wear? Safety is incredibly important when riding a motorcycle. The proper riding gear is not only smart but in many cases, and in several states, it's the law. So, the question remains: how do I wear clothes that are both safe and fashionable while riding?
For this outfit, I wore a black bodysuit from ASOS with some high-waisted track pants from Boohoo. I paired these with fishnet socks and classic Vans. I accessorized with some retro white sunglasses and a baker boy cap I thrifted from a local market. Finally, no biker ensemble is complete without a leather jacket—mine is a classic black moto jacket from Forever 21.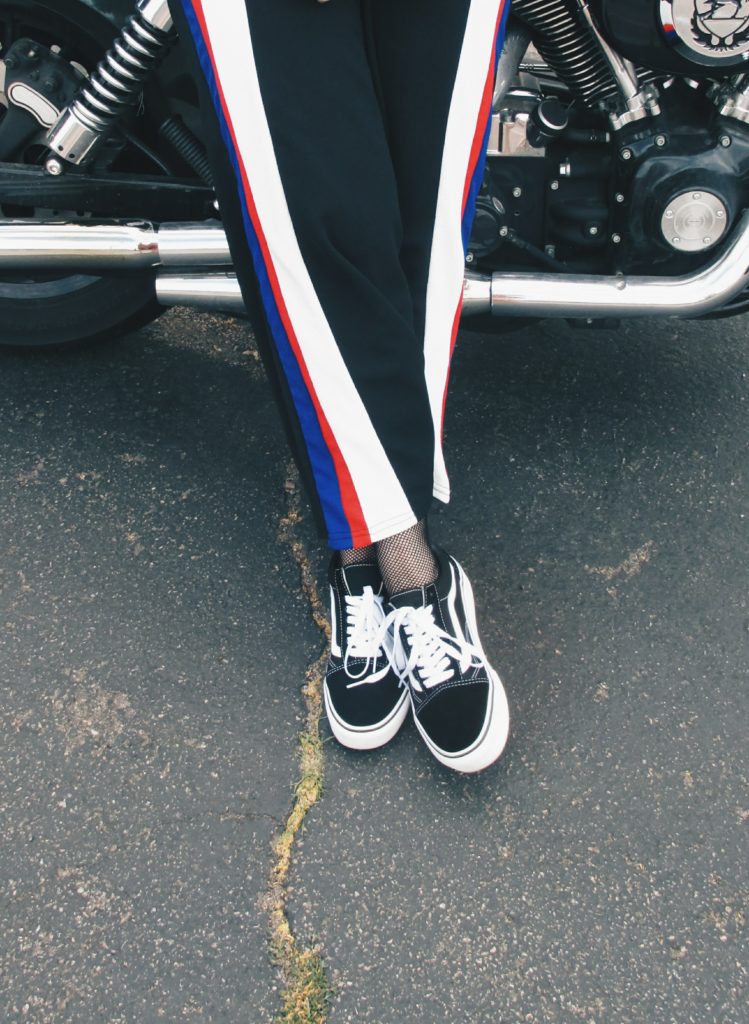 Keeping in mind that it is summer, I chose to wear a backless halter top bodysuit. However, when riding, it is important to wear both long pants and long sleeves to provide an extra layer of protection if you were to fall from the bike, which is where a leather jacket comes in handy. Not only does it go with everything, but leather is one of the most durable fabrics and could make all the difference if you get in an accident.
You should always wear closed toed shoes when riding for the same reasons you should wear long pants and sleeves. The more comfortable they are, the better, which makes a pair of Vans a good option. It is also recommended to wear boots or at least high-topped shoes since they will provide extra protection and support for your ankles.
When you aren't posing for pictures like I was, it's crucial to always wear a helmet, preferably a Department of Transportation-approved one. This means it meets the Federal Motor Vehicle safety standards. Unless said helmet also has a visor, which is a clear face shield, it is also wise to trade in the cool sunnies for a pair of shatter-proof riding glasses or goggles. Although many states do not require the use of a helmet when riding, it's a good habit to get into. The last piece of riding gear you'll need is a pair of gloves. Again, the idea is to cover vulnerable and exposed areas in the event of an accident.
Finally, a swipe of red lipstick isn't mandatory, but it certainly doesn't hurt. As the saying goes: put on some red lipstick and live a little!
Motorcycles aren't for everyone, but knowing you can keep up with the trends while riding makes it less scary, right? Share your thoughts in the comments below.