Summers are full of beach days, ice cream, concerts, and of course bohemian outfits. Many Fashionistas love to channel their inner flower power throughout the season by putting together floral prints, gladiator sandals, and layered jewelry. The light and airy feel of a bohemian style is a relief in the hot, summer sun that we all know and love.
The true queen of boho, by far, is Vanessa Hudgens. All of her Coachella outfits and her street style is full of light clothing, fringe, and jewels. She also embraces the natural beach wave hair trend that follows the "boho" theme. Her looks are a great inspiration for young Style Gurus like this one. My sister loves to embrace the free spirit vibe that the bohemian style gives off. You could wear this kind of look anywhere—to the city with your friends, on an afternoon date, and even a summer concert.
I put together a light, floral blouse with her favorite pair of denim shorts, and then layered with some trendy jewelry. The floral print is a staple piece to any boho Style Guru's closet.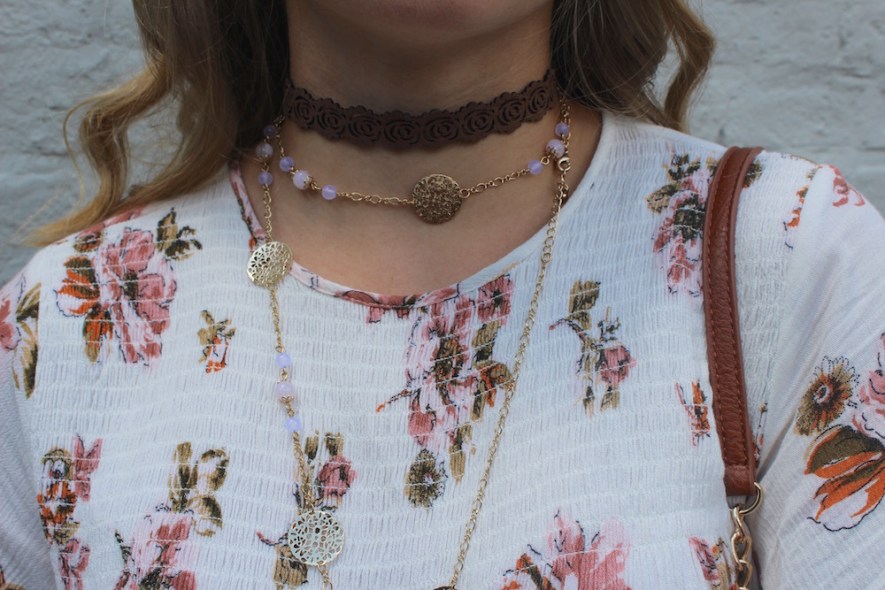 Accessories are also a big part of bringing together a bohemian vibe. Layers of bracelets or necklaces are a common look. My sister made her bohemian style trendier by pairing a long gold necklace with a cut-out choker. The pair makes the cutest combination. She also added a light brown pair of gladiator sandals, which are another staple piece. Of course, every Fashionista needs a funky pair of sunglasses to throw on with any outfit before his or her day begins. I also adore this fringe crossbody bag. Fringe is the most popular detail that many Gurus focus on finding for a boho outfit.
As the summer continues, try and find your inner flower power with floral patterns and funky accessories. You'll feel as though it's Coachella all summer long!
How do you wear the bohemian style? Show us your adorable look by tagging @Cfashionista on social media!