Summer is finally here after a long, stressful semester. At last, it is time to toss the textbooks aside, and grab your beach bag! But wait… what should you bring to the beach? It's the worst when you arrive at the beach just to realize that you forgot to bring a ton of things that could've been useful to have. Believe me, I've been there. With this list, you will be beach-ready in no time.
1—Beach blanket. It is always useful to bring a beach blanket. I used to simply lay out a towel and call it a day. Using a beach blanket is way roomier when you're catching rays, and you get less sandy!
2—Sunglasses. Don't forget to protect your precious baby blues (or greens, or browns, or hazels… you get it). It's a pain when you're trying to soak up the sun with the sun bothering your eyes. Plus, you'll be protecting your eyes with fashion. My go-to sunglasses are Ray-Ban's Classic Clubmaster. They are timeless!
3—Sunscreen. Didn't your mother ever tell you never to leave the house without sunscreen? There's a reason for that. At the beach, the sun's UV rays are super strong and it's very easy to get burned. Always reapply apply sunscreen every two hours. Yes, I promise, you will still get a tan. I usually use Pacifica All Mineral Sunscreen or Supergoop! Everyday Sunscreen. It is only here to protect you, not to prevent you from getting your summer glow on.
4—Lip balm. The most annoying feeling is when your lips are chapped and there's no lip balm to be found. I carry mine with me everywhere I go, especially the beach. It's also important to have SPF in your lip balm. I use Sun Bum's Sun Screen Lip Balm SPF 30. It hydrates your lips and protects them—a total win-win.
5—Portable speakers. It's 2017, of course, there is such thing as a portable Bluetooth speaker that is waterproof. Pretty amazing, huh? I never leave mine at home. My friends are always super thankful when I bring my JBL Charge 3 Waterproof Portable Bluetooth Speaker. Make a beach playlist beforehand to set the perfect summer atmosphere.
6—Food and water. It's always important to stay hydrated. I like to bring ice cold water and keep it stored in a cooler. For lunch, pack a sandwich to fight hunger pangs and some strawberries or frozen grapes to keep yourself cooled off! Don't forget the napkins.
7—Hair stuff. Don't forget your hairbrush. It's easy to get your gorgeous locks tangled at the beach. If you want a "beachy" hairstyle without going in the water, spray some sea salt spray in it.
There you have it, you are officially ready to soak up the sun. Now go have some fun in the sun, you deserve it.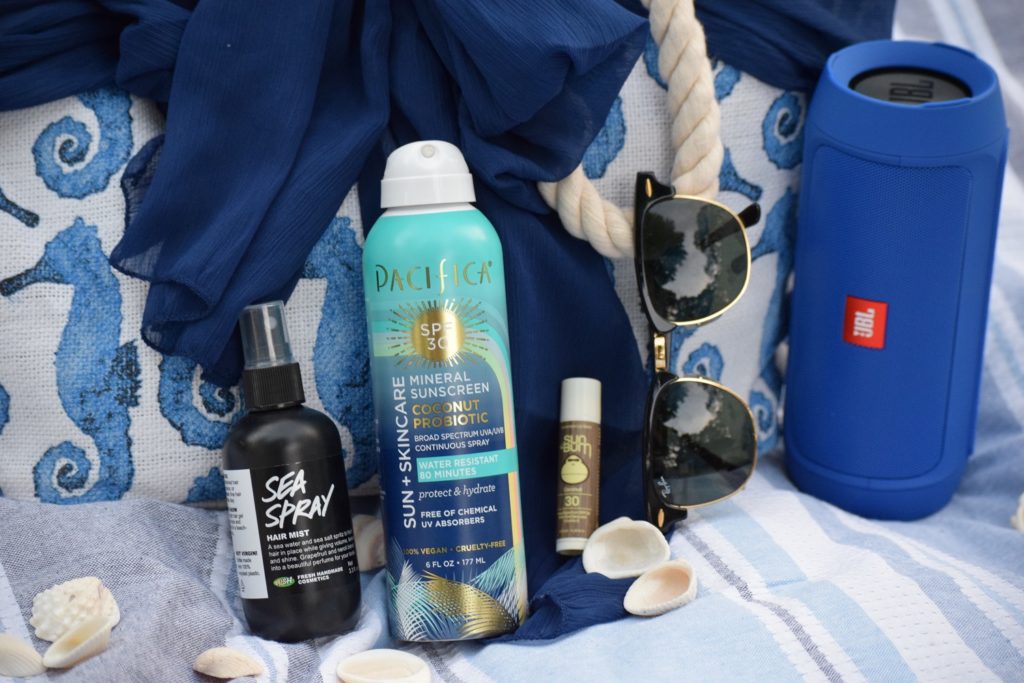 Feel free to add onto this list and comment below if you have some beach bag must-haves yourself!