If you were like me and the millions of other people who rushed to YouTube to witness Harry Styles' new music video for "Music for a Sushi Restaurant" I'm sure you're feeling a little shocked right now. People have taken to TikTok to talk about a combination of highlights from the video: Harry's long beard, his new set of squid tentacles, and even the looks he "served" (literally served by the end) in the video. Considering the numerous different opinions on the music video and Harry's appearance in it, I did a complete analysis of everything he wears.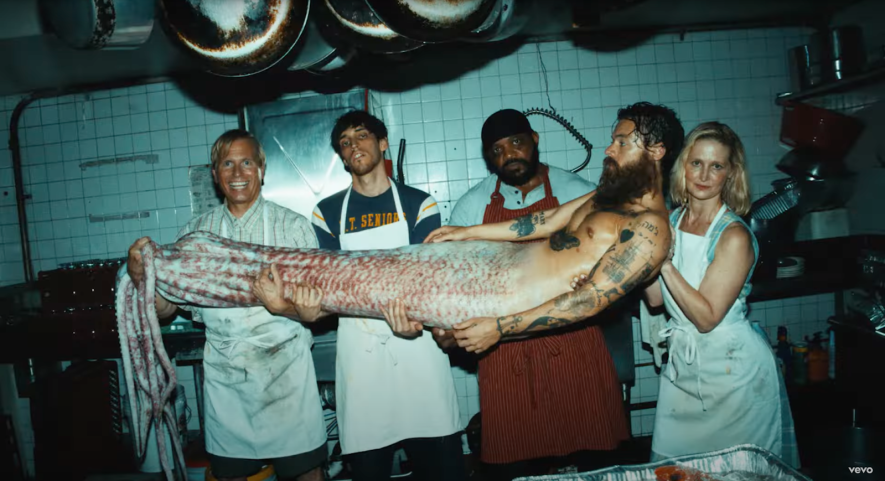 Freshly-Caught Squid Harry
I don't know about you, but the second I saw this pop up on my screen, I nearly gagged. Never in a million years did I expect to see Harry Styles as a half-squid, half-caveman hybrid. The beard itself is giving very similar vibes to Styles playing Jack in Don't Worry Darling; it's giving this is a simulation vibes, very much like the rest of this music video. Harry being freshly-caught from the ocean was definitely not in my 2022 predictions.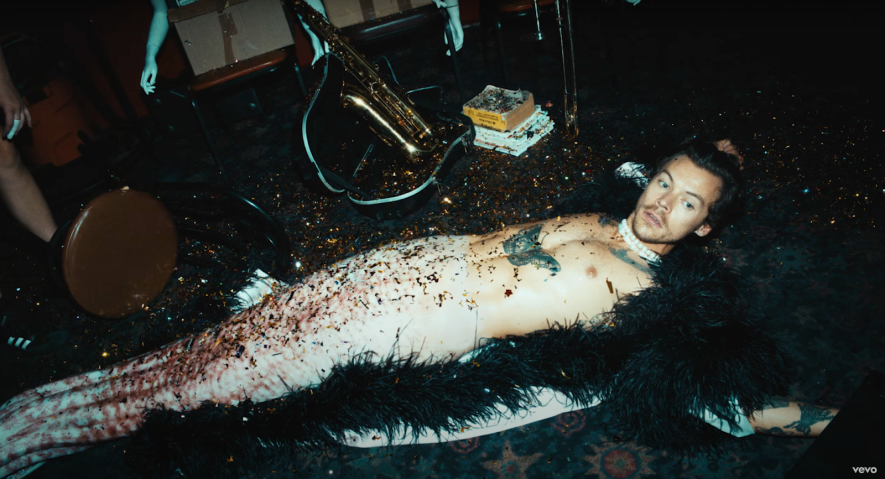 Feathers on the Floor Harry
At this point, I'm still extremely shocked by Harry being half-squid. Though this is the case, I absolutely love the feather jacket. The jacket reminds me of one of his HSLOT 2021 looks, specifically night one in New York City. The look in New York City also had the puffy feather sleeves, but was showcased on a black jacket. I really enjoy the contrast of the black feathers and the white jacket!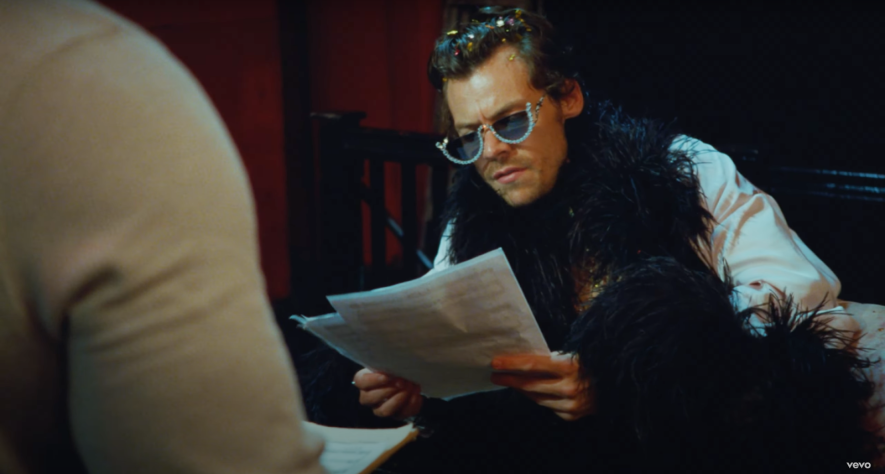 Feather Harry Part 2: Criticizing the Script
Though this look showcases the same feather jacket as the previous look, Styles adds a fun pair of sunglasses, and a bejeweled hairstyle. Did Harry predict one of Taylor Swift's new songs? The world may never know. Honestly, I have fallen in love with both the sunglasses and the hair in this shot; I think the two pieces together add a lot to this look. Styles adds a funky Elton John spin to his pop star critic look. Along with this, the squid legs are nowhere to be found in this portion of the video, so that's a win in my book!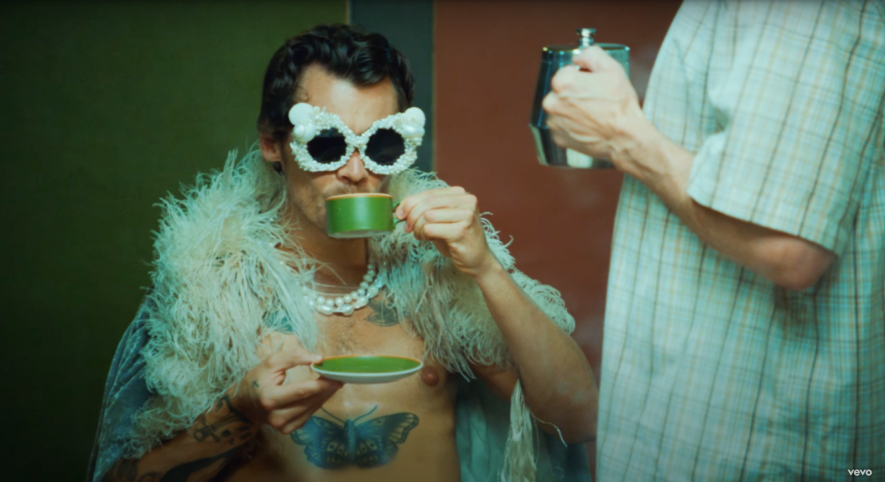 Teatime Squid Harry
When I say that Harry Styles is taking a funky Elton John spin on sunglasses, I mean it! I absolutely love these sunglasses as well, and they're perfectly paired with another feather ensemble. This time, he's just wearing a feather cape while enjoying his pre-show cup of tea. I love what seems to be a duo-chrome reflect on the cape, as it pairs perfectly with both the white sunglasses and feathers. This is another look that doesn't show the tentacles, so I'm happy.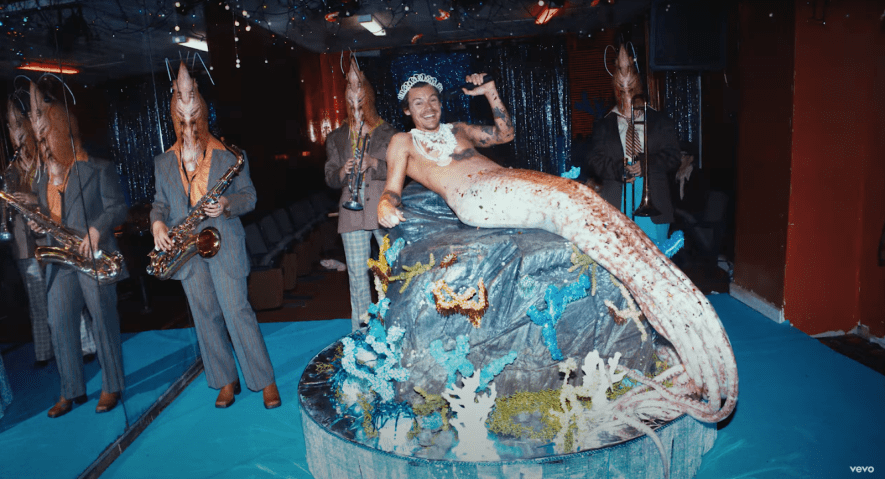 Performance of Reckoning Harry
As we all know by the ending of the music video, Squid Harry's demise is to follow, due in part to this performance. Though this is the case, I enjoyed seeing Harry in a tiara; this was once again something that I didn't expect to see in a music video of his, but hey, this one is fine by me. This outfit puts his tentacles on full display, so that's a bit unsettling. Though his tentacles are out to play, he also paired his tiara and chunky necklaces with LOTS of body glitter. I thought this was a fun touch to the look, and made him look almost ethereal.
As we can tell by the above, the tentacles on their own absolutely traumatized me. Yes, his song is called "Music for a Sushi Restaurant" but I was never expecting to see Harry Styles as a half-squid hybrid. Was I possibly expecting him in a mermaid outfit? Kind of, but hey, this isn't a family show anymore! Though this video definitely isn't in my top three, I don't think it was bad; I think all of the outfits (with the exception of the tentacles) were very fun, glittery, and aligned perfectly with Harry Styles 2022 vibes.
Featured image via Image via Colombia Records/YouTube/Francesca Grima from Unsplash. Design by Her Campus Media.