Going on Birthright Israel is an opportunity to learn about one's Jewish heritage, which includes visiting the Western Wall, climbing Masada, and, of course, eating. You would never leave home without your S'Well water bottle, Stan Smith sneakers, and brand new denim jacket, but make sure to pack a big appetite. Some of the best street food I've ever had was in Israel. Not only does the food look good, but it tastes amazing, too!
1—HaKosem. Located in the heart of Tel Aviv, HaKosem is famous for its falafel balls. Falafel balls are fried chickpeas, often served in pita bread with an assortment of vegetables and tahini sauce. HaKosem is known for serving the best falafel balls in all of Tel Aviv, and after trying them, I definitely agree.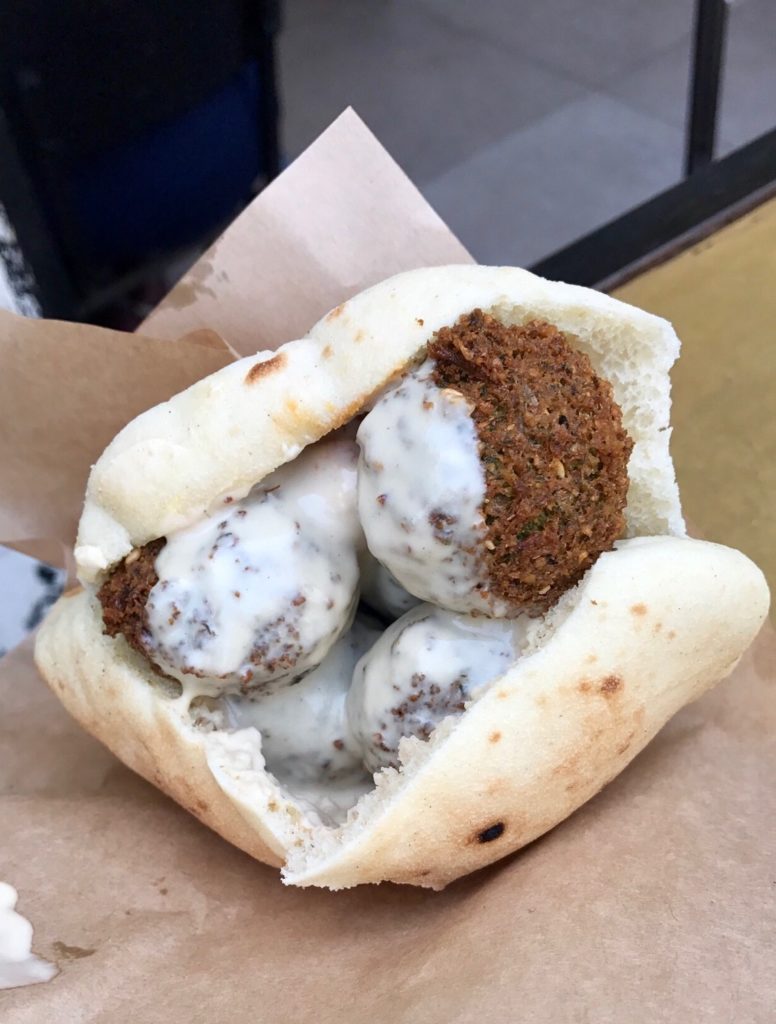 2—Carmel Market. Israel is famous for its many markets. Carmel Market in Tel Aviv sells everything from jewelry and hats to fresh cheese and meat. My favorite stand at the market was the one with the gummy candies. My bag was filled with so many different types of candies, many of which I had never seen before.
3—Sarona Market. Sarona Market is Tel Aviv's foodie market and located inside is Frost, a truly original take on frozen yogurt. What makes this fro-yo so unique is that it is topped with a skewer of waffle cubes drizzled with milk, white, or dark chocolate. It's also decorated with special chocolate taps. Not sure if this should be considered breakfast or dessert, but I would eat it for either.
4—Jachnun Bar. This hole in the wall restaurant in The Shuk (market) in Jerusalem was recommended to me by a friend who said it was the best thing she had ever eaten in her life. She told me to order the "memulawach." You've probably never seen this word before, and neither had I. It's bread that is a combination of Greek filo dough and a pancake topped with hummus, tahini, a hard boiled egg, cauliflower, fried onions, grilled onions, and cheese. Then, it is wrapped like a burrito. My friend was definitely right; it was the most delicious thing I've ever eaten in my life.
5—Marzipan Bakery and Pastry. Last, but certainly not least, is Marzipan Bakery. They sell the crème de la crème of chocolate rugelach. The bakery is also located in The Shuk in Jerusalem. The line is always out the door and around the corner. But don't worry, it moves quickly and they tend to hand out samples.
I'm assuming you are already planning your trip to Israel, and if you aren't, you better get going! Where in the world have you had the best dessert? Let me know in the comments below!