We're all sad another semester has begun, bringing more stress and even less free time. There is some good news though, chunky sweater season is almost here! Fall fashion is one of my favorites; however, sometimes it takes too much energy to put effort into an outfit while going to class. The athleisure trend, seen on models Gigi Hadid and Kendall Jenner, is a lifesaver. Athleisure is a broad term that refers to any type of athletic wear worn in normal settings, such as work or class. There are many ways to be fit and fab, which include wearing items such as track pants all the way to tanks. Here are five pieces you need in your closet to dress down while still being trendy.
1—Distressed graphic shirt
When you see distressed clothing, you might think back to all of the things your mom said when you asked for your first pair of distressed jeans. However, these edgy and worn-in clothes aren't leaving the fashion scene anytime soon. The best type of distressed is DIY so go get a large T-shirt or sweatshirt and start cutting.
Outfit Idea: Make your look a little bit edgier by pairing a distressed sweatshirt with a choker and biker shorts for those warmer fall days.
PHOTO: Julia Michael
2—Sports bra
Sports bras are an easy way to style a look and can be worn under a cut out T-shirt or jacket. They're a better alternative to wearing a real bra and come in different designs and colors, so they are the perfect addition to any look.
Outfit Idea: Pair your favorite sports bra with a zip-up jacket, leggings, sneakers, and your favorite sunglasses.
PHOTO: Katie Yang
3—Denim jacket
The best athleisure look includes one non-athletic wear item. My go-to is a denim jacket because they are casual and comfortable. They also add a vintage vibe to your look. Distressed denim jackets will also add even more brownie points with the fit fall fashion community.
Outfit Idea: Pair a denim jacket with a light sweatshirt and leggings to create the perfect fall look.
PHOTO: Ali Bell
4—Track pants
People have been wearing track pants on runways and throughout offices because the item has been in style for a few seasons now. They are a cute and comfy option for those wanting to dress up their sporty look. You can wear normal track pants or get a tailored pair to spice up your business casual work outfit.
Outfit Idea: Track pants fashioned with a solid T-shirt and jacket.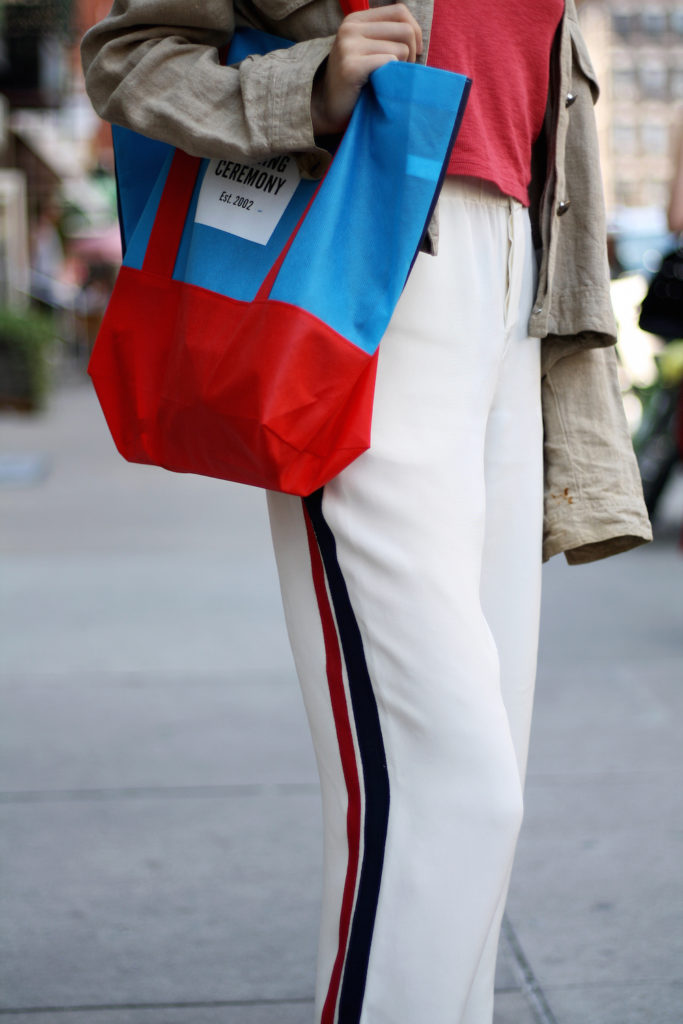 PHOTO: Lex Kelly
5—Sneakers, sneakers, sneakers
The best item to top off any athleisure outfit is sneakers. No matter where your brand preferences lie, every company is stepping up their sneaker game. Go shopping and find the pair that best expresses your style! Everyone knows an outfit isn't complete until you find the right shoes.
Outfit Idea: You can pair sneakers with your favorite leggings and an oversized T-shirt.
PHOTO: Kelly Rogowski
How do you wear athleisure? Show us on social media. Don't forget to tag @Cfashionista!