Having a dining hall means never having to cook for yourself, but at some point, you'll get sick of the cardboard "pizza," or lose the willpower to assemble that same sad salad. If you find yourself drooling over the Buddha bowls and avocado toast featured on your favorite food blog, fear not. I've modified four of the trendiest meals so they can me made with little more than a mini fridge.
Avocado Rice Cake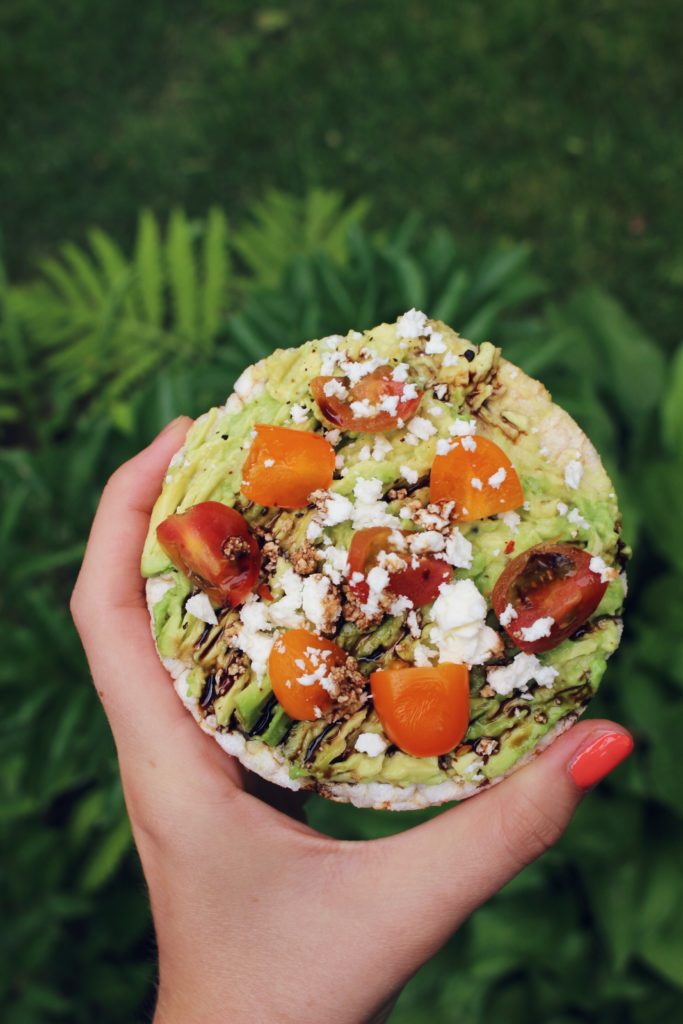 Without a toaster, avocado toast is out, and avocado on soft bread is just sad. Instead, I use a rice cake as the base for one of my favorite snacks.
Ingredients:
Smear the avocado onto the rice cake and top with salt. Some of my other favorite toppings are tomatoes, feta, and balsamic glaze.
Peanut Butter and Jelly Overnight Oats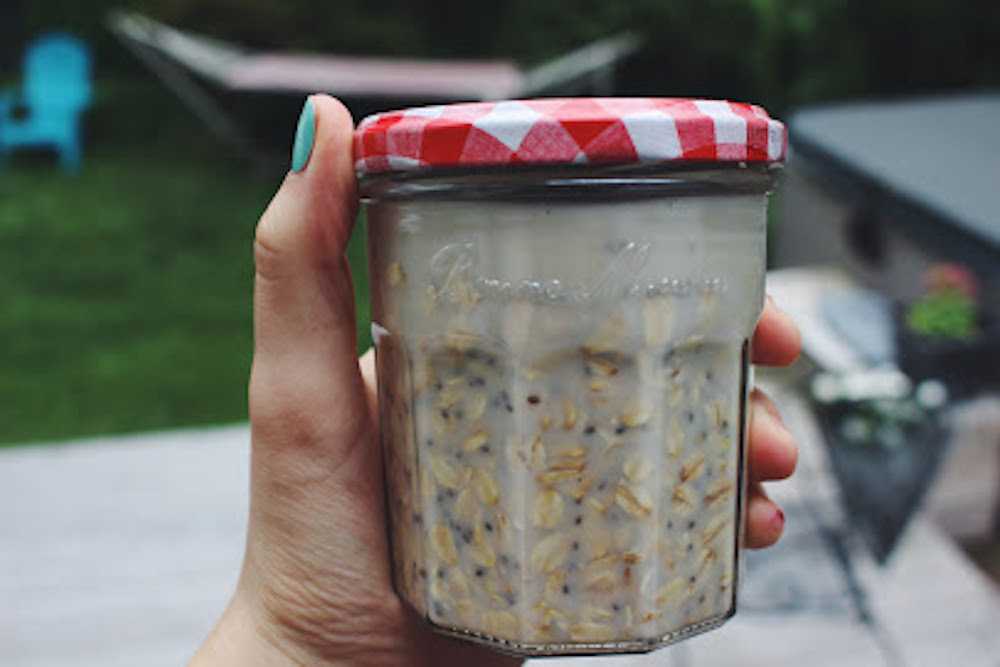 Whether you're the type to savor your breakfast slowly, post-morning workout and pre-morning meditation, or to scarf it down while wielding a can of dry shampoo, this recipe will ensure a protein-packed meal waiting for you when you wake up.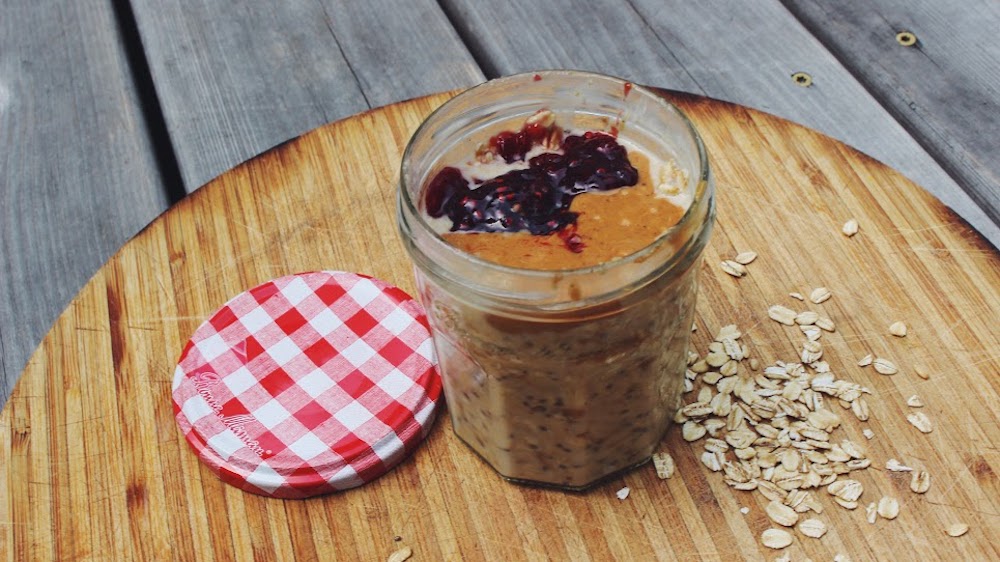 Ingredients:
½ cup of old fashioned oats
1 cup of milk of your choice
1 teaspoon of chia seeds
½ teaspoon of almond extract
2 tablespoons of peanut butter
Strawberry or raspberry preserves, to taste
The night before, combine everything but the strawberry preserves in a jar, shake well, and leave it in the fridge. (Tip: Don't skip the almond extract! It adds a ton of flavor.)
The next morning, stir and add the preserves. You can heat it or eat it cold.
Acai Bowl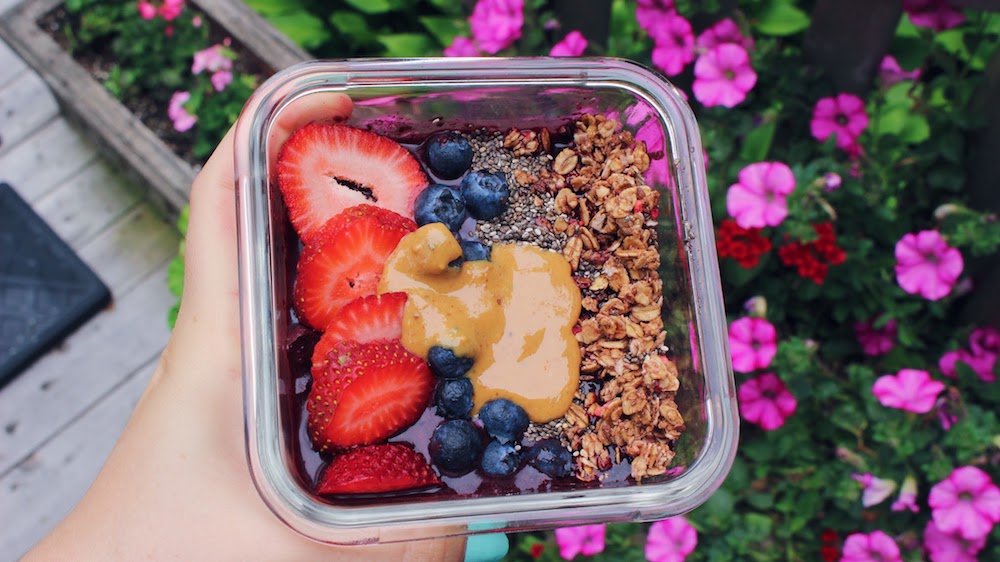 This breakfast only takes five minutes to make, but will make you feel so put together you just might start a lifestyle blog.
Ingredients:
Acai pack
Agave or honey
Fruit of your choice (I like strawberries, blueberries, and bananas. )
Granola
Peanut butter
Chia seeds
If you have a blender, blend the acai with frozen fruit and nut milk. Otherwise, run it under hot water, squeeze it into a bowl and sweeten it with honey or agave.
Top with your favorite topping and enjoy!
Superfood Bowl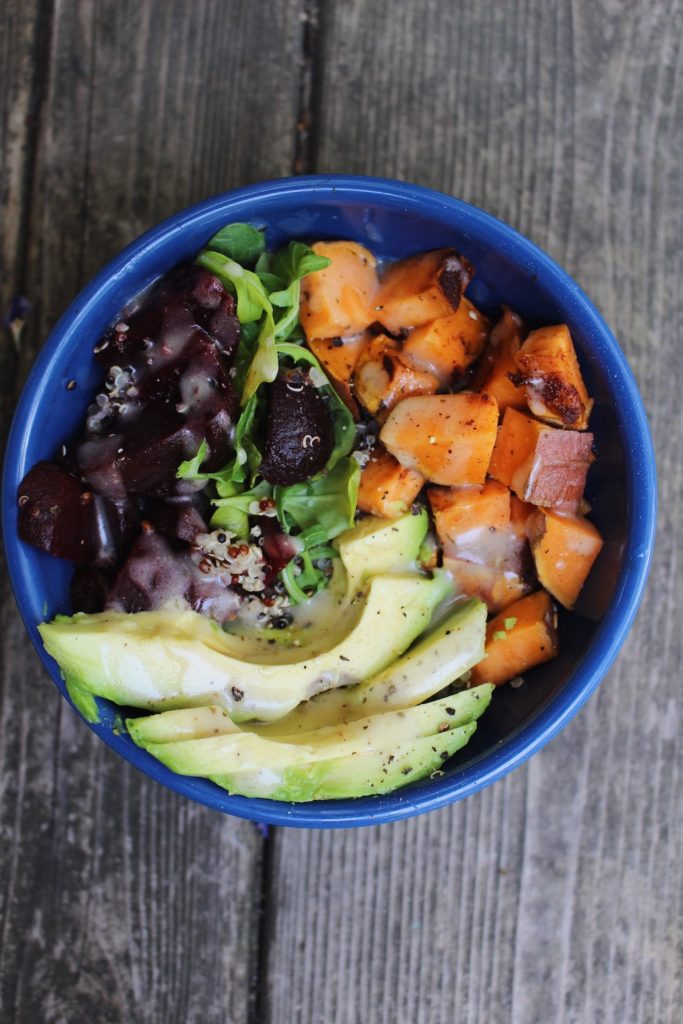 If you know me, you know all my convictions about healthy eating go out the window once the clock strikes midnight. I'll skip the cheese on my salad at lunch because I'm "not eating dairy," only to order a mac and cheese calzone at 3 a.m. If you're looking for a meal to rebound from a recent splurge, this is it.
Ingredients:
½ cup quinoa
½ an avocado
Handful of spinach or arugula
1 sweet potato
Precooked beets
Dressing of choice
Cook your quinoa. I'd recommend buying pre-cooked, frozen quinoa that you can just defrost. Alternatively, you can cook raw quinoa in the microwave.
Poke your sweet potato with a fork and microwave for four to five minutes, until soft.
Slice avocado and beets, and throw it all together.
Top with your favorite salad dressing. I like Panera Greek dressing or Trader Joe's Spicy Peanut Vinaigrette.
What recipes have you made in your dorm? Let me know in the comments below!