Getting an internship is an exciting and rewarding feeling, so why do some people feel so stressed about them? They may be nervous for a new job, worried about the commitment, or they could just not know what to wear! Being nervous comes with every new experience in life, but the wardrobe part is nothing to stress over. Below are three outfits that every intern should own and why.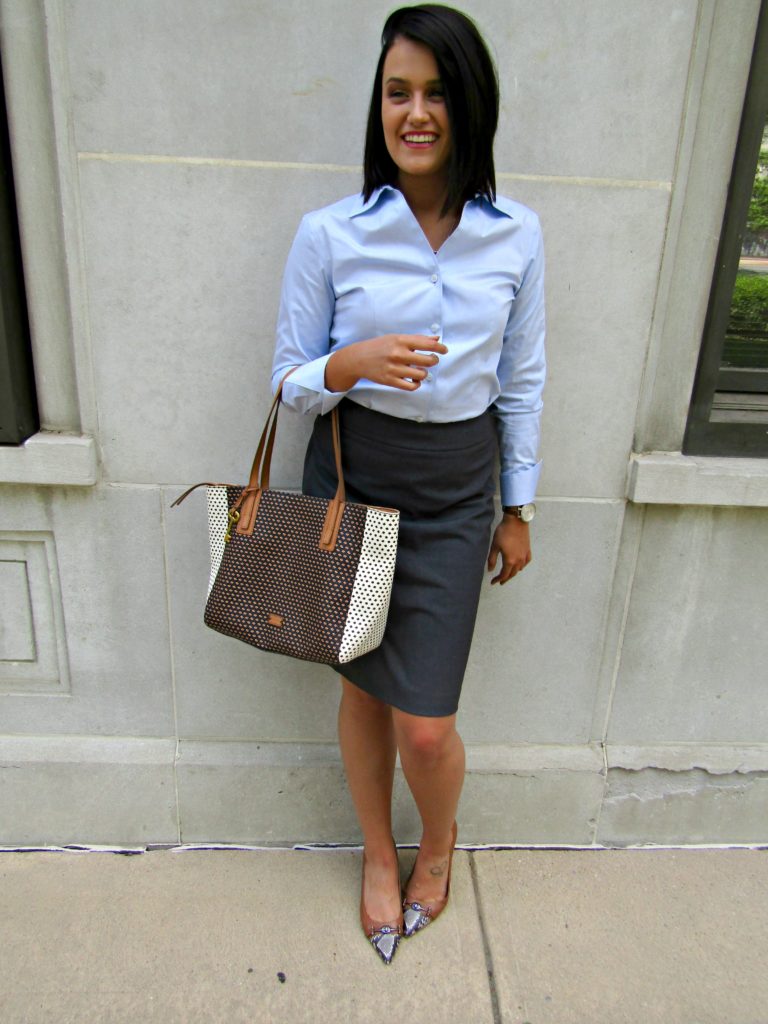 The first outfit that every intern should own is a business outfit. No matter what kind of internship you have, there is always the need for a business or professional outfit. This may be an outfit that you already own and quite possibly wore to your interview to get the internship. This is a key outfit to have in your closet during an internship for many reasons: if you are needed to perform an interview for the company, go to a dinner, attend company events, or even just to wear in the office. For your business outfit, a good rule of thumb is to keep it classy and simple. You want to be able to wear it to any occasion, so if it's a wild print or bold color combination, you won't get as many uses out of it as you can. Keep the colors on the neutral side and use your accessories to show your personality. For example, this Fashionista is being fashion-forward with her Henri Bendel bag, Michael Kors watch, and her pointed toe two-toned shoes.
The next outfit needed in any intern's closet is a business casual outfit. This outfit can be a mid length or maxi skirt. It could also be a maxi dress, dress pants and a cute top, or a sundress. This outfit can be worn to every day to company events, casual Fridays in the office, or when you go out to lunch. This does not have to be a very business type of outfit, just one that is appropriate to be in while representing the company you intern for.
The third outfit every intern should have is a simple black dress. You never know when a little black dress is going to be needed. Having your black dress is going to come in handy for company cocktail parties, holiday parties, or even smaller events.This is another piece that no matter the internship or company you are working for, it's always important to have, even though being a woman in her early twenties is enough reason! You can dress this up with your accessories to show your personality while keeping your look professional.
What essentials do you have for your internship? Let me know in the comments below, and show us your style on social media and tag @Cfashionista!