With March Madness now in full force, it's time to start showing our school spirit—which means all the fashion lovers out there have to find something to wear to basketball games without completely losing their sense of self. Luckily, it's not nearly as difficult as it might seem to sport those weird school color combinations and still look good. With a few basic pieces and some strategic styling, we've put together five outfits to help you cheer on your team in style. Because whoever said basketball tees had to be boring was seriously disturbed.

Leather Jacket + Relaxed Denim + Sneakers
Turn your go-to weekend wear look into a basketball-appropriate 'fit with a classic leather jacket and relaxed jeans. Comfortable footwear is essential for hours of cheering on your team, so choose a pair of New Balance sneakers to add a sporty element you'll be able to wear all day. And since wearing head-to-toe neutrals to a game is no fun, add a bright crossbody bag for a pop of color.
Get this look: Duke Letters Printed Short-Sleeved V-Neck T-Shirt ($33), Zara Z1975 Relaxed Jeans ($50), H&M Biker Jacket ($70), New Balance 574S Suede ($110), Topshop Diane Diamante Chainmail Bum Bag ($45)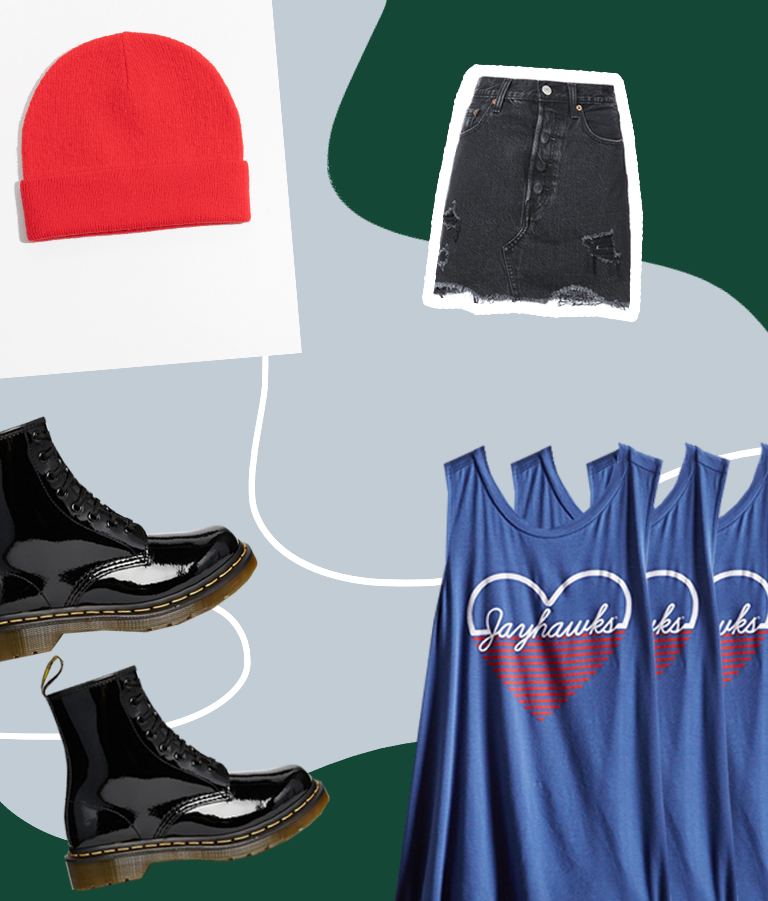 Mesh Shirt + Denim Skirt + Beanie
We all know a big win means an even bigger night out, so prepare for the post-game celebrations with a fun nighttime look. Layer your school tank over a mesh turtleneck and add a denim miniskirt for a look that won't weigh you down should you end up having evening of dancing. For an extra touch of school spirit, throw on a knit beanie in your team colors to ensure your support shows through the crowd.
Get this look: American Eagle Outfitters Tailgate Kansas Jayhawks Tank ($40), H&M Mesh Top ($10), Levi's Frayed Denim Skirt ($78), & Other Stories Wool Beanie ($29), Dr. Martens Modern Classics 1460 Patent 8-Eye Boots ($125)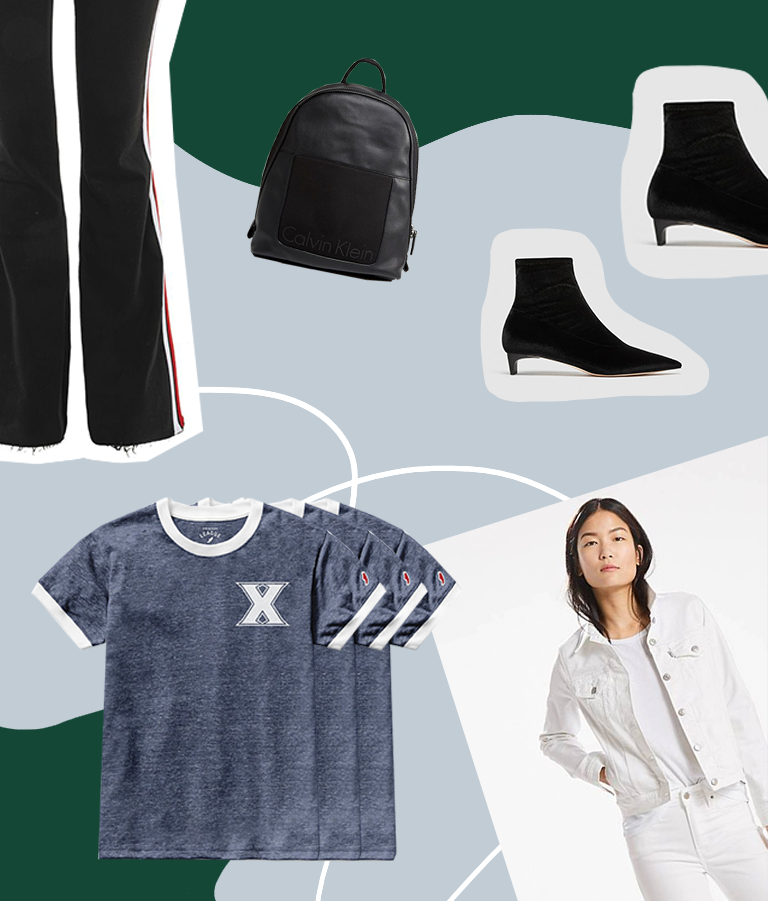 Statement Jeans + Denim Jacket + Booties
Turn your school T-shirt into a full-on "lewk" with attention-grabbing pants and the velvet shoes of your dreams. With a denim jacket thrown on top and a leather backpack carryall, you'll have an unexpected mixture of textures and styles to upgrade that basketball tee past the point of recognition (in the best way possible).
Get this look: Topshop Moto Flared Side Stripe Jamie Jeans ($90), League Xavier University Slim Fit Short Sleeve T-Shirt ($32), Levi's Original Trucker Jacket ($50), Zara High Heel Velvet Ankle Boots ($50), Calvin Klein Backpack ($160)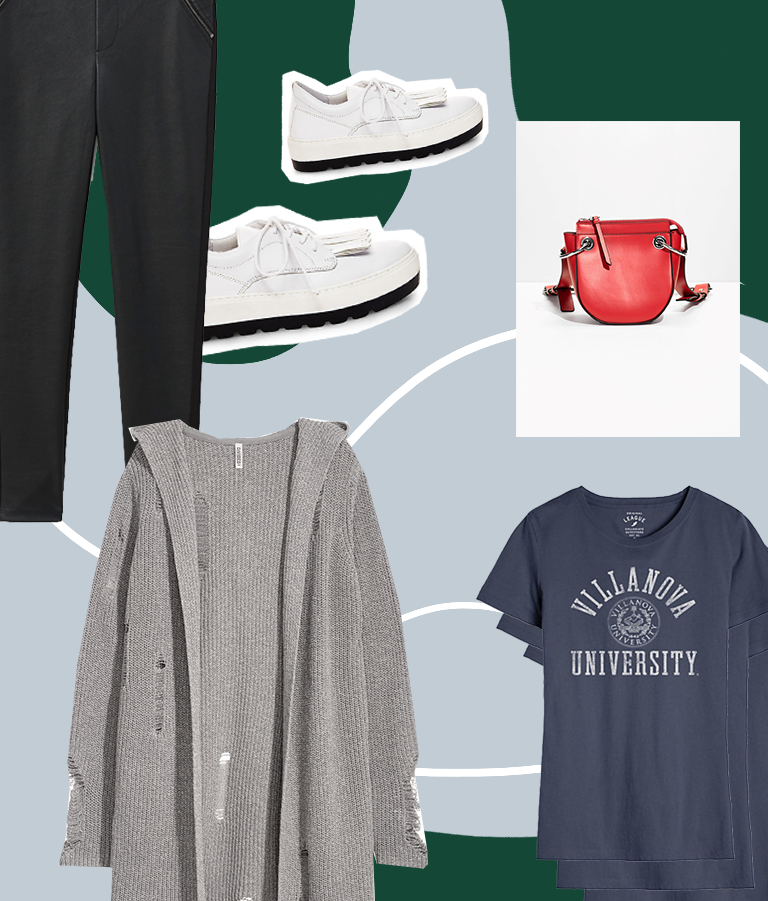 Leather Leggings + Longline Sweater + Platform Shoes
Let's be real—standing in a student section for hours is far from comfortable, so it's important that your outfit is. Leather leggings are an easy way to elevate a look while basically wearing workout gear, and a long cardigan over your T-shirt will keep you cozy all night. Show your athletic side, but make it #fashion, in a pair of platform sneakers that will look cool but keep your feet happy no matter how much jumping you do.
Get this look: League Villanova University Slim Fit Short Sleeve T-Shirt ($22), Mango Contrasting Design Leggings ($40), H&M Hoodie Cardigan ($50), Steve Madden Venesaa ($130), & Other Stories Mini Leather Saddle Bag ($125)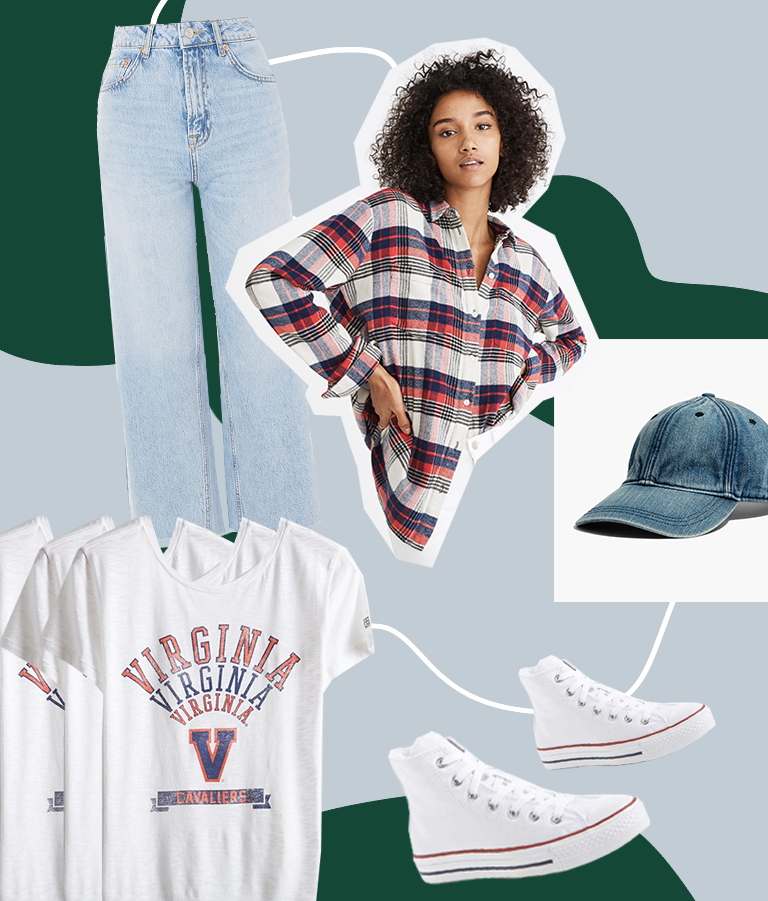 Flannel Shirt + Denim Culottes + Converse High-Tops
Naturally, March Madness happens to fall right smack in the middle of spring break and midterm season, so it's not always realistic to be the polished trendsetter you know you are. When you're running on minimal sleep and rushing from the library to the basketball stands, opt for a look that's study-friendly but still cute. Roomy jeans and a flannel button-down over your T-shirt are the perfect solution to a tired but spirited look, and your go-to sneakers will ensure maximum comfort all night long.
Get this look: American Eagle Outfitters Tailgate UVA Cavaliers T-shirt ($32), Madewell Oversized Ex-Boyfriend Shirt in Baker Plaid ($60), Topshop Moto Bleach Cropped Wide Leg Jeans ($75), Converse Chuck Taylor High Top Sneaker ($55), Madewell Denim Baseball Cap ($30)
How do you style your school spirit for basketball games? Let us know in the comments below!