As sweater weather continues to reign, unique knitwear is having a major moment. Degrees are dropping and it's time for fashion lovers to collect their knitted picks for the season. In the style space, knitwear has made its rounds throughout the years, showcasing from Fashion Week runways to celebrity street style icons. Taking a life of their own, independent knitwear brands have risen to internet fame to debut their own unique pieces.
From eccentric motif designs to vibrant multi-colored hues, College Fashionista spoke with three Instagram-based knitwear business that need a spot in your winter wardrobe.
MiMi Moonz
Based in New York, designer Jordyn Mooney learned the intricacies of knitting during the 2020 pandemic. Through the hours of work, Jordyn found a connection with the art form and decided to spend more time learning the ins and outs of creating detailed pieces.
"I realized this could be a great creative outlet," Jordyn explained. "I taught myself different techniques and skills through YouTube videos and just started posting the things I was making." Soon after posting to Instagram, Jordyn began to receive personal requests to make custom pieces — producing designs frequently for eager customers.
In January of 2022, Jordyn officially rebranded as MiMi Moonz and further down the line debuted the Work Wife Top in October of 2022. "It's a simple boxy tank silhouette with a knitted tie that sits above the bust and drapes down the front", Jordyn said. "I posted a photo of my first prototype with no solid plans to release it as a style. Then it got boosted to the top of the explore page for over 2 weeks!"
Reaching over 1,000 saves on Instagram, MiMi Moonz became recognized by a plethora of fashion enthusiasts, with among those being media mogul, Emma Chamberlin, as one of the first five people to order.
"Almost all of my work is done right in my bedroom. I have a knitting machine that I use to make the main panels of my pieces, and then I put everything together by hand," Jordyn said. "Most days I have multiple things to work on — Work Wife Tanks, Scarves, Balaclavas — I like to alternate so I don't get bored." With a filled collection, it can take hours to knit a single piece, along with additional time spent sourcing materials and textures from Downtown Yarns and Annie & Co. to keep up with the timeless and chic aesthetic Jordyn has produced.
As Jordyn continues to blow us away with MiMi Moonz, you can expect to see more trendsetting designs in the future.
HOLIK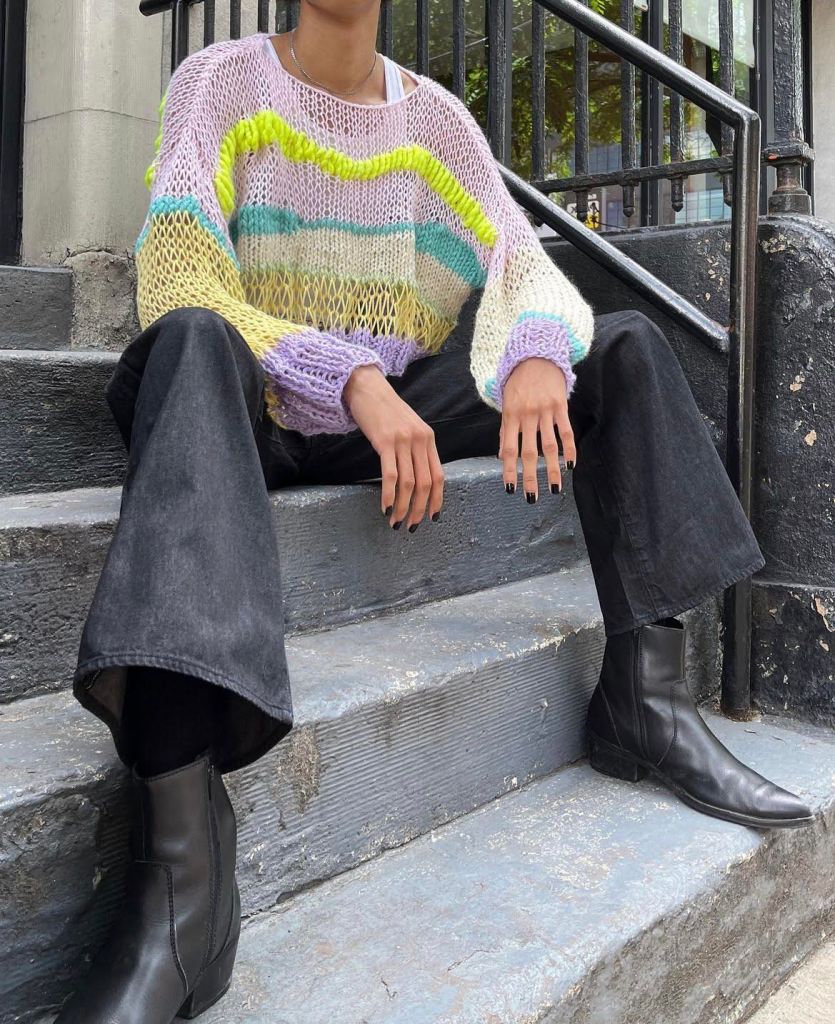 After being introduced to knitting as a child, designer Aly Barnaba, dove back into the art of knits in 2021, which sparked an interest in designing more unique pieces. "I started to get creative and see what cool pieces I could make," Aly said. "After I started wearing them out, my friends all loved them — I posted a few things on Depop and it just grew from there!" Being reacquainted with the form and producing additional pieces to fashion lovers, it soon led Aly to launch HOLIK.
Making its debut in 2022, the brand's first design was a pair of knitted sleeves that became all the range among a growing group of followers. Soon after, followed a collection of tanks, sweaters, bralettes and more, that were designed between home and class hours to keep up with customer demand.
"I tend to sketch out designs randomly when it hits me," Aly explained. "On the subway or in between classes. A full sweater takes me about 4 days, my sleeves take between 1-2 days, and tanks I can typically get done in a day." With a busy schedule, Aly is able to keep up with demand while maintaining the brands aesthetic with a unique mix of vibrant hues and silhouettes.
With a collection full of ecocentrism, Aly collects materials from all over New York to create new looks. "Scraps on Ebay in yarn lots, shops like Downtown Yarns and Knitty City occasionally, and especially Catskill Merino Wool at the Greenmarket in Union Square," Aly details. "Sometimes I'll even thrift knit pieces and harvest the yarn." Sourcing and designing from different materials, Aly uses this perspective to create innovative pieces to lead a retro and artistic brand persona.
As Aly continues to produce more and more unique items, HOLIK is destined to stay on your radar throughout the season!
ExpressionEI
The infatuation turned love for knitting, began with the concept of crocheting. Developing an appreciation for the art, UK designer Eloise Clarkson, started making designs in 2021 for personal and family use and started an Instagram based brand, ExpressionEl for close members to shop. "After a strong 3 months of having no outside influence affecting my creative process, I created my instagram in July and started sharing my creations online with no intention of it being a business," Eloise said. "I was selling to my friends but it was still solely a hobby just for me that I loved with my entire heart." Before fully transitioning to knitting, the brand started to grow as custom orders increased as far as Washington and Norway. After observing customer interest and orders, Eloise transformed the brand from personal to business.
As a business, Eloise's first hand-knitted piece was a halter top that launched in March of 2022. Moving from crochet, designs soon started to be made by knit which became a bigger motive to master the form. "Not soon after I invested in a circular knitting machine and started crazily cranking out tons of sleeves so I had loads of tubes not knowing what I was going to do with them," Eloise explained. "It was harder to knit panels so I put it off a little to begin with but once I mastered them it opened up the world of jumpers, tops and just about anything else I could think off." Leading designs with a top-down construction method, it helped to ease the learning period of hand-knitting along with new crochet techniques.
Along with keeping up with orders, Eloise works to fit in design time with a structured nine to five schedule – with each piece depending on the type of needle and item. "The largest project I've knit took me a week, a pair of hand knit trousers, working almost every minute of my awake hours, roughly 15 hours a day for 6 days straight," Eloise Said. "It was very intense but is one of, if not my favorite piece of clothing that I've made, they're so experimental, fun and bright, it's hard to not love them." Along with long hours of dedication, Eloise's collection is full of liveliness that creates a character of it own. "A physical extension of my being," Eloise explained. "My yarn is paint and my hooks are paintbrushes."
As ExpresisonEl continues to grow, you can expect more unique designs to show up on your feed this holiday season.
Featured Image Via MiMi Moonz, HOLIK, ExpressionEL. Design by Her Campus Media.