If you're anything like me, your TikTok For You Page is full of Zara hauls. I'm not complaining though — I'll happily spend hours of my day watching fellow fashion lovers unbox their latest finds! Luckily for me, these hauls have no end in sight. Yesterday, Zara announced that its twice-yearly sale is just around the corner. And by that, I mean it starts tonight!
There are multiple ways to shop this year's sale so here's the nitty-gritty: Zara App users get first dibs on the deals. By downloading the app you'll gain early access to the sale on Wednesday, June 23 at 8:00 p.m. EST. Next up, are website users with the online sale kicking off an hour later at 9:00 p.m. EST. Lastly, the Zara sale will begin in-store Thursday, June 24 whenever your closest retail location opens. Be warned though! Zara's fitting rooms are currently closed and lines are expected to be even longer the usual.
That said, I frankly cannot wait to start shopping this year's Zara sale. I gave myself a bit of a head start by rounding up the items I'll be adding to my cart tonight and asked the College Fashionista team to do the same. Keep scrolling for our Zara sale must-haves and get ready to act fast — I have a gut feeling these items will sell out quickly!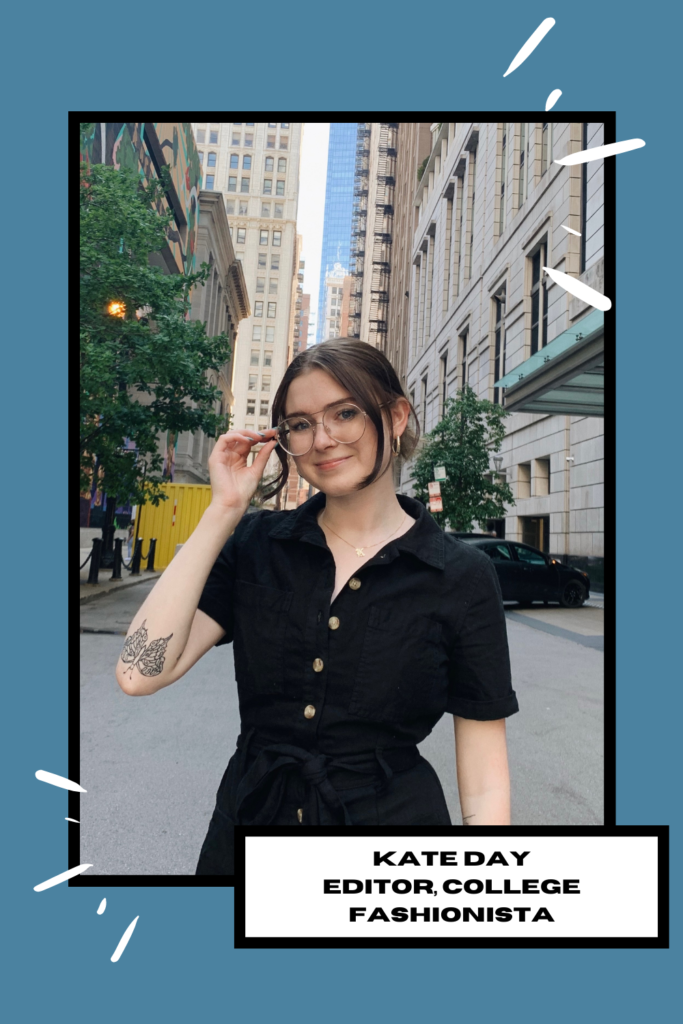 Shop Kate's Picks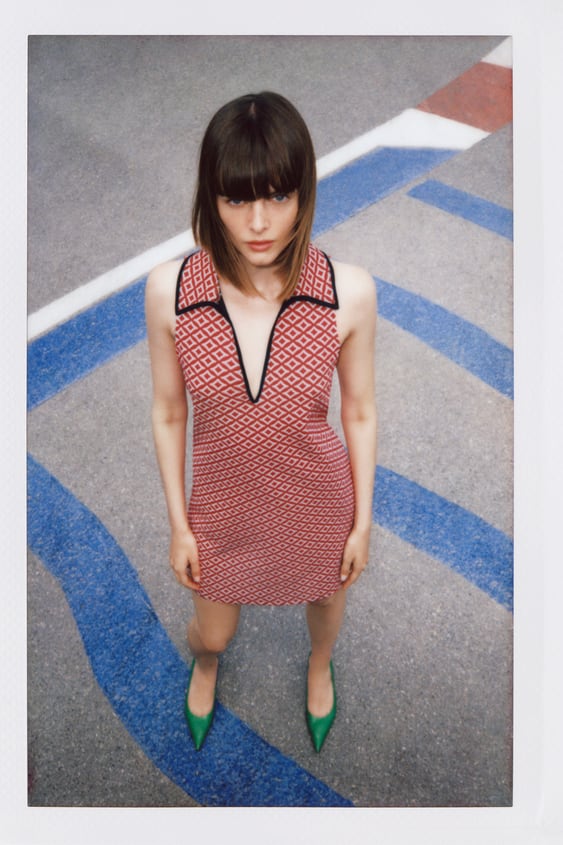 Jacquard Dress
I am notorious for only wearing black but I'm really trying, okay! I love this dress because of its retro flair, deep v-neck, and cute collar detail. Plus, I can actually picture myself reaching for this color often!
Buy for $22.99 (originally $35.90)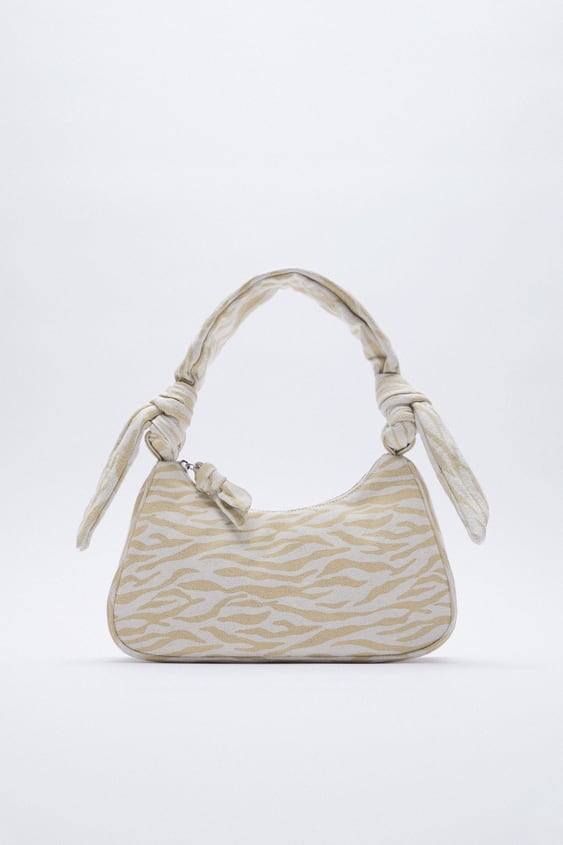 Printed Shoulder Bag
This next one combines all of the things I love into one shoulder bag. Neutral color palette? Check. Zebra Print? Check. Adorable, tiny size but big enough for my essentials? Check. It really ticks all of my boxes!
Buy for $22.99 (originally $29.90)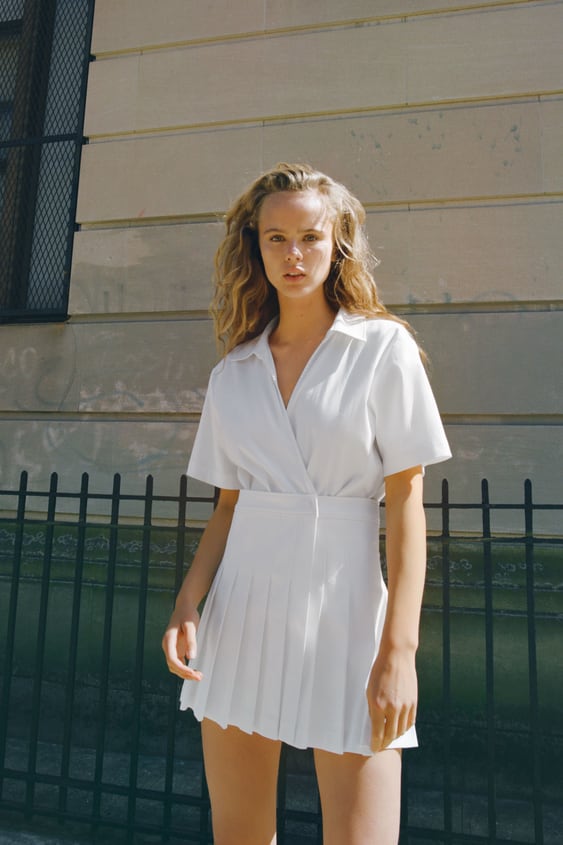 Box Pleat Jumpsuit Dress
There's nothing I love more than a LWD in the summer and this one is calling my name. While I'm obsessed with the polo top and tennis-style pleated skirt the best part of this piece has to be the hidden shorts. I mean come on, who doesn't love a skort moment?
Buy for $35.99 (originally $49.90)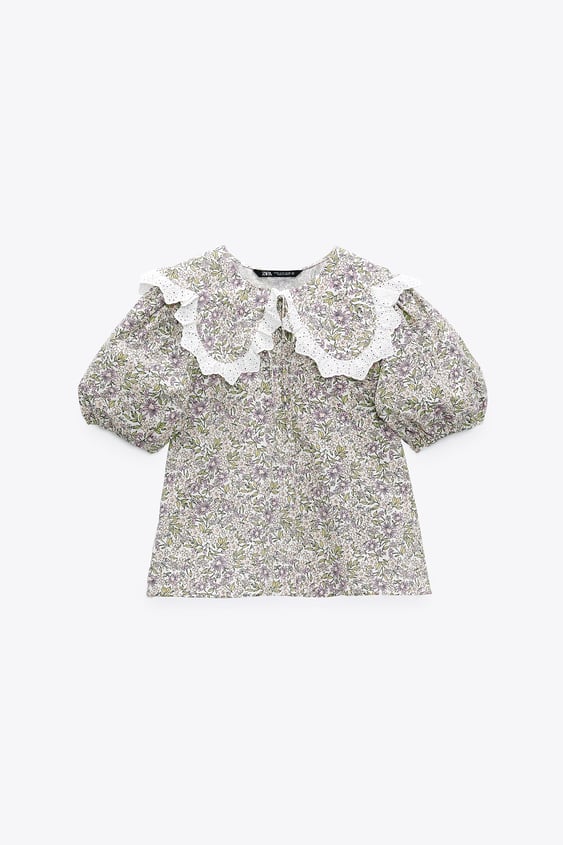 Printed Peter Pan Collar Shirt
I've been into any and all things cottage core lately so this top is the perfect way to try out the trend. I'm planning on styling it with my favorite denim cutoffs, a black shoulder bag, and black platform sandals so the look has a little edge.
Buy for $25.99 (originally $39.90)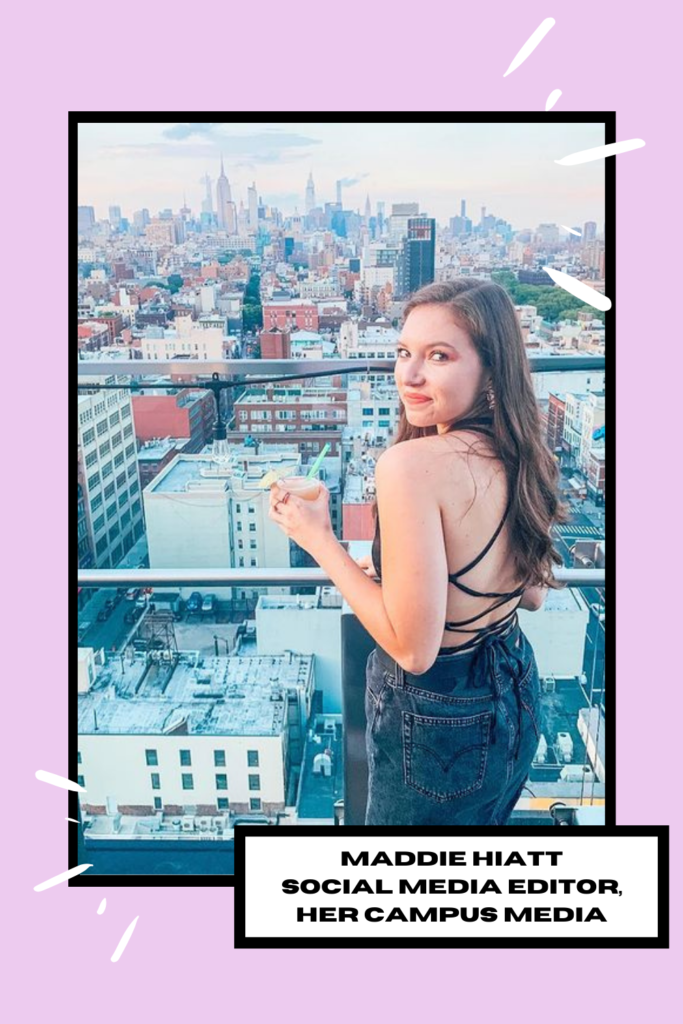 Shop Maddie's Picks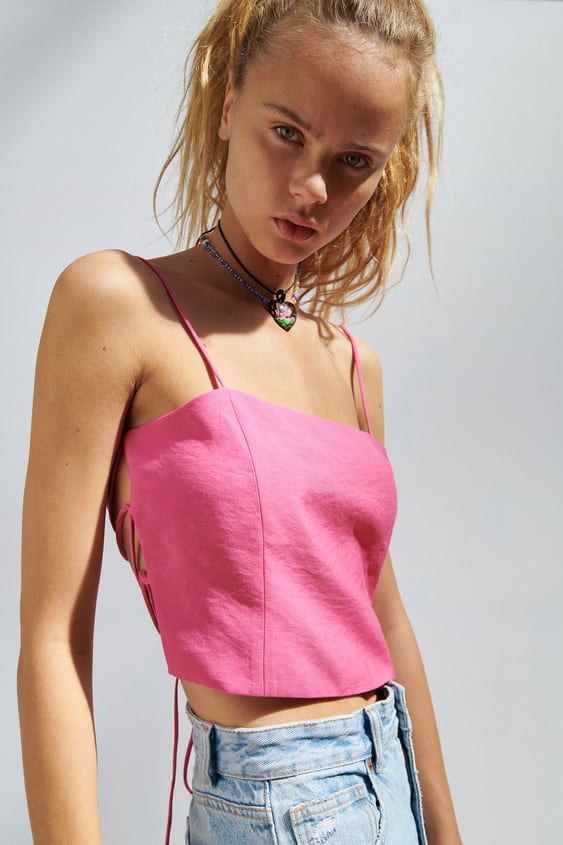 Flowy Crop Top
I don't know who needs to hear this but pink is the color of the summer and I am absolutely here for it. This top has everything you need: open back, criss-cross straps, and the color of the season. 10/10.
Buy for $19.99 (originally $29.90)
Satin Effect Floral Print Dress
This is literally the perfect dress to dress up or down. Pair it with sneakers and a denim jacket for brunch. Or add strappy white heels and a beaded clutch and you're ready for dinner. Don't pass this one up.
Buy for $25.99 (originally $39.90)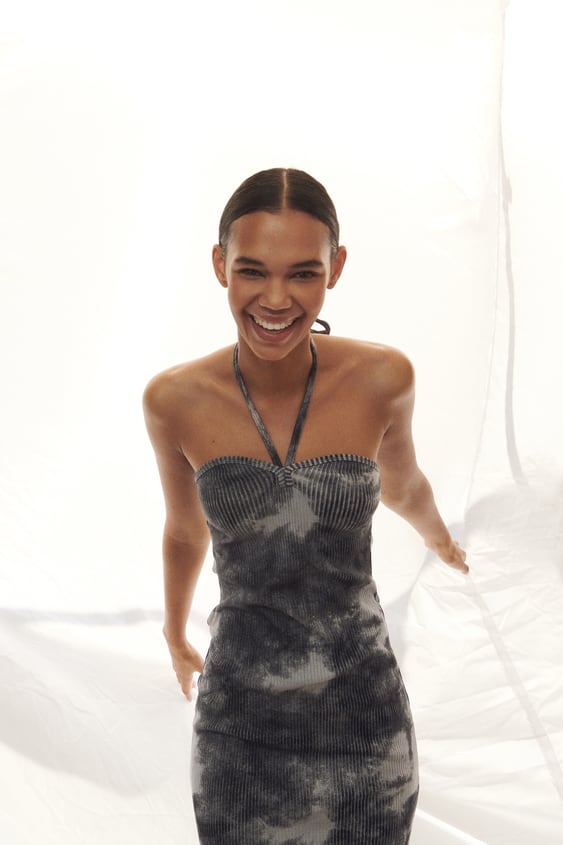 Tie-Dye Dress
I know what you're thinking but tie-dye is *not* just a 2020 trend. It's back and better than ever in the form of this dress. The unique neckline brings the 2020 print into 2021 with an added flare.
Buy for $22.99 (originally $35.90)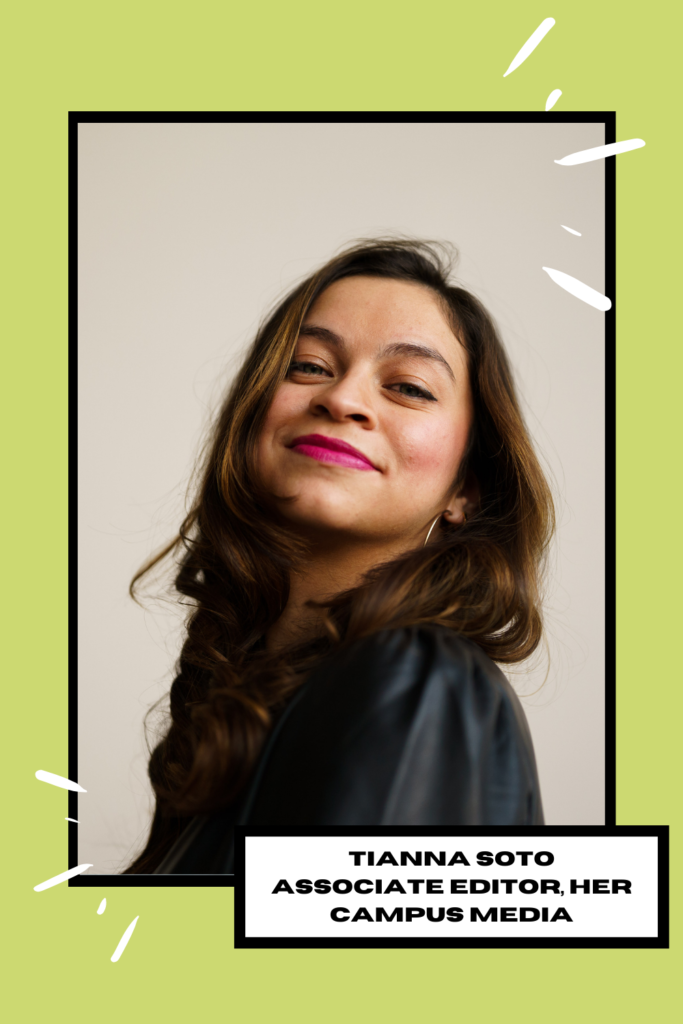 Shop Tianna's Picks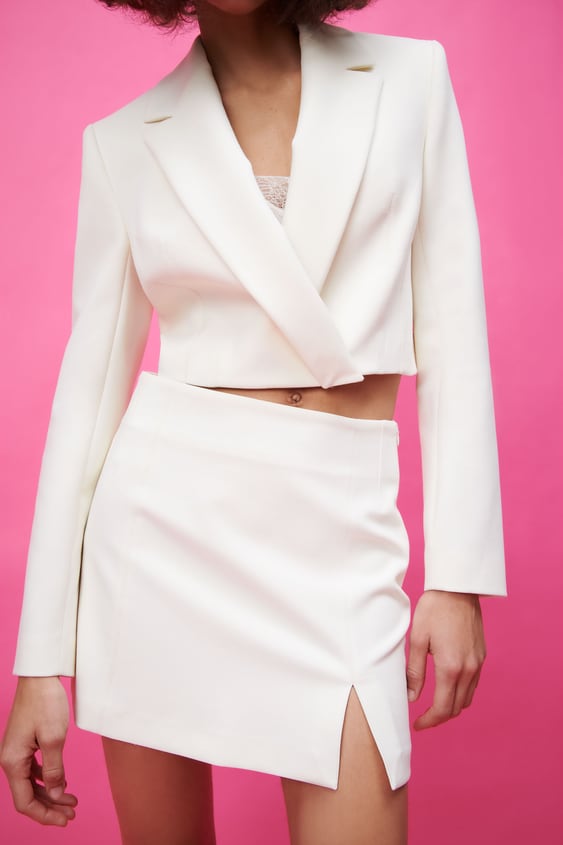 Cropped Blazer
This cropped blazer with long sleeves is everything to me. If you're looking for an outfit that's sophisticated yet summer-friendly, this is the one — it's has a chic, yet polished look that makes me feel like I can take on anything the day brings.
Buy for $45.99 (originally $69.90)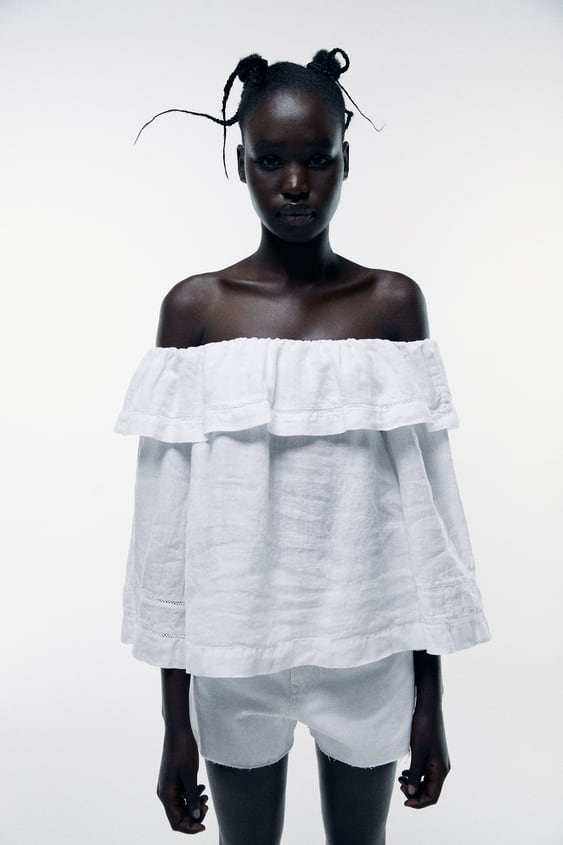 Ruffled Linen Top
I live for a comfy, flowy top that I can wear on multiple occasions, and I have a feeling this ruffled linen top from Zara will be the perfect addition to my summer wardrobe. Between the soft fabric, elastic neckline, and crisp white color, it's about to be my staple item for summer nights.
Buy for $25.99 (originally $39.90)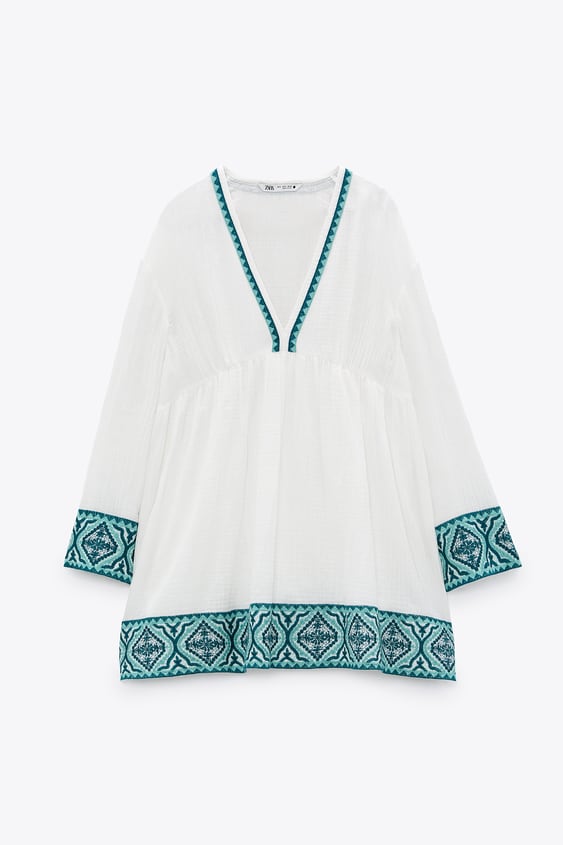 Combination Textured Dress
There's something about a breezy summer dress that can make a beautiful statement in any room you walk into. This one from Zara has elegant embroidered sleeves in the prettiest color! It also makes a great canvas for accessorizing — try pairing it with layered gold jewelry for a look that's gorgeous and timeless.
Buy for $35.99 (originally $49.90)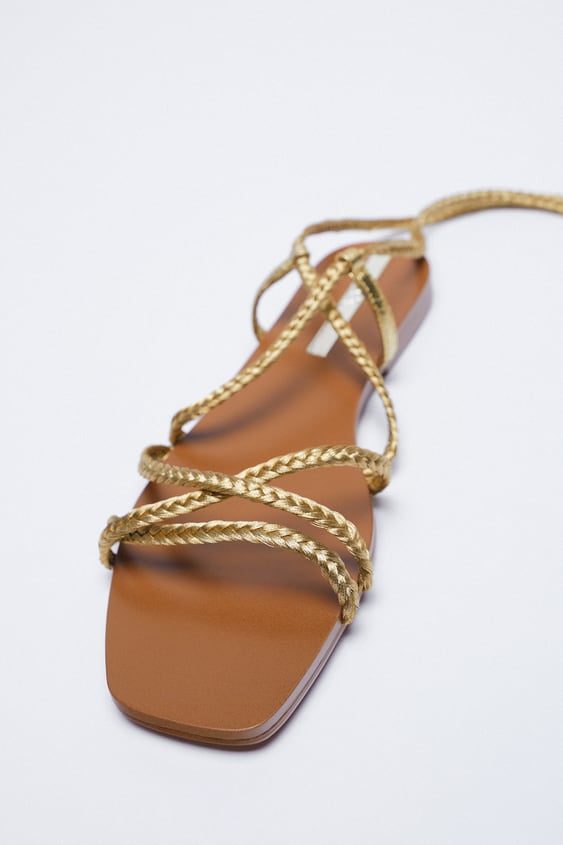 Low Heel Metallic Sandal with Tied Ankle
I love a sandal that's minimal yet slightly elevated for summer, and this gold metallic pair is definitely going on my list of must-haves! I love the low heel, braided gold straps, and the fact that they can make any summer outfit look more refined.
Buy for $39.99 (originally $49.90)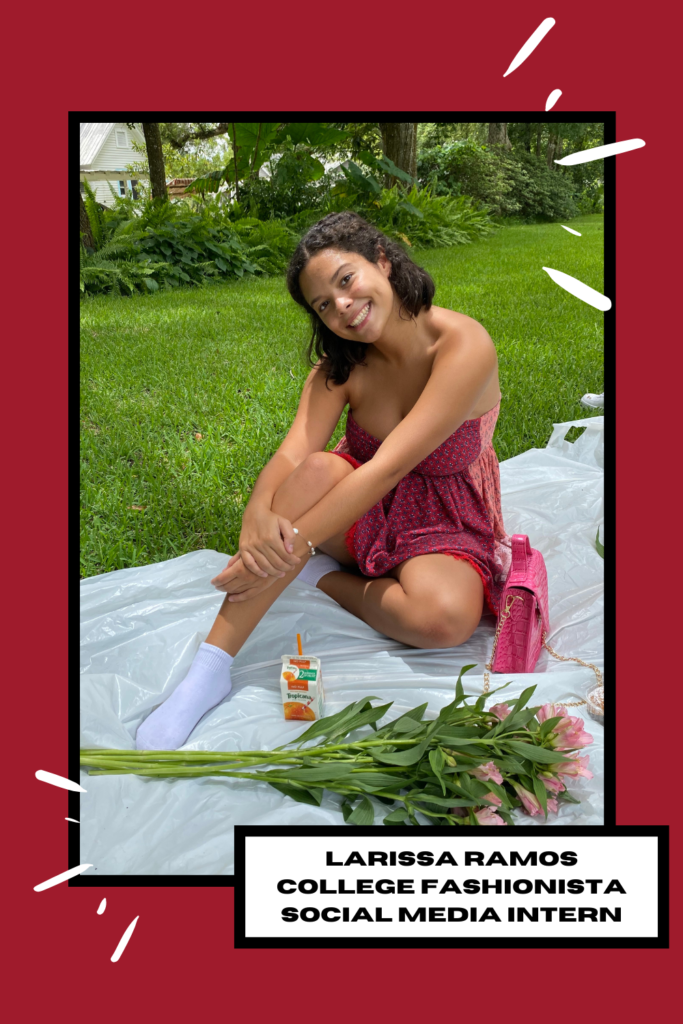 Shop Larissa's Picks
Geometric Print Bodysuit
The first item in my cart for the Zara sale is this printed bodysuit. I am absolutely IN LOVE with the colors and think it's perfect for summer. I'm planning on wearing it for a night out or a day trip into the city with burgundy leather pants and thong heels.
Buy for $15.99 (originally $25.90)
Hi Rise Curved Shorts
Next are these denim shorts, you can never have too many shorts. These are a perfect summer staple to always have in your closet. I'm planning on pairing them with a bathing suit top, an oversized shirt, and a headscarf for a beach day.
Buy for $22.99 (originally $35.90)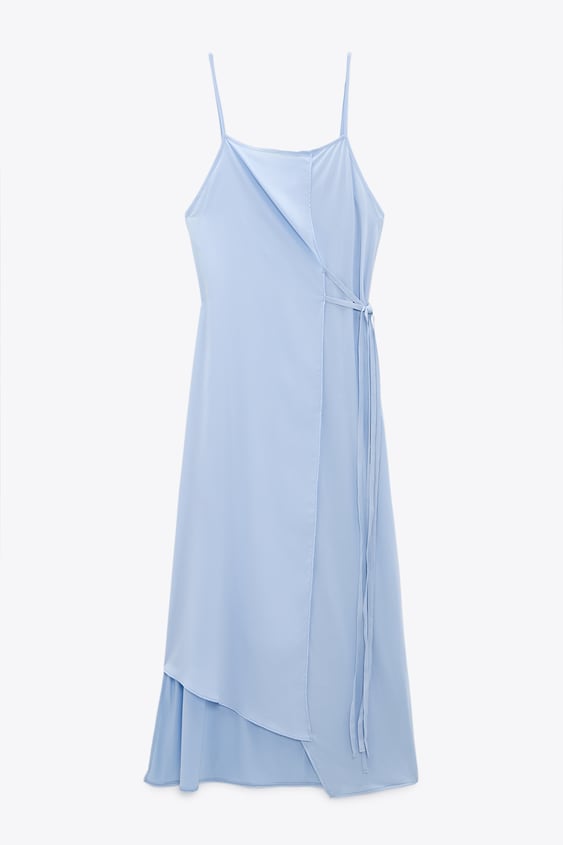 Strappy Gauze Dress
Next is this strappy blue dress which I'm buying for my sorority's recruitment. This dress is basic which is perfect since I'll be on my feet the entire week.
Buy for $25.99 (originally $35.90)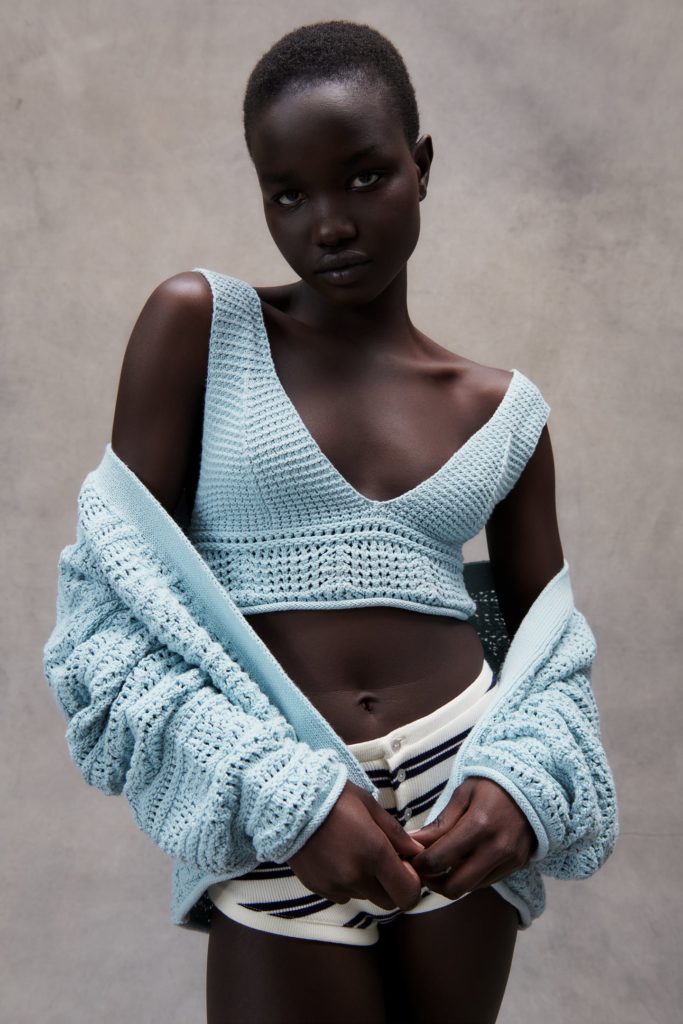 Textured Knit Top
I am OBSESSED with knitting and think it is a must-have for summer so this top had to be in my cart. Even though it's summer, the knit adds some texture to any outfit. I could pair this with my new shorts or with wide-legged pants.
Buy for $15.99 (originally $19.90)
What are you picking up during the Zara sale? Let us know in the comments below.