Taylor Swift is a fashion icon. From her bright red lipstick and heart-shaped glasses all the way to her glittery bodysuits and VMAs sleek black dress, it's fair to say we want to raid her closet ASAP. After all, several Gen Z individuals found inspiration from their favorite T.Swift albums and dressed to the nines in cowboy boots, sparkling fringe dresses and skirts, "Bejeweled" makeup, and much more for the Eras Tour. Her style and influence are unmatched, and she still makes fashion waves even while at football games.
Swift is rumored to be dating Kansas City Chiefs tight end Travis Kelce and is sipping vodka cranberries and eating chicken tenders with ketchup and "seemingly ranch" while she cheers on her possible boo. (She really is the queen of the color red.) Aside from generating a whirlwind of memes at Arrowhead Stadium, the Midnights singer is also setting denim short trends even in October.
While watching the Chiefs play the Jets, Swift was wearing a black long-sleeve shirt with high-waisted, light-wash denim shorts featuring studded detailing around the zipper and pockets. The AREA logo-lettering denim shorts sold out on Farfetch the day following Swift's major fashion moment. Don't feel bad though, the nearly $800 shorts are well out of the college budget. However, you can still achieve the studded high-waisted shorts look with these dupes that are all less than $35. You deserve to look like Taylor Swift, bestie, even if you are on a budget!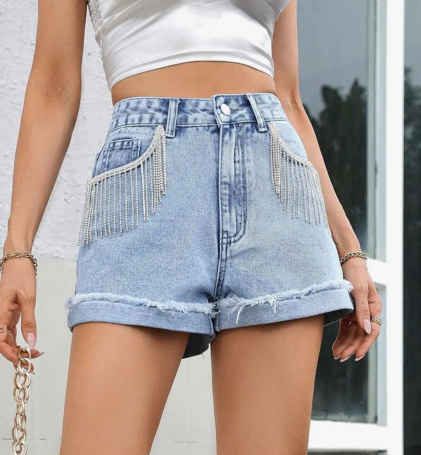 For less than $20, you can get some bling on your denim pockets. This is definitely a cute look for the people who were lucky enough to see both the Eras Tour and the Renaissance World Tour.
[Photo via ASOS]
These skin-tight, light-wash denim shorts look almost exactly like the style Taylor is rocking at the stadium. Buying these shorts would allow you to DIY the AREA clothing piece. Grab these small studs from Amazon and you'll be on your way to a perfect dupe.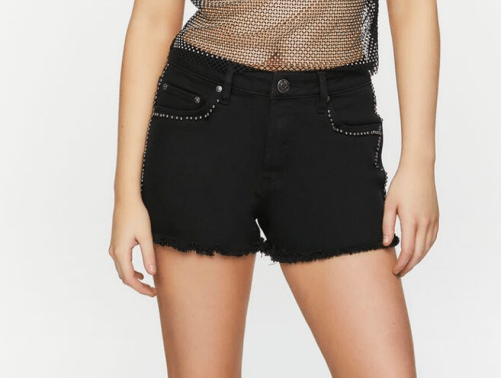 [Photo via Forever 21]
Yes, yes, we know these are not light-washed denim shorts, but sometimes the lighter look doesn't fit everyone's particular aesthetic. You can rock Taylor's studded shorts look, but make it the Reputation era.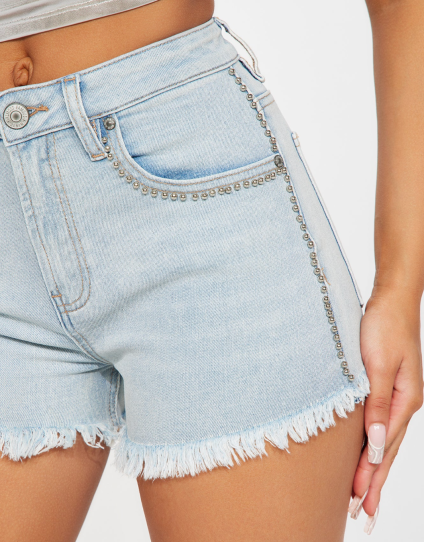 [Photo via Fashion Nova]
Serve up looks for the remainder of these warm fall days in these studded pocket/seam line shorts. Don't forget to pair these with your best knee-high black stiletto boots.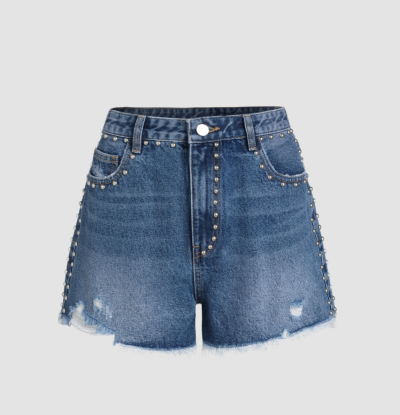 Personally, we loved seeing the bedazzled zipper on Taylor's high-waisted shorts. Cider offers this unique feature on their raw hem wide-leg shorts, and we are obsessed.
Main image: Photo by Dustin Satloff/Getty Images