Whether you've been following Taylor Swift since her 2006 self-titled debut featuring the ever-so-iconic "Picture To Burn" and "Our Song," or recently became a hardcore Swifite after the release of 2022's Midnights, you will definitely have the time of your life on the Eras Tour. The U.S. leg of the worldwide tour began in mid-March and is set to end in August. Then, the singer will continue touring the massive, record-breaking celebration of all of her records internationally throughout 2024.
If you were one of the lucky people to get Eras Tour tickets, even after the major Ticketmaster fiasco, that was only the start of your planning for the show. Of course, the next most important consideration after tickets is outfit planning, duh! Should you sport a country girl look or an edgy reputation fit? Is there such a thing as wearing too much glitter for the show? (Answer: Never.) For the College Fashionista community members who have already seen Taylor Swift on her U.S. Eras Tour, they showed up and showed out in their best ethereal, bejeweled, red, and more outfits. Here are nine of our community members looking absolutely "Gorgeous" for your own Eras Tour outfit inspo.
1. A Pink Sparkly Dress With Matching Boots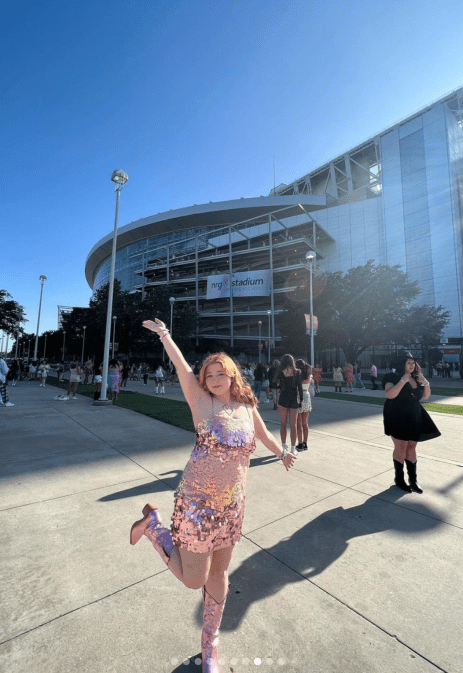 Photo via @wreckxng on Instagram. Head-to-toe pink is always the answer if you're heading to a Taylor Swift concert or even a Taylor Swift dance party at your local bar. CF member Jillian sported this sequined two-toned light pink mini dress with matching pink cowboy boots. Plus, her giant heart necklace is everything.
2. This Sparkly Eras Tour Mini Skirt
Photo via @isabella.bohlen on Instagram. Every day is a good day for a mini skirt moment. This silver sequined mini skirt pairs perfectly with this disco ball crop top and pink cowboy hat. CF member Isabella is giving "mirrorball" vibes, and we are so here for it.
3. The Poofy Dress of My Dreams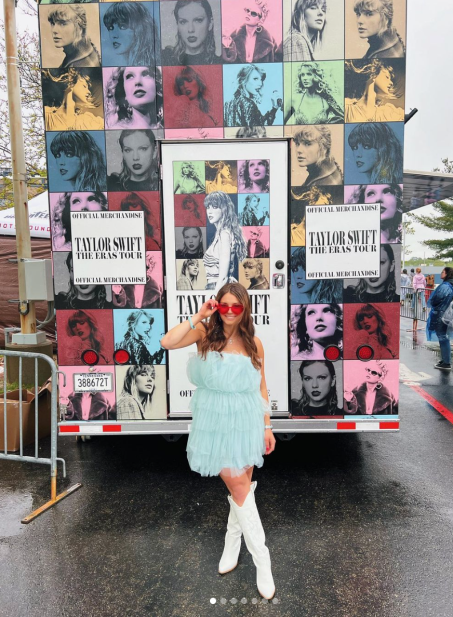 Photo via @omckenelly on Instagram. CF community member Olivia has everything. She's got the crisp white boots, the perfectly poofy strapless light blue dress, and the red heart-shaped glasses. This fit fully encompasses a few of Taylor's eras effortlessly in an Altar'd State dress. This tulle dress is also available in lilac (Lavender Haze, anyone?), pink, sage, and more… and I am adding to cart ASAP.
4. Boots, Boots, Boots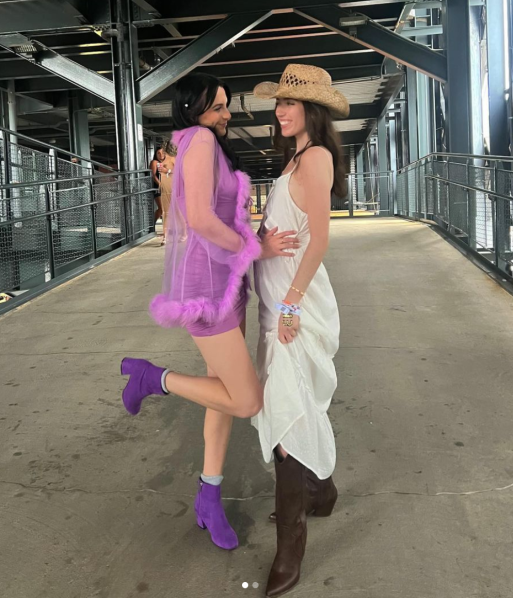 Photo via @abbybruggs on Instagram. Coastal cowgirl vibes are radiating from CF member, Abby! Plus, you can also take some inspo from this mauve fantasy outfit, too.
5. A Little White Dress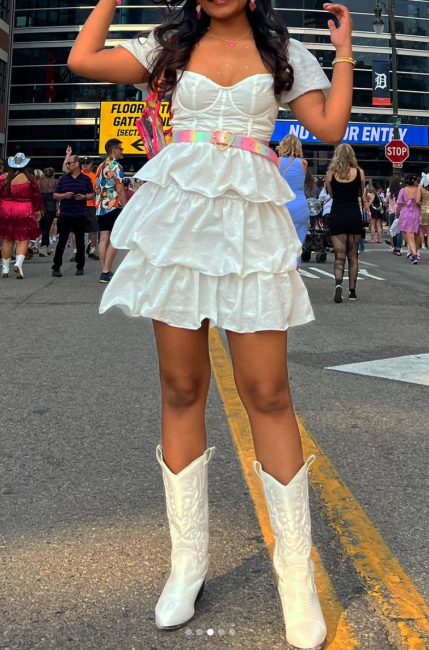 Photo via @anujab on Instagram. Anuja basically walked right out of the cover for Lover and we adore it. The shiny white, tiered dress with the statement rainbow pastel belt made my jaw fall on the floor over the immaculate vibes.
6. Eras Tour Rainbow Glamour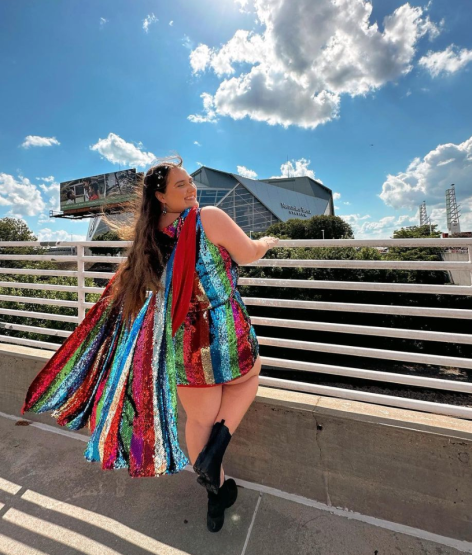 Photo via @abbywright0616 on Instagram. CF member Abby is rocking this shiny, rainbow-sequined dress, which is so 1989-coded, and it's perfect. Plus, this is the cutest way to celebrate Pride month, too!
7. Barricade Baddie in Red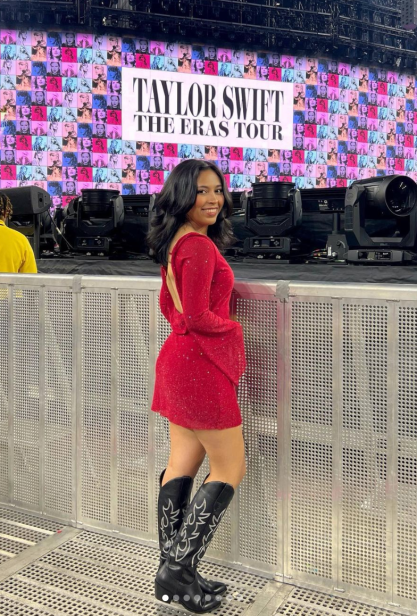 Photo via @melody_molina on Instagram. Let me be the first to say, I am so jealous of how close CF member Melody was to the Taylor Swift. However, this red dress is stunning, stunning, stunning! Hope you danced like you were 22.
8. This Bejeweled Cowboy Hat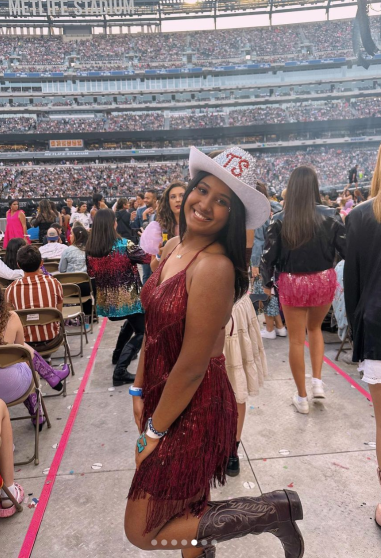 Photo via @emdesouzaaa on Instagram. CF member Emilly made much more than friendship bracelets for the Eras Tour, she made this incredible bejeweled cowboy hat! The way that the sparkly maroon dress with the fringe perfectly matches the TS…it's iconic.
9. Eras Tour Glitz, Glam, Fashion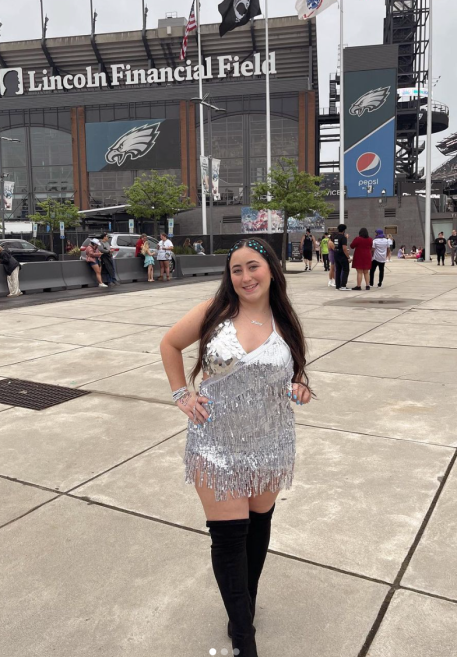 Photo via @haileyshaughnessy4 on Instagram. Thigh-high boots are basically a concert staple! They're not only super cute, but they are also super functional when it comes to jumping and dancing your heart out. This glamorous fringe silver dress is rich in texture and flair, and also matches CF member Hailey's hair gems.