Dolce & Gabbana and Michael Kors, to name a few, are some of the houses that show their love for houndstooth in their fall runway lineups. But wait, what in the world is houndstooth?
What is houndstooth?
Houndstooth is a textile pattern that is created with two colors, usually black and white. It's characterized by a series of broken checks. This pattern can give you a very professional and editorial look. But in this article, I'm going to show you how to work this sophisticated pattern into your everyday wardrobe!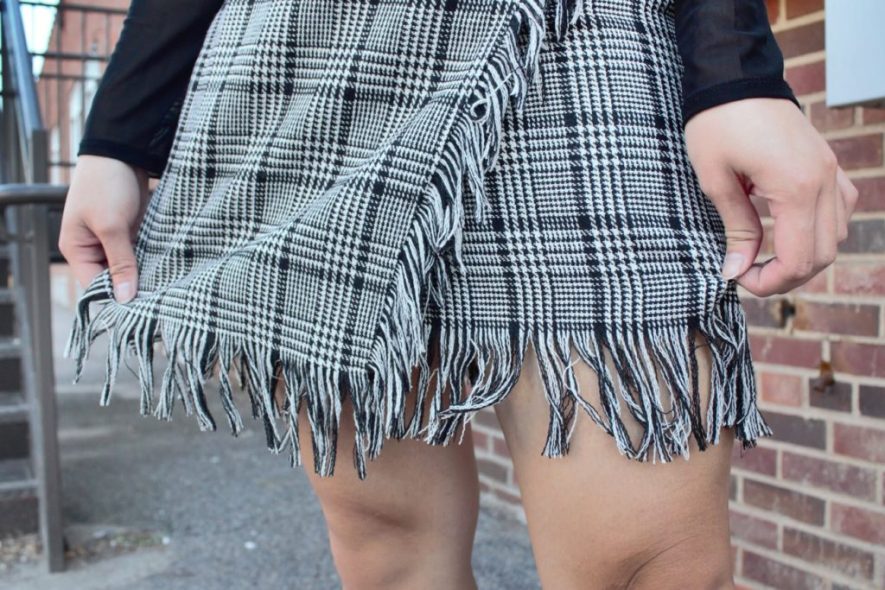 I saw this skirt at a local thrift store and I instantly fell in love with its crisscrossed cut and fringed lining. Fashion houses are selling their houndstooth designs for hundreds of dollars, this skirt only cost me a whopping 10 bucks!
For this look, I've opted to go for chic and edgy. I've paired this skirt with a black mesh top from A'Gaci layered over a detailed bralette from Charlotte Russe. To finish off the look, I threw on some black, lace-up heels that I also thrifted, and a silver chain necklace from H&M.
I've found that it's easiest to style houndstooth if you keep a minimal color palette. As you can see, I chose to stick with wearing head-to-toe black and white to maintain a plain base. This allows the skirt to really stand out and become the main focus of my outfit. While black and white can seem a bit boring, by selecting accessories that have special details such as straps or shiny metal, you can completely change your outfit into something that's very fun and flirty.
Show us how you keep it chic and edgy by posting photos of your own looks and tagging @CFashionista on social media!