With school out of session and road trips planned, it's time to kick off summer in style. Whether you're spending your days at the beach working on that summer glow or exploring beautiful neighborhoods in your favorite city with your best friends, it's important to make the most of your summer without letting the weather stop you.
This past week in Chicago has been blazing, a heat wave unique to the Midwest for the middle of July. Many spent their days lounging around rooftops or binge-watching the latest season of Orange is the New Black in the comfort of their air-conditioned apartments. The summer heat can often make it challenging to dress stylish, especially when you're trying to avoid looking like a hot, sweaty mess, but Kenjeà—photographed above—made summer style look so effortless.
This Fashionista didn't let the summer heat stop her from wearing this gorgeous, rose-colored maxi dress while exploring the West Loop in Chicago. This ethereal maxi is great for summer because it allows for a lot of movement with the slits on both sides, it's perfect for a day in the city or even a trip to the beach, and that rose quartz color—how can you not be obsessed? I love that she paired it with lace-up sandals and a beautiful statement necklace, creating a look that's simple yet chic.
Don't let the heat intimidate your style this summer. Instead of throwing on your favorite pair of shorts and that Rolling Stones T-shirt you've had since high school, try a colorful maxi with these three must-have accessories for summer: a layered necklace, a radiant highlighter, and as always, a gorgeous smile.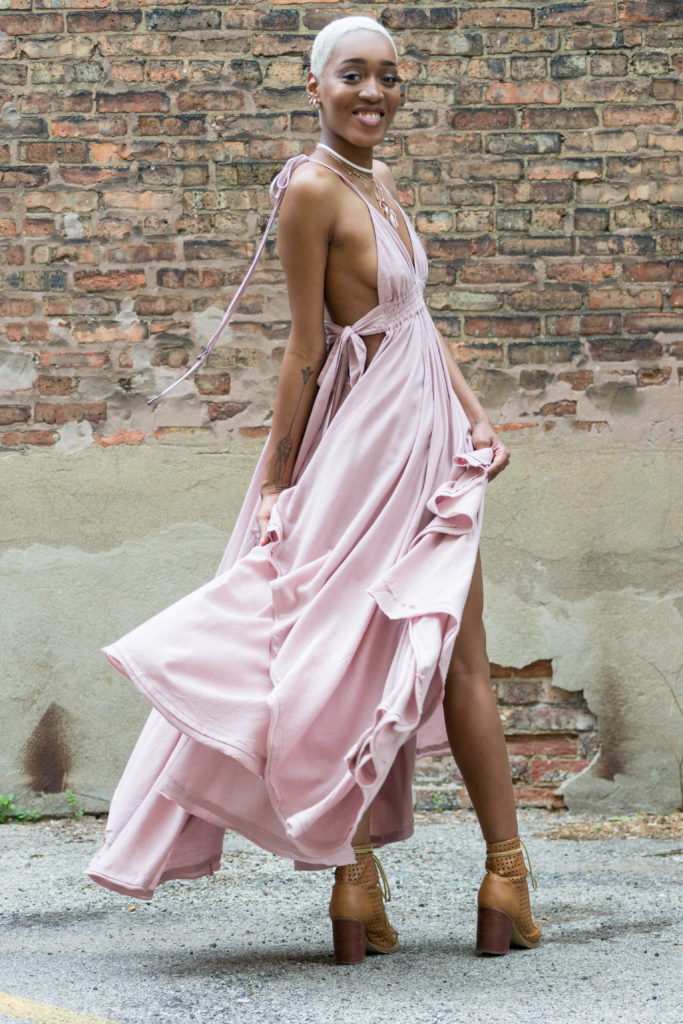 What is your go-to outfit for the summer? Let me know in the comments below!