I think we can all agree that summer nights provide the best vibes and hold some of our favorite memories. These nights also hold the perfect opportunities to show off your favorite outfits. Whether at a bonfire or on the shore, there is always a nighttime event that allows Fashionistas to dress to impress. Read on to see my personal style and hopefully get some inspiration for your next evening outing!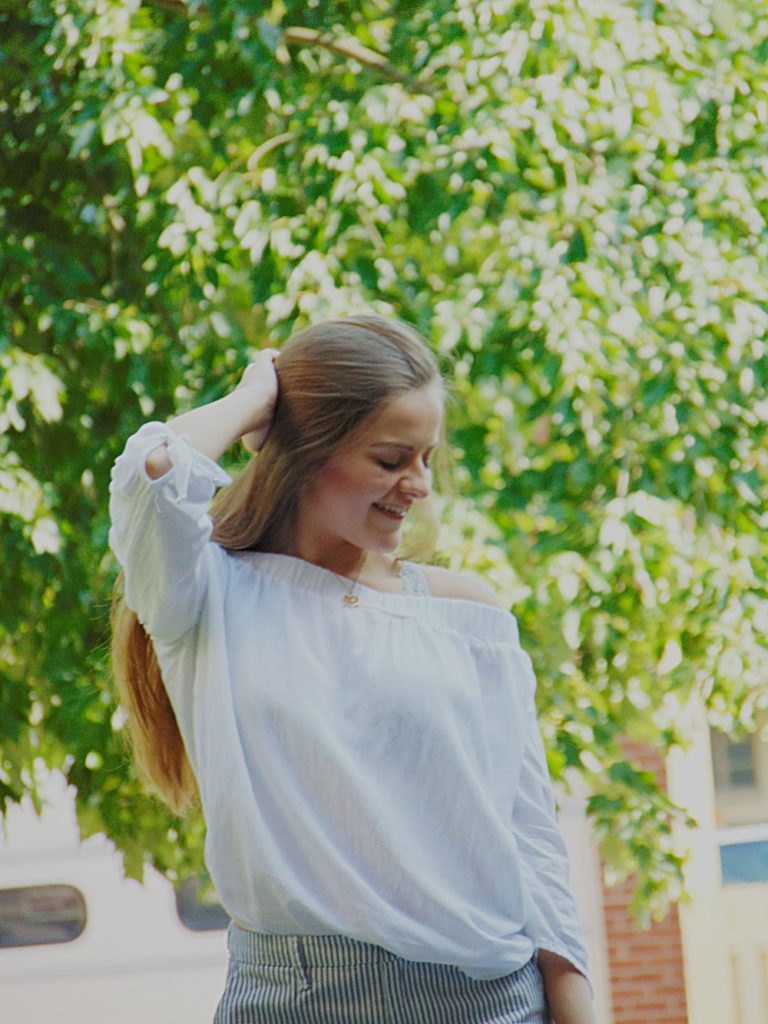 Most summer nights have near-perfect weather, ranging from 60 to 70 degrees. This is my personal favorite temperature, as it allows me to pair a long sleeve shirt with shorts without being too hot or cold. Comfort is key for these nights, which is why you cannot go wrong with a flowy off-the-shoulder white top. It is the ideal balance of flirty and sophisticated, making it a delightful choice for a casual night with friends at home or a fun date night on the boardwalk.
Since this blouse is simple, I coupled it with a pair of navy and white striped shorts to add a pattern to the outfit. These are mid-rise shorts, which allowed me to tuck the front of my shirt into the waistband, providing almost full visibility of the shorts. The navy and white stripes really get me in a summer mood because I almost exclusively see this pattern during the summertime.
To pull this outfit together, I added a few accessories to spice it up! My gray bralette accents the symmetry of my upper body and provides a nice middle tone between the white and blue already present in the outfit. For jewelry, I wanted to keep it simple and elegant. I added a gold necklace with a ship wheel to give the look a beachy feel, but any plain or designed gold necklace would work. I also added three gold bangles with small designs, which go along with the simple tone of the rest of the outfit. For shoes, you can choose anything from a flat sandal to a tall wedge!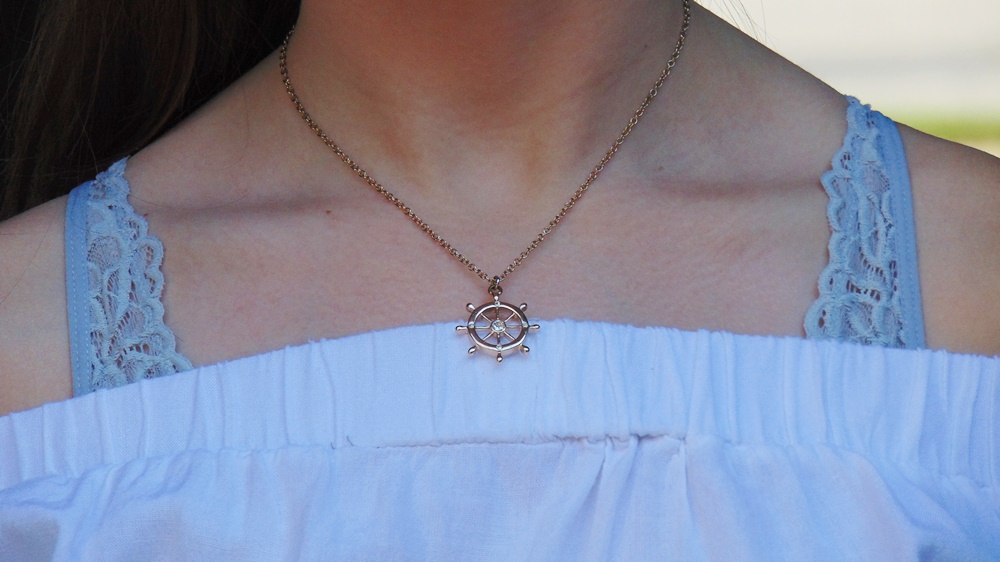 Last, but certainly not least, I added my final touches with makeup. To stick with the simplicity of the look, I filled in my eyebrows, did a slight contour and highlight, a light lip shade, and mascara to make my eyes pop. The mascara is my personal favorite part of this makeup look because my blue eyes are emphasized due to the blue stripes in the shorts. For my hair, I decided to keep it down and let it flow, just like my shirt.
Your fun summer nights deserve a cute and comfortable outfit to go along with them. Share your favorite nighttime looks on social media, and be sure to tag @Cfashionista!