J.W. Anderson is a mix and match master! Whether it be a compilation of the traditional with the futuristic or the juxtaposition of the masculine and feminine, each collection takes the audience on a visual adventure and leaves consumers reconsidering norms and trends. The 2016 resort collection is no exception to his signature style. Each look had no shortage of texture created by pleated skirts with wild floral prints or asymmetrical hems and draped jacket sleeves. Anderson paired oversized knitwear with ruffled metallic leather boots, creating an unsettling yet romantic cacophony of colors and textiles. By pushing back the sleeves and gearing the models in leather bustiers each look has its own tale, a narrative of both fragility and strength in the midst of chaos.
Oversized tops are one of my personal staples. I love a good button-up, especially if its from the men's section and about three sizes too big! I have worn this top in so many ways (including as a skirt) that even Anderson would be proud. By simply turning this button-up upside down, I created a billowing bolero jacket to wear over my plaid purple crop top. Today I chose to complete the look in a way that is less than traditional. I really like the way this resort collection had so many elements working together to create complete looks as well as a full dynamic collection. To pay homage to this creative method, no two fabrics or colors are repeated in this outfit but were picked specifically to complement each other. My bronze brogues are the result of a DIY spray painting fiasco but manage to add yet another layer to my look (they're really bronze loafers, but 'bronze brogues' just flows off of the tongue).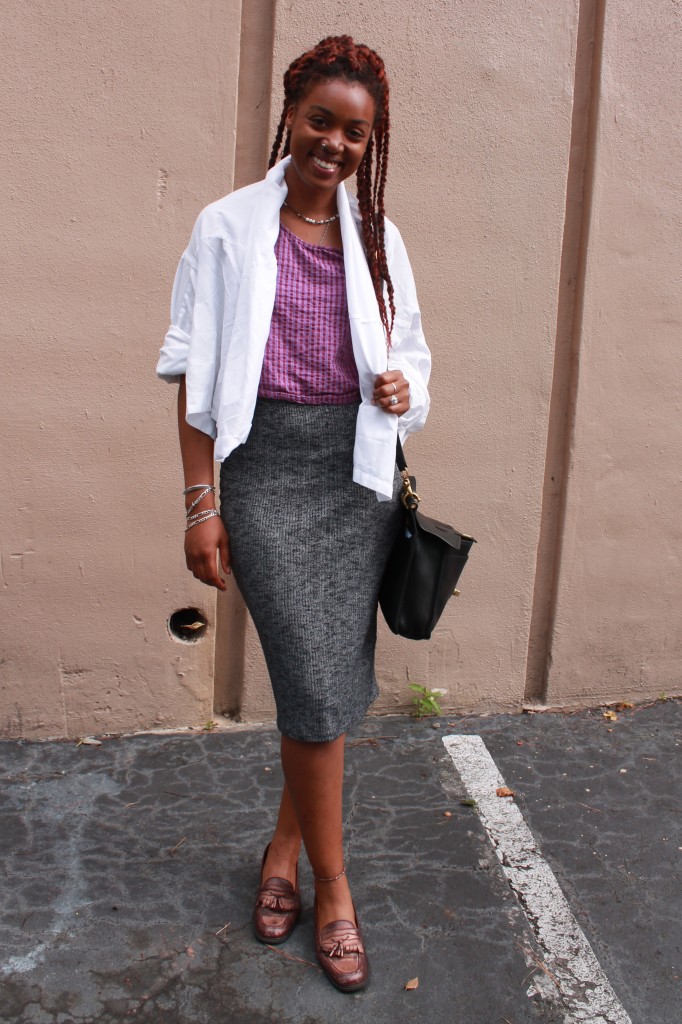 Check out the men's section the next time you go shopping. You may be surprised by what you find. Bend the rules of masculinity and femininity even more by wearing a floral mens top as a shirtdress with some metallic loafers, they're so shiny! Menswear inspired footwear is the ultimate way to subtly gender bend your look, a J.W Anderson signature. Whatever detail you decide to extract from Anderson's thrilling collection, remember to add that personal detail that gives your look that "je ne sais quoi" quirk, identifying you as the Fashionista that you are!
Get My Look: 1. Mandarin collar shirt from Urban Outfitters. 2. floral mens top from American Apparel. 3. metallic loafers from Topshop.