Technically, it is not yet summer here in 'hot-lanta.' This heat, however, pays no mind to the Gregorian calendar and has decided to linger in our midst, uninvited. This Fashionista is taking the heat head on with her innovative, cropped look. She has no shortage of dimension and depth with her creative use of stripes in this bold black and white look. The top and bottom are a lively and graphic take on pattern trends we have been seeing on the spring and summer 2015 runway shows of designer brands like Louis Vuitton and Chanel, but the duo also has a whisper of influence from '80s athletic-glam.
Even though staying indoors with a nice tall glass of sweet tea would be ideal, this SCAD Bee is on the move and taking care of business sporting the perfect kicks for the job. Her all-white Nikes are a true classic and take this ultra-casual look to the next level. When time is of the essence, just as much as staying stylish, adding a pair of must-have sneakers can really make for an easy on the go look.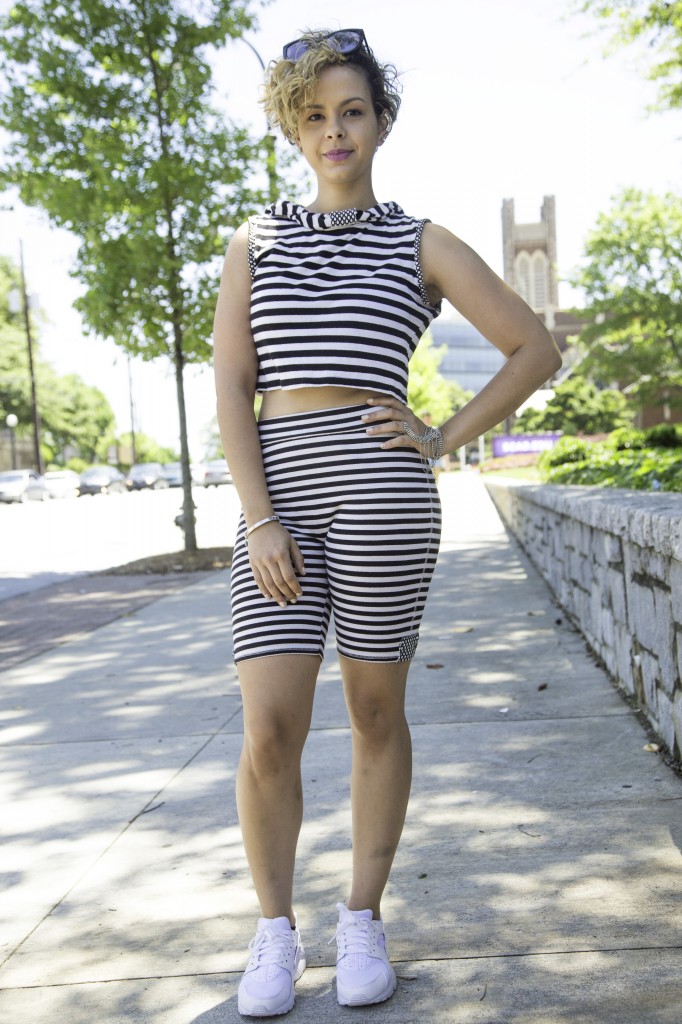 Although this hooded ensemble was handcrafted with recycled clothing, this style can be replicated. If you prefer a sophisticated and sculpted look, try this crop top and trouser combo. If fitted and feminine is what you like, try this striped T-shirt and pencil skirt. However you interpret these undeniably irresistible summer trends, make sure you stay cool and true to you.
What is your STYLE ADVICE OF THE WEEK? "Everybody needs a good pair of sneakers. It's all about the shoes that make a statement."