Summer is in full swing and, with a change in seasons, comes a change in your typical daily beauty regimen. This is the time for the no-makeup, makeup look. We all just want products that are easy and allow us to look our best without trying our hardest. Personally, I feel like my hair and face experience the most damage. Whether it is dryness from the sun, overexposure to pool and beach water, or breaking out during traveling. With these go-to natural products, you can maintain that summer glow by protecting yourself from the harsh elements!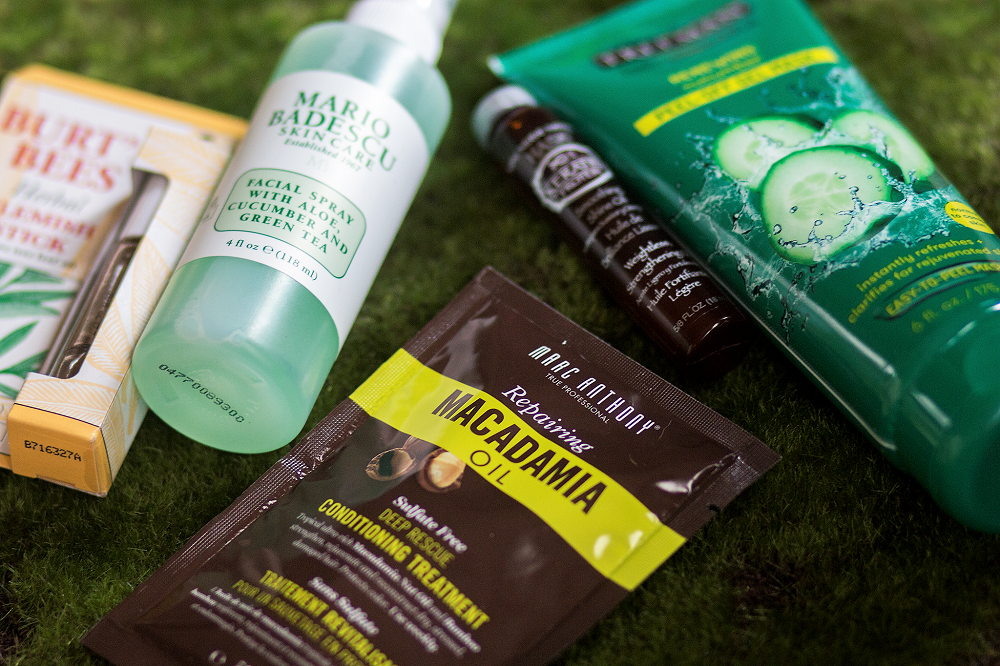 1—Haircare. Most people do not realize that the strength and color of your hair suffer significantly during these hot months. Therefore, it is key to indulge with a conditioning treatment every once in a while to help maintain healthy locks. I always make sure to apply a hair mask, after using a color protectant shampoo and leave it on for 3-10 minutes before rinsing out. One of my favorite hair masks is the Marc Anthony Repairing Macadamia Oil Deep Healing Conditioning Treatment. It's super fast and easy for the girl on the go. If I don't have time to wash my hair, I use my HASK Smoothing Shine Keratin Oil. I apply it evenly throughout my hair focusing on the ends and avoiding the roots. This is perfect to use right after applying heat to the hair or after a sun filled day!
2—Skincare. The biggest beauty issue that comes up while traveling during the summer season, for me, is how dry my skin gets and, as a result, all the breakouts that form. I like to be proactive and pack a great moisturizer along with my Burt's Bees herbal blemish stick and my Mario Badescu facial spray. The minute I feel a breakout, I use my blemish stick and exfoliate the area which almost immediately reduces the irritation; the next day my breakouts are under control. Likewise, once I start to feel my face get a little dry due to a change in weather and location, I use my aloe, cucumber, and green tea facial spray and just mist it all over my face for an extra boost.
I know I'm guilty of sometimes getting a little bit too much sun on my face so I make sure to immediately hydrate afterward with a face mask. The Feeling Beautiful cucumber facial peel-off mask with aloe vera is one of my favorites. The mask cools the skin, making you feel instantly refreshed so you are ready to go. I believe summer is all about what you are doing so why not look good while doing it!
What are your must-have summer products? Let me know in the comments below!