Everyone needs a little sun during the warm summer days and the best way to do it is somewhere where there are palm trees and sand. A week full of candid pictures, animal floats, and sitting in the sand all day? Yes, please! Sometimes while in the hot Florida sun, it is difficult to find a fashionable summer outfit to keep you from not being too hot while still being a Fashionista. During the day it is all about bathing suits and sunscreen, but as the night comes along, the Fashionista comes out! I came across this beauty who was wearing the perfect summer outfit.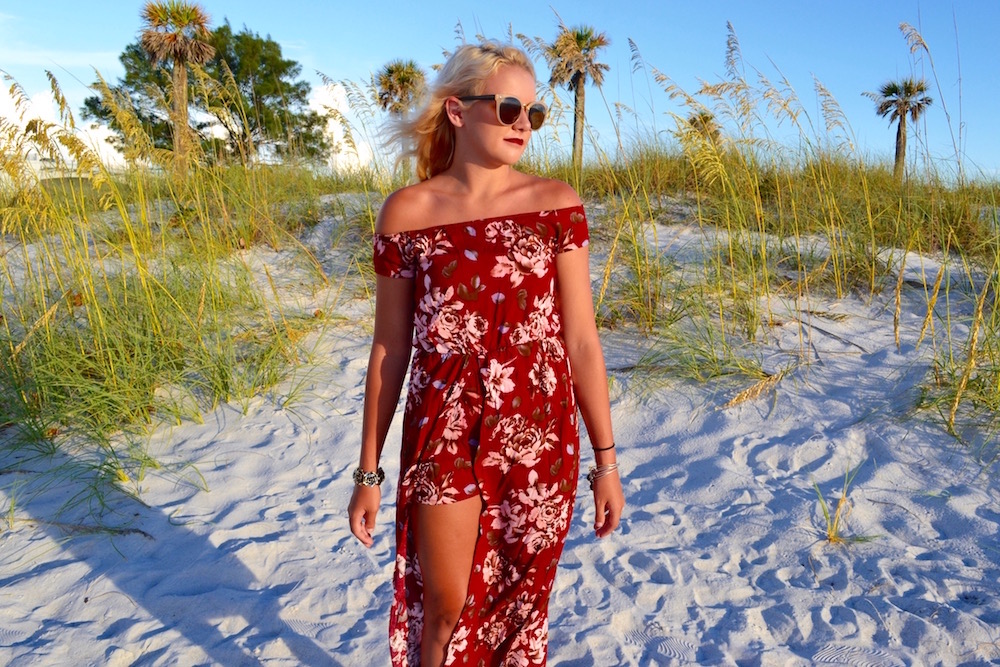 Let's start with her shoes! They are black wedges with a gold zipper accent. Everyone should own a pair of these since they are so versatile. They are neutral so they match everything from jeans to a dress. Comfort is also a must with shoes at the beach.This Fashionista has a lot of walking to do from getting ice cream to shopping.
I also noticed how perfect her accessories were. I was drawn to her choice of mixed metal bracelets. On one wrist she is showing off a gold and silver rose bracelet which goes perfectly with her outfit. On the other, she has a couple Alex and Ani bracelets, which are so simple yet trendy. Sunglasses are also an absolute must while at the beach. In my opinion, they go with every outfit and are such a cute addition. She is also wearing a black hair tie—the importance of a hair tie is huge. Everyone needs to have one either on their wrist or in their purse, especially in Florida where the weather can be unpredictable. Sometimes a messy bun can be cute, too!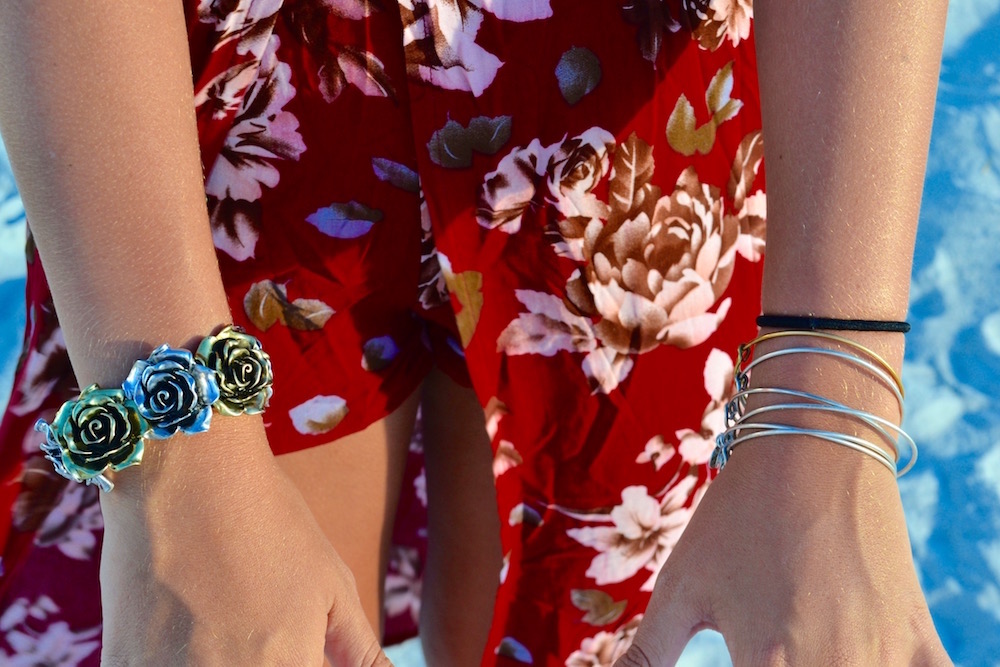 Her outfit is what really caught my eye. I would describe it as a business in the back and party in the front. This beautiful off-the-shoulder maxi skort romper really captures the beach feel. It captures many warm floral tones which coordinate perfectly with the beach. Maxi skort rompers are becoming popular and come in so many different fabrics and colors according to your event. It is unique and super trendy as well. It could be dressed down a little with just sandals, but worn with the wedges it dresses it up for going to a nice beach restaurant. Since it is a maxi dress in the back, it flows very well and is breathtaking for the beach. This beachy outfit is a definite head turner!
Everyone needs a little fun in the sun during warm summer days. Do not be afraid to wear something that most people will not—that is what makes you, you! When you are at the beach next time, show off your perfect outfit and tag us on social media at @Cfashionista.