Who said there isn't a yellow for everyone? Thought you couldn't wear the cheery shade? How about an off-the-shoulder yellow outfit? Is this combo getting a little more plausible? Well, welcome to S/S 2017. Report has it that one of the to-go trends for S/S 2017 is off-the-shoulder, and to make it better the color yellow is in full swing!
Growing up, it was impossible to wear anything strapless. My mom thought she couldn't hide her embarrassment if it chose to fall down one day. A few years later, I still have the longing to own several strapless outfits. But I reasoned, leaving under my mother's roof isn't giving me too many options in it. So I decided to make use of this season's trends.
If you cannot wear a strapless dress for fear of it dipping down a nudge, why not opt for the off-the-shoulder trend? Just to give you a heads up, the off-the-shoulder trend isn't going anywhere, and neither am I. The color yellow comes in various shades, and believe me when I tell you, you will one hundred percent find your correct shade. The color yellow is a cheerful color, what a better way to come out of the gruesome weather we had as winter and take on a merrier approach to the year 2017?
If you were wondering how many off-the-shoulder outfits I scored, let me tell you I got quite a few, but this yellow-off-the-shoulder-dress has got me feeling chic. You can dress up and dress down with this simple dress. In this post, I opted for an elevated look, with Catherine heeled sandals and mini-city bag to complement the yellow. Did I forget to tell you? My mom loved the look and wanted to try it herself.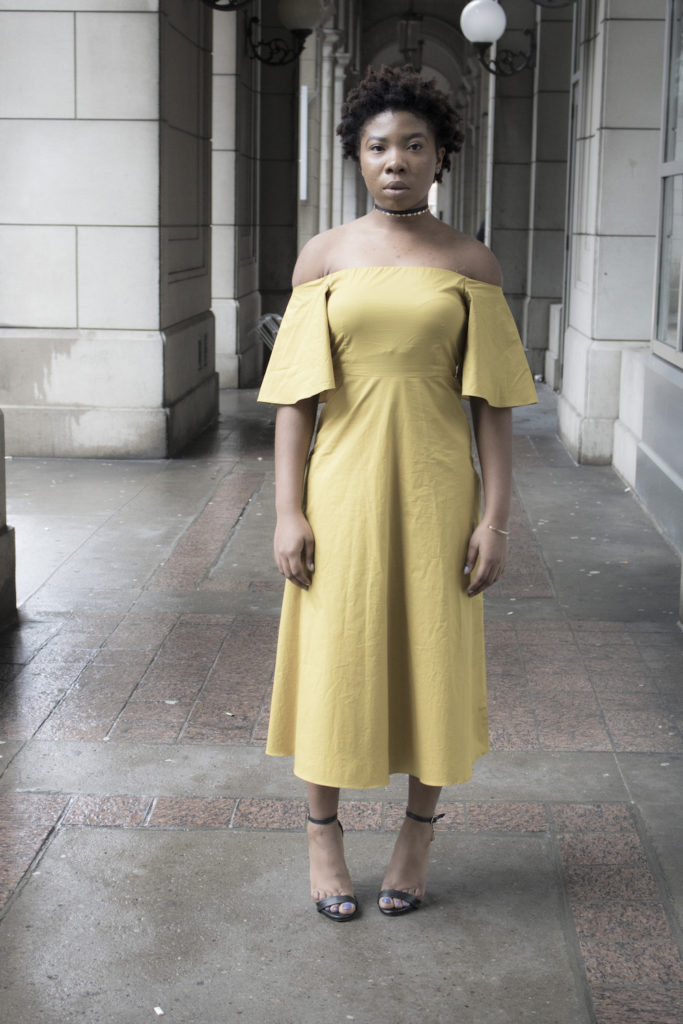 Unstrapping can have its consequences if you don't get it quite right, but with a nudge of hope hanging loosely on your both hands, you can perfect it.
What are your thoughts on my yellow-off-the-shoulder dress? Sound off in the comments below!