Can you believe August is here? Summer is well under way, but it is not over yet. Here is to many more days of sun-tanning, beach volleyball, and cute denim shorts. With temperatures soaring daily, beauty routine adjustments are in store. Summer is typically the season in which I opt for a bare face to avoid looking like I am melting like the Wicked Witch of the West. In the dry mid-90 degree SoCal weather, it just seems too risky. Thankfully, these products and beauty hacks exist so I have nothing to fear.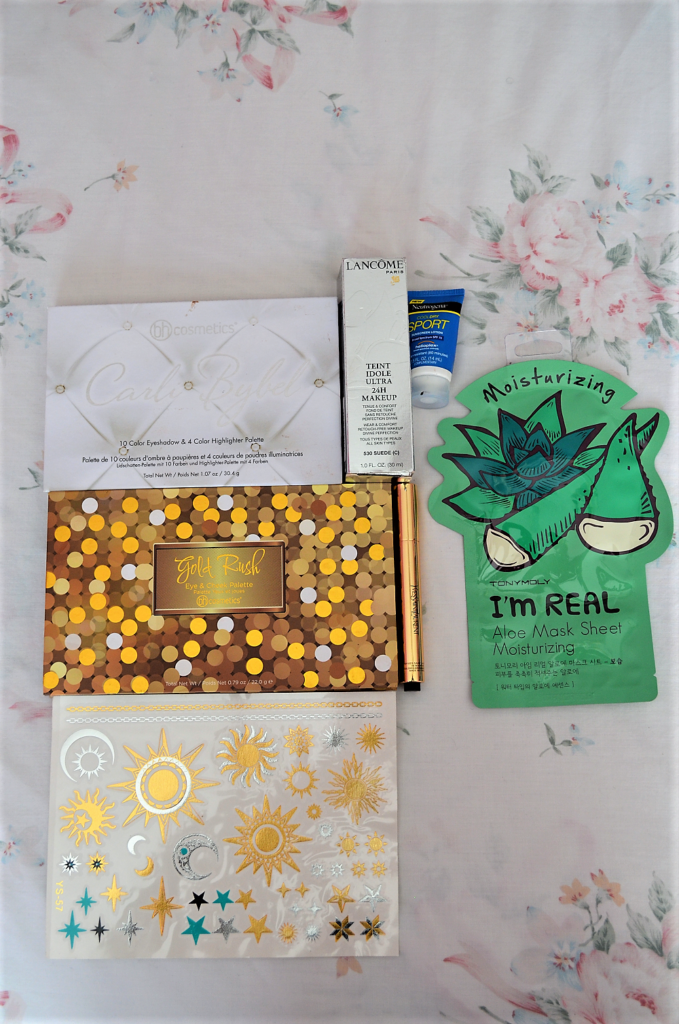 It is no surprise that the spotlight shines on facial beauty products for this article. The following is my summer beauty routine beginning with its foundation (which is not actually foundation).
1—Tony Moly I'm Real. I begin my beauty routine by washing my face then applying this aloe vera mask and allowing it to sit for 15 minutes.
2—Neutrogena CoolDry Sport Sunscreen. Once the mask has been removed and my face is soft and moisturised, I then put on a small dollop of sunscreen lotion. I love this particular formula because unlike other sunscreens, Cooldry Sport is lightweight, oil-free, and does not leave behind an undesirable ashy film on my skin. Additionally, your skin will thank you for the high SPF.
3—Powder before foundation. I use this hack in the summer to prevent my makeup from getting oily and sweaty. Before applying my liquid foundation, I dab a generous amount of loose translucent setting powder on my skin then lightly dust it off. This provides a great matte base.
4—Lancôme Teint Idole. I can never be bothered to retouch my makeup and with this foundation, I never have to. It lasts all day and all night! Plus, blending is a breeze.
5—YSL Touche Éclat. This highlighting pen does it all from concealing dark circles and brightening under eyes to highlighting cheekbones and brow bones. I personally use the pen to tame my wild brows by drawing the perimeter of my desired shape and blending it out for a cleaner appearance.
6—BH Cosmetics Gold Rush and Carli Bybel Palette. Every hour is golden hour and there is no better way to take advantage of that than with my two favorite palettes of the summer. Gold Rush is exactly what it sounds like with its vibrant spectrum of sunny colors. The versatile palette can be used wet or dry and includes both shimmery and matte, highly pigmented powders. While Gold Rush provides the perfect summer shadows, Carli Bybel's highlighters remain unmatched. There are four shimmery shades that look stunning on any skin tone. This palette and the sun are the ultimate dynamic duo. Below I have swatched my favorite shades from Gold Rush.
7—Flash tattoos. Focusing on the body, these flashy tattoos are not just reserved for music festivals. I embellish my skin with them on bare face days when I plan on swimming or going out. They are the perfect low-maintenance beauty alternative that lasts for days!
What are some of your must-try beauty products for the summer? Let us know in the comments below!