As soon as October 1 rolls around, we're all usually too busy enjoying pumpkin patches, seasonal coffee, and spooky room décor to plan out the holiday's big question: What should I be for Halloween? Costume choice is a subtle art. It's balancing creativity, simplicity, novelty, and humor. Of course, this careful consideration is often replaced with the sound of the last pair of angel wings at the party store falling into your basket on October 30 with a defeated "plunk." We feel you. This year, we've done the preparation for you. Here are 14 last-minute Halloween costumes and outfits that can be put together with items you already have in your closet. (We're giving you fair warning. No angels or devils this year.)
Turn Your Pride Gear into Rainbow Brite
If you have any rainbow accessories sitting in the back of your closet from Pride, then you have yourself a Halloween costume, too. Tell people you're Rainbow Brite, because let's be honest, do any of us really know what she looks like except that she wears rainbow colors? If you know, you know.
Get this look: Rose Gal Ocean Blue Party Wig ($16), Current Mood Shimmering Prisms Crop Top ($8), American Apparel Gabardine Tennis Skirt ($48)
Give Wonder Woman a Mod Makeover
Just like turning Pride wear into Rainbow Brite, you can cook up a simple Wonder Woman costume out of your Fourth of July leftovers. Plus, I get the feeling that everyone's favorite Amazonian princess would totally own fishnet socks.
Get this look: Coca-Cola V-Neck Tee ($25), Splendid Liberty Star Print Short ($98), Vans Canvas Old Skool ($60), ASOS DESIGN Oversized Fishnet Ankle Socks ($2)
Paris Hilton: Just a Sailor Hat and an Attitude
There's nothing quite like showing up to a Halloween party dressed like a celebrity who everyone loves to hate. If you can rope your bestie into being Nicole Richie, then five more Bubbles ice cream bars for you.
Get this look: Wholesale Marine Deluxe Captain's Cap ($19), Urban Outfitters Vintage Clueless Square Sunglasses ($8), Dolls Kill Slay the Game Chainmail Top ($38), Gameday Bae Royal Blue A-Line Notched Cheer Skirt ($44)
Say My Name, Say My Name (Three Times)
No character has cornered the market on monochrome vertical stripes quite like Beetlejuice. Throw on a striped blazer like community member Nicole or striped jeans to become Tim Burton's silliest spook.
Get this look: YesStyle Yilda Set – Striped Blazer and Pants ($45), Aldo Kigodia Flat ($45)
Be Bowtiful like Minnie Mouse
Multiple fashion and beauty lines have been inspired by her signature look. Minnie Mouse is one of fashion's timeless "it" girls. Polka dot wrap dresses are front and center in everyone's flat-lays right now, so why not turn this romantic staple into a magical Halloween costume?
Get this look: shopDisney Minnie Mouse Ear Headband ($28), Outrageous Fortune Printed Ruffle Wrap Dress ($40), Ted Baker London Polarized 50 mm Clubmaster Sunglasses ($60)
Karl Lagerfeld
Equally as iconic as Anna Wintour's glass-cutting bob is Karl Lagerfeld's sunglasses and ponytail combo. While Lagerfeld would probably disapprove of a closet costume, who wouldn't want to be the creative director of Chanel for a day?
Get this look: Arda Wigs Imaldris Classic in Pure White ($65), New York Glass Quay Vivienne Black/Smoke Sunglasses ($45), 7 For All Mankind Neck Scarf in Black ($19), Habitual Layla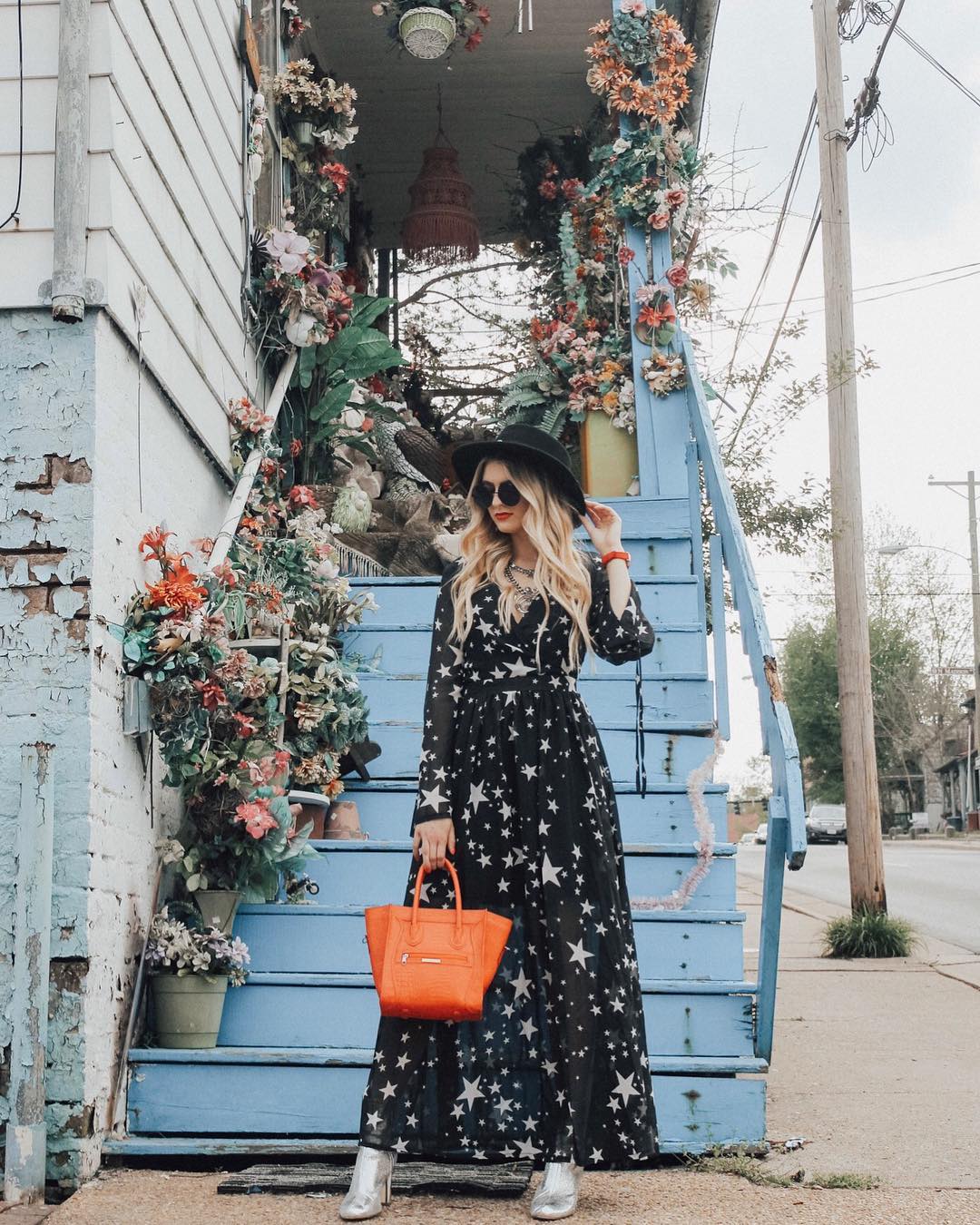 PHOTO: Jordan Shiley,
Stevie Nicks
Queen Stevie Nicks has always said that she loves to dress like she's on her way to a Halloween party. Why not take Ms. Nicks' words to heart? Top hats, layered necklaces, and fringed kimonos highly encouraged.
Get this look: Urban Outfitters Nubby Woven Panama Hat ($38), Nasty Gal Drops of Jupiter Star Dress ($25), Forever 21 Faux Leather Ankle Boots ($28), Zara Mini Shopper With Strap ($50)

PHOTO: Maia Santos, Fashion Institute of Technology
Cheetah Girls Forever
We're obsessed with cheetah print this fall, and it's a Disney Channel throwback costume waiting to happen. Get three of your friends to complete the Cheetah Girls squad.
Get this look: Need Supply Co. Outta Love Sunglasses in Caramel ($59), Vanessa Mooney Ella Earrings ($20), ASOS Design Petite Animal Faux Fur Coat ($119), American Eagle Wide Leg Crop Jeans ($38), Nasty Gal Big Talk Platform Boot ($35)
Bust Out the Black, Be a Beatnik
If you own a black turtleneck, beret, and dark glasses, then you own the uniform of the beat generation. Bongos and copy of Jack Kerouac optional.
Get this look: Free People Du Jour Beret ($28), H&M Jersey Turtleneck Top ($13), Levi's 517 Cropped Boot Cut Jeans ($98), Kenneth Cole Reaction Bavi Slingback Loafers ($60)

PHOTO: Constance Browne,
De-Lazify the Costume T-shirt
Resist the siren call of the "This is my costume" T-shirts in department stores. But don't write off the costume T-shirt altogether. Dress it up a little like community member Constance and you're golden.
Get this look: WellDoneGoods Salmon Sushi T-shirt ($30), Express High Waisted Side Stripe Denim Perfect Stretch + Jean Leggings ($88), New York & Company Quilted Slip-On Sneaker ($29)
(Ooo) Witchy Woman
Remember the last time someone said, "Save that for Halloween," when you were eyeing a black lipstick or black dress? Wear it on Halloween for an American Horror Story: Coven look, then wear it again a week later. In this house, we live every day like it's Halloween.
Get this look: ASOS South Beach Black Straw Boater Hat ($16), Forever 21 Off-the-Shoulder Sweater Dress ($10), A New Day Hingebox Crossbody Bag ($30)
Time for Recess as Ashley Spinelli
Ashley Spinelli was one of the original tough girl idols from our generation. (We'd say she and Double D from Ed, Edd n Eddy are responsible for popularizing the beanie.) Relive your recess days with a modern update on this classic Disney Channel character.
Get this look: Patagonia Fisherman's Rolled Beanie ($29), UNIQLO Ribbed Striped Long Sleeve Turtleneck ($2), Topshop Leather Look Biker Jacket ($95), Missguided Silver Pleated Full Midi Skirt ($27), Dr. Martens Women's 1460 Smooth ($140)
Life in Plastic, It's Fantastic
Barbie is such a diverse fashion icon that you could pretty much wear whatever you want, as long as the logo is somewhere on your person. Hit 'em with the signature bow-armed stance for the perfect Instagrammable shot.
Get this look: Icing Pink Velvet Bow Hair Scrunchie ($5), PrettyLittleThing Diamante Triangle Sunglasses ($15), Forever 21 Barbie Logo Cropped Tee ($16), Unique Vintage 1950s Peach Pink Soda Shop Poodle Swing Skirt ($78), Lulus Sweet Caroline Nude Jelly Wedge Sandals ($18)
Off-Duty Hogwarts Student
Hogwarts students are a hardworking bunch, but even they exchange their robes for civilian clothes on the weekends. Lucky for you, that means you can throw your house's scarf over a normal outfit. Top it off with a wand in your pocket, and head out for Halloween festivities.
Get this look: Harry Potter Shop Ravenclaw Scarf ($30), Gap Chenille V-Neck Pullover Sweater ($60), Topshop Popper Waist Peg Trousers ($68), Abound Cyan Chelsea Boot ($50)

Opening image by Natalie Crawford.
What are you going as for Halloween? Tag us @cfashionista to show off your creative costume ideas!