Picture this: you're sifting through your closet, feeling an utter lack of inspiration at the prospective options. So naturally, you turn to your Instagram and Pinterest feeds to provide some much needed creative ideas. Yet a few flicks of the wrist later and you're overcome with a particular kind of anxiety that goes along with needing fresh new items, like, right this instant. Sound at all familiar?
It's no wonder why brand marketers everywhere are capitalizing on this growing desire by consumers for instant gratification.
Photo via @amyvagabondd.
Photo via @fashionista_com.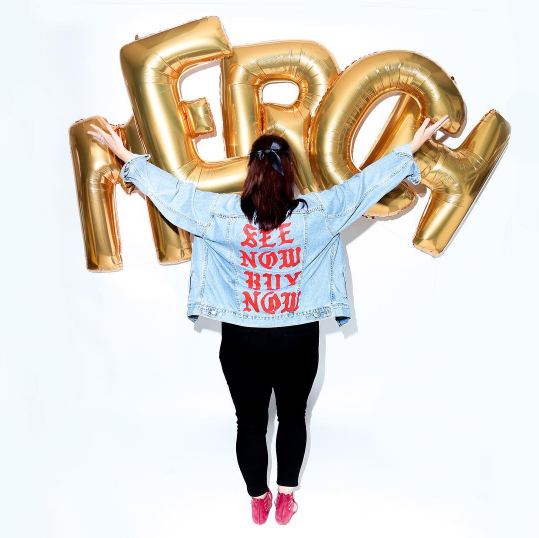 And so the story of fashion goes, we want something we see and (more often than not) we can easily purchase that thing right now. Instant gratification. "See now, buy now." Fast fashion meccas like Forever 21 seem to pump out trend after trend so quickly that I cannot help but wonder how they do it. Even Tommy Hilfger's "Tommy X Gigi" collection was available to shop right after the looks glided down the runway. Talk about catering to a new set of consumers.
So what can you do to contribute a positive influence? Seek out brands whose clearly state an ethical and environmentally conscious mission. There is already an increasing amount of transparent brands on the market today, but it's still our job as consumers to demand more of the good and less of the bad, more of the slow and less of the fast. How do we make our voices heard as individuals, you might ask? Well, believe it or not, your purchasing power goes a longer way than you'd think. So, get out there and shop your conscious!
Photo via @reformation.
Photo via @everlane.
The brands that get an A+ in my book are Everlane and Reformation for their unique approach to slow fashion. While Reformation has made sustainable production into a coveted it-girl label, Everlane has changed the game with their commitment to total transparency in their well-made offering of wardrobe staples.
While, yes, the downside to guilt-free shopping is the significantly higher price tag, there are so many other ways to shop that won't break the bank. The obvious choice? Go thrifting! Buy second-hand clothes and DIY them to your hearts content, or host a clothing swap with your friends. I guarantee you'll feel less of that "gotta have it now" urge when you walk past an H&M.