With thousands of trends slipping through the door of our feeds, many can seemingly go unnoticed without a single trace. Unlike the past, TikTok's latest viral aesthetic, Coastal Grandmother, speedily broke through the barriers. Speaking to the tropes of 'Old Money' and 'Country Club Chic', this trend is all about indulging in the capsule wardrobe of feeling like you're enjoying a nice glass of wine on the porch of your Hamptons beach house while admiring the sunset. Although, this may not be the reality for some of us…all you need to do is dress the part to live it!

Much like its "Beach Girl" predecessor, Coastal Grandmother dives deep into the roots of an east coast grandma who lives the good rich life to the fullest (think Diane Keaton in Something's Gotta Give!). With a comfy wardrobe that includes oversized knit sweaters, blue mom jeans, printed bucket hats, solid linen pants, cardigans, flat sandals and gold jewelry to compliment. Most importantly, this coastal collection never strays away from its natural roots. It sticks to a neutral color palette (whites, creams, light blues and blacks) with soft and breezy looking material to emphasize the slow-paced and peaceful lifestyle that this character lives.

As this trend continues to take summer by storm and grow a community of its own, I decided to take this trend for a try and embody this wardrobe for a week. Keep reading to see how it went!
Monday: Watching The Morning Sunrise
A few TikTok hours and an article read later, I discovered a huge key to dressing like a coastal grandmother is styling pieces with an oversized silhouette. Anything that will appear to be lightweight, airy or breezy is the perfect piece to dress for this aesthetic. On Monday, in order to perfectly capture the essence, I dressed for a 'Sunrise Morning', choosing an oversized Harvard printed crewneck from H&M paired with blue oversized mom jeans and gold chunky hoops. It's the ultimate outfit to romanticize that you're enjoying the sunrise outside your Hamptons backyard.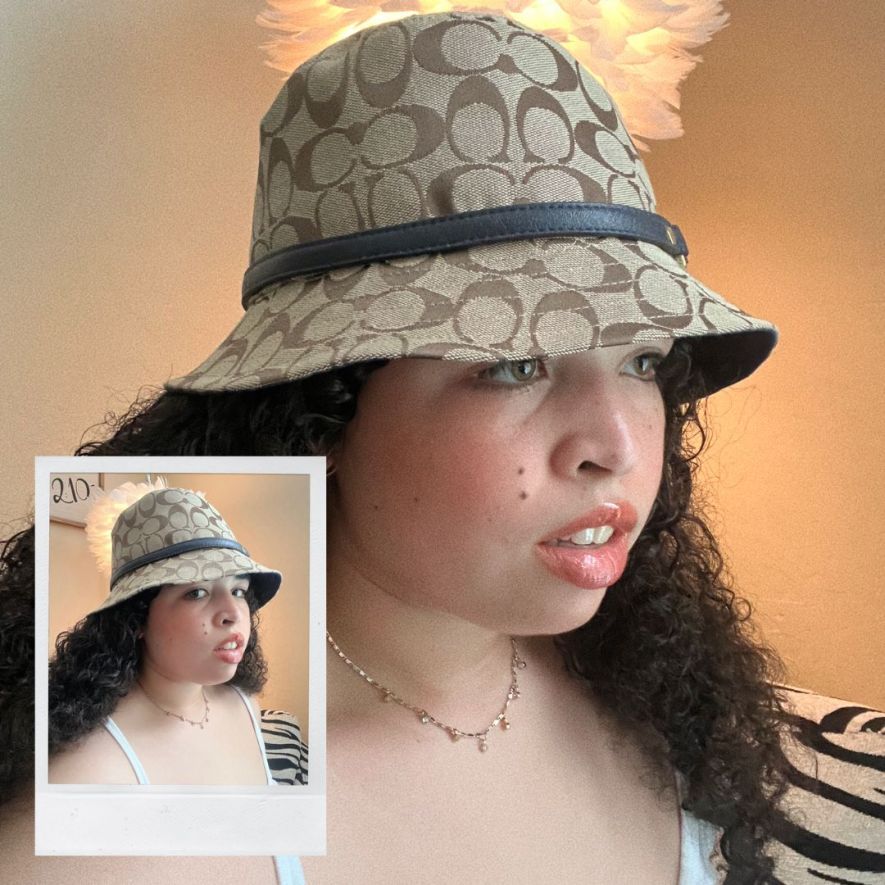 Tuesday: Watering The Garden
Part of a coastal grandmother's day is spending quality time with nature. It's an important venture that keeps the exterior design of the house looking fresh and lively while getting some much needed me-time. Focusing on accessories, on Tuesday I spent about 20 minutes in my front yard planting and watering fresh flowers. I took TikTok's advice in wearing a printed bucket hat for the event. It's a coastal grandma's #1 statement piece for the outdoors that is chic and resourceful when out in the sun. I wore a vintage Coach warm tan and black hat that matches perfectly with outdoor attire!
Wednesday: Inviting Friends For Afternoon Tea
Nothing says oceanside minimalism like knitwear! Although a true coastal grandmother would knit her garments, I wore an Old Navy baby blue sweater paired with blue jeans that hit all the marks for comfort and style. Pulling my hair back with a blue scrunchie and a pair of silver butterfly earrings since this grandmother lives for collectable jewels, especially when they are curated from vintage shops or flea markets.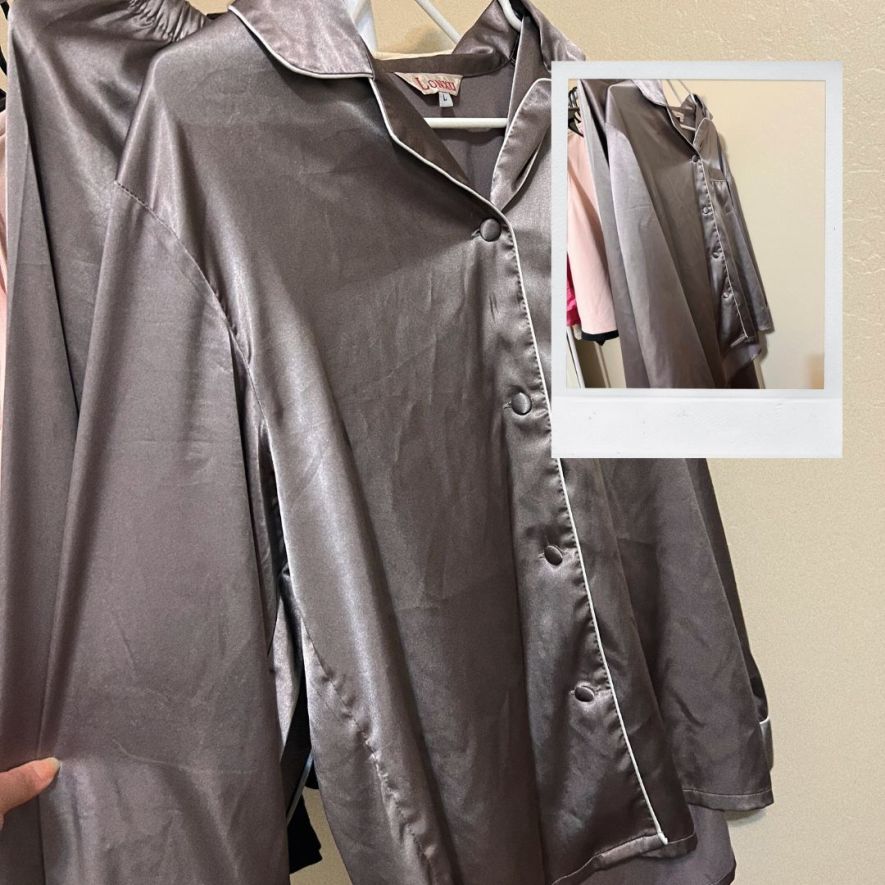 Thursday: Spending The Evening In
Coastals live in matching lounge sets…especially satin! Spending an evening indoors could include a multitude of things from having a glass of wine, reading a book, or catching up with a pen pal. So of course, the nighttime requires the best attire. I spent my evening in a heather colored matching set from Lonxu. This grandma knows exactly how to always keep it luxurious even on nights off.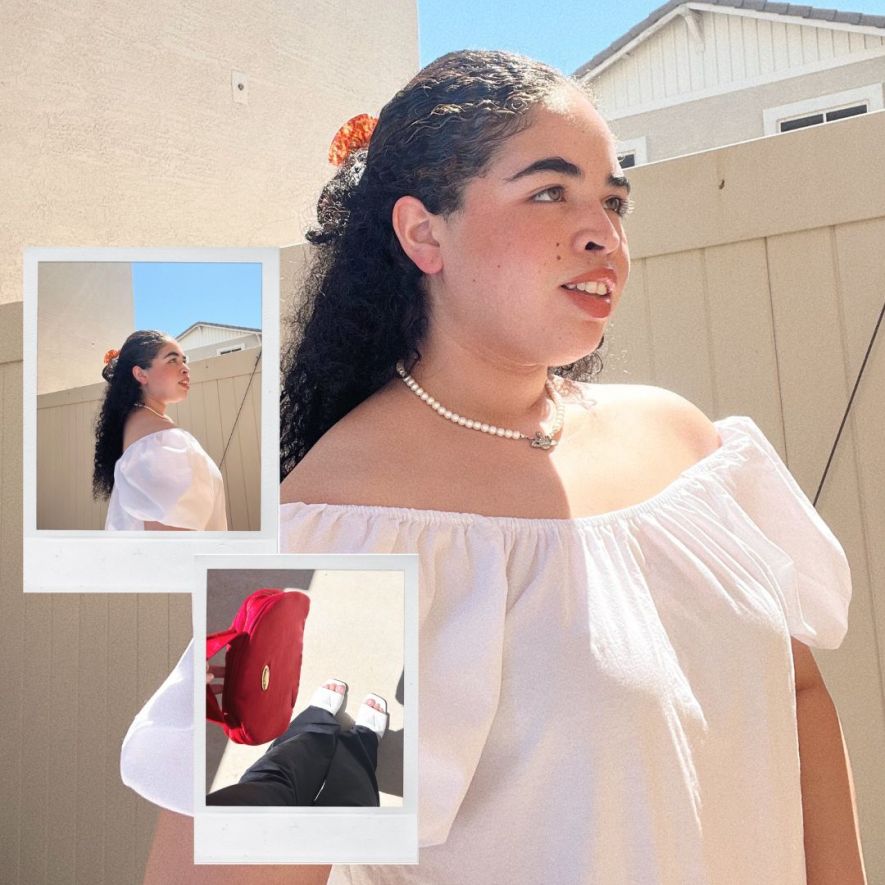 Friday: Hosting A Dinner Party
Even with a tight schedule, hosting a Friday night dinner is definitely on the itinerary! The only acceptable attire for the night is to wear anything white with a pop of color. Since coastals are passionate about their linen, I wore a over the shoulder, puffed sleeve solid white top with a Vivienne Westwood inspired pearl necklace to match. To fulfill the 'I've been at the beach all day' look, I pulled my curls back in a half up half down hairstyle with a burgundy claw clip to match. For a sweet pop of color, I styled my Depop Christian Dior bag with the look since coastal grandmothers always have lipstick, sunglasses or a flask on deck.
With the week ending, I can conclude that the Coastal Grandmother aesthetic will be a trend that stays for summers to come. Although I don't live within hours from an oceanside view, this wardrobe allowed me to enjoy the easy and breezy lifestyle that comes with the east coast. An important takeaway is that this specific trend focuses on dressing based on day-to-day activities and the surrounding environment. With a schedule that includes solo walks down the beach, shopping at the local flea market, pouring a glass of wine at 4pm and decorating the house with peonies; most of these actions require comfort. Though, the average coastal grandmother elevates the collection with material, accessories and a complimentary color palette. I envision many users, and myself, to continue to take inspiration from this trend and apply it to our own wardrobes in the future.
Trying out the Coastal Grandmother style yourself? Tag @cfashionista on Instagram for a chance to be featured.
Featured Image via Khayla Biscoe