Welcome to the East Coast! Shoes and shirts are optional beyond this point. That means you can find me barefoot and living in only a bikini for as long as I'm at the beach. Right? The answer is usually yes, but I'm a sucker for summer fashion, and I've found a couple tricks to keep the Fashionista in you alive during the "clothing optional" months.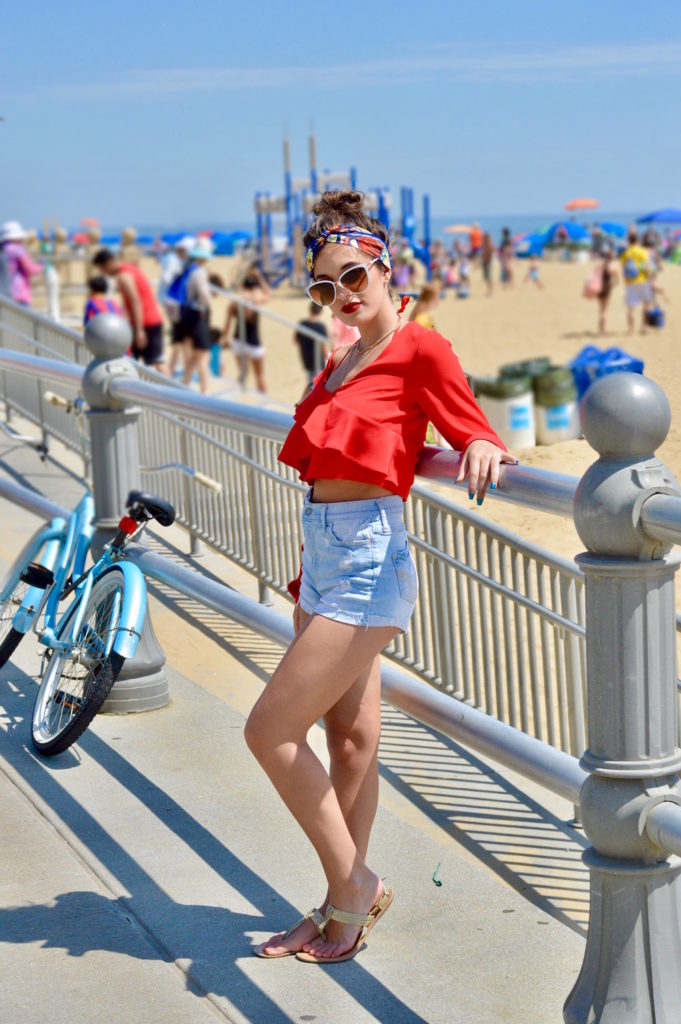 Keep it flowing. When it's hot and humid, this is the first thing to remember when figuring out your beach style. Clingy fabrics may not be your best option for a day under the sun.
Keep it simple. A few statement accessories can easily be taken off and thrown into your beach bag when you're ready to hit the waves.
Make it pop. Rainbow umbrellas and metallic one-pieces may be your competition, so if you're looking to have a little fun, bold colors are the way to go.
I know that you don't want to waste a lot of time worrying about your outfit for a day at the beach, especially if you're planning on running right into the ocean. But use this as a coverup, to spice things up, and to get that Instagram post that is more than just flaunting a beach bod; this look took me only minutes to throw together.
Denim high-waisted shorts never disappoint. Make them a staple in your summer wardrobe because they can be paired with almost anything you throw on top. I chose to go with my red long sleeve crop top. Detailed with ruffles and a cut-out back, it's simple yet super fun. So, shorts and a shirt; it was that easy!
Then, the fun part—accessories. Headbands and bandanas make the perfect beach accessory, and they can even protect your hair from sun damage. My printed satin headband paired perfectly with a pair of white statement sunglasses. Beach attire should be effortless. Choose pieces similar to what I threw together, and not much time is needed!
A few tips and you've reached Dolce & Gabbana-level goddess, whether you're having a seaside lunch on the boardwalk or taking a walk up the shoreline.
What are your favorite beach essentials? Leave me a comment below!