The fresh-faced beauty look is all over the place right now—on the runways, on the streets, and even on campus. If you don't have a ton of time in the morning, the fresh-faced look is perfect for you. Even if you do have a lot of time and just want to rock this beauty trend, here are five simple and easy guidelines to follow to achieve a fresh-faced look in minutes.
PHOTO: Lex Kelly
1—Don't neglect your eyebrows
Your eyebrows are important; they frame your face and balance out the rest of your beauty look. Even if you don't do anything else to your face, just doing your eyebrows will make a huge difference. The goal is to enhance your existing eyebrows. If using a pencil is too harsh for you, I suggest using a tinted brow gel or lightly filling in your eyebrows with a brow powder. Pro tip: eyeshadow works great if you don't have a dedicated brow powder product.
2—Keep it lightweight
This may sound like a no-brainer, but keeping your face makeup on the lightweight side is ideal. If you have freckles, let them peek through. Try a tinted moisturizer or just a mineral powder for the ideal fresh-faced look. The idea here is to elevate your natural beauty—the less coverage the better. If you can still see some imperfections on your face after application, then you are doing the fresh-faced beauty look correctly. Add a natural-looking flush of color to your cheeks with a liquid blush.
PHOTO: Lex Kelly
3—Highlighter is essential
Highlighter can be intense, but when used sparingly it can add the perfect amount of luminosity. The goal here is to give your face a glow, not a shine. Highlight the high points of your face to keep the eye on your best features. Your cheekbones, Cupid's bow, and brow bone are a good place to start. For an even more natural and glowy look, try using a liquid illuminator under your face product.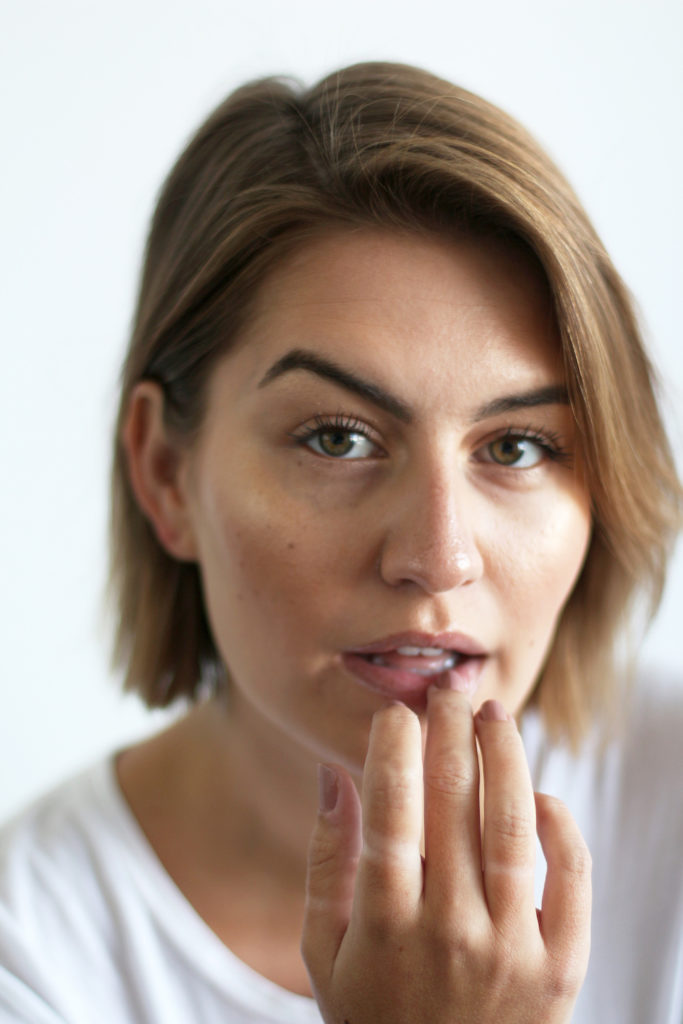 PHOTO: Lex Kelly
4—Feature your lips
You should always prep your lips for a lip product. A lip scrub is your best bet, but a lip balm will be sufficient. Once your lips are prepared, add a pop of color. This is the step where you can be bold. Reds and oranges are the perfect pop for the end of summer and the beginning of fall.
PHOTO: Lex Kelly
5—Mascara makes all the difference
Focus on making your eyelashes stand out; this is the step that makes your fresh-faced makeup look come together. A few coats of a volumizing mascara will have all eyes on your eyes. If you use an eyeliner, I suggest a super thin light brown line across the lash line for some subtle definition.
What is your go-to makeup product for a fresh-faced look? Let us know in the comments below. Also, be sure to share your looks with us on social media by tagging @Cfashionista!