New York City during the summer comes with endless hot days in the sun. Floppy hats and sunglasses are just some of the stylish summer fashion must-haves when it comes to beating the heat. But if you are looking for a sweeter solution to chill out, gelato is the perfect summer treat for you! Gelato is an Italian dessert which is a smoother, lighter, and denser form of what we call ice cream. Gelato contains less fat than ice cream, which makes it a better dessert option if you are on a diet or trying to lose weight this summer. Check out four of my favorite gelato shops in Manhattan!
1—M'O Il Gelato. With their three locations in Manhattan, reaching from the Upper East Side to Nolita, M'O Il Gelato is always my first option for gelato. While offering over 20 flavors of gelato and sorbet made with all natural ingredients, this shop also serves gelato panini (warm brioche filled with gelato or sorbet), frappè (gelato blended with 2% milk), and affogato (gelato topped with espresso).
My favorite flavor is Bacio (meaning "kiss" in Italian) and is named after a famous Italian candy. This flavor is a combination of chocolate and hazelnut with real pieces of hazelnuts added in.
2—Grom. Grom has a shop located in Greenwich Village and another near Columbus Circle. Grom's menu features gelato, fruit sorbet, hot chocolate, granita siciliana (Silician shaved ice), milkshakes, and ghiaccioli (frozen fruit bars).
My favorite flavor is cioccolato (chocolate).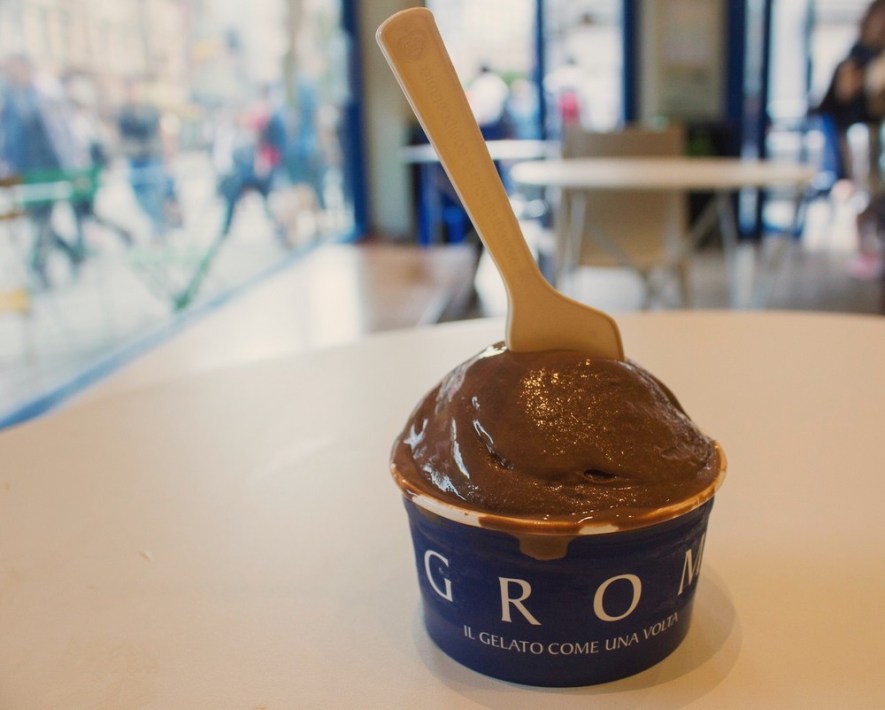 3—Il laboratorio del gelato. This shop is located on the Lower East Side with an open kitchen, where their frozen desserts are made. With almost 200 flavors, il laboratorio del gelato (meaning 'the gelato lab' in Italian) is simply just that. It's a custom lab that creates custom gelato and sorbet flavors every day. Although this cafe mainly sells gelato, I frequently visit to try their custom sorbets. During my last visit, I ordered papaya and lemon ginger sorbet (pictured below).
My favorite flavor is lampone (raspberry).
4—Amorino. Amorino has four shop locations ranging from the Upper West Side all the way to Greenwich Village. They offer gelato, sorbet, granitas, waffles, crepes, macaroons al gelato (gelato macaroons), coffee, hot chocolate, and a variety of pastry options. While offering multiple flavors of gelato and sorbet, Amorino's signature menu item is the Amorino rose. The Amorino rose features as many flavors of gelato and/or sorbet as you like, along with the option of adding a macaroon on top!
My favorite flavor is Amorino rose including cioccolato (chocolate), Caffé (coffee), and nocciola (hazelnut).
Go and visit one of my favorite gelato shops in NYC for an instant cool down in the summer heat. But if you want to avoid the heat altogether, stay inside and make your own customized gelato for dessert!
If you've been to one of the gelato shops I mentioned, let me know in the comments below. Don't forget to mention your favorite gelato flavor!