Forget diamonds, a girl's hair is her best friend. Since it's summer, it's easy to be carefree, and nonchalant when it comes to styling your hair. For girls with different hair textures, sometimes you just want to let your hair be free, too. In this case, this Fashionista wore her hair in a cute, big afro style, to define her signature look. There are a few steps you can take in order to achieve this style.
Start off by co-washing, using a smoothing conditioner, such as Aussie, or your preferred product line. Lightly blow dry your hair on the low to medium setting. You don't want to put it on a high setting because it will leave your hair in a blown-out frizzy state, and it can cause heat damage. Part the hair into various sections. It doesn't have to be perfect, but make sure that they're neat. Be sure to leave a small section in the front. Braid the hair down the sections, leave them in overnight, and tie your head with a satin scarf.
In the morning, apply some essential oils to your hair to lock in moisture. Then, proceed to unravel. Gather the hair at the front into a small bun, and secure using a scrunchie. I suggest using a detangler brush and a wide-toothed comb to comb out the sections. This will add volume and definition to your hair, and it will hide the separated sections. If you want that extra oomph, use a hair pick to groom the hair and gently spray it with water. Don't forget the edges! Apply a small amount of Eco-Styler Gel to your fingers and lay your baby hairs down. This will give your hair a sleek look.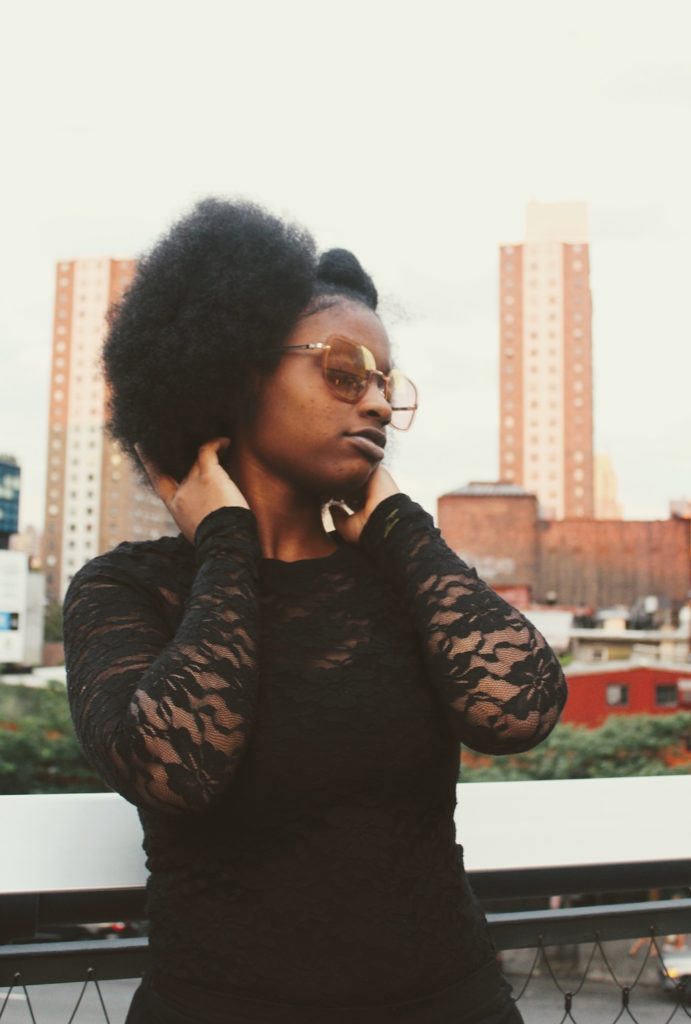 This hairstyle is simple and cute for any lazy hair day. This Fashionista did this look for her birthday celebration in the city. In order to complement her 'fro, she added a pair of tinted vintage square sunglasses. You can still care for your hair properly and look cute without manipulating your hair into a complicated style.
How do you rock this style? Show us on social media. Don't forget to tag @Cfashionista!