Attention all Gen Z stylists: world traveling and fashion TikTok star Lily Chapman might just be the future of fashion. The 22-year-old has seen significant growth on TikTok, on which she shares her experience as a stylist, designer, and traveler. During her recent trip to Paris Fashion Week, she was even featured in Vogue while wearing her very own design. Lily sat down with College Fashionista to share her story and her advice for aspiring community members.
A childhood desire for adventure led Lily to find a passion for traveling at a young age. After high school graduation, she took her passion and freedom with her as she started creating her dream life on her own, immediately working and saving up for her gap year abroad. 
"I feel like that when I was really discovering what I loved about travel, so much of it was centered around new experiences and trying new things," said Lily. "And one of my favorite things about that trip was that I packed entirely in a carry-on for those three months I was in Europe and I wore an outfit that I loved every single day and it was such a fun challenge to have limited resources and try to pick out an outfit that was unique out of those resources every single day."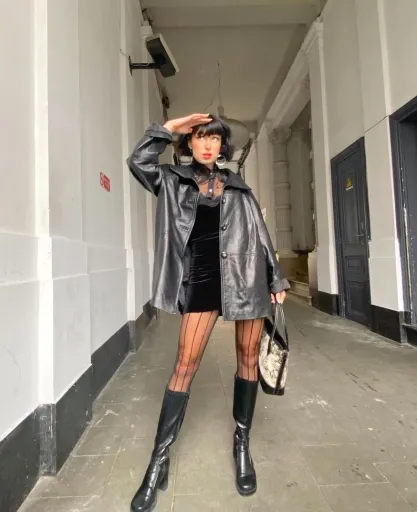 While this trip helped her discover her interest in putting together outfits, she credited her mother for her love of fashion. Growing up, they spent each morning choosing the perfect bow to match her particularly curated outfit together, which even led her to win "Best Dressed" in the fourth grade. Her mother owned her own fashion business "Sublime Divine Image Design."
"She just had such a heart for trying to help people feel confident in what they wore," said Lily. "So she was really all about empowering women to feel good in what they wore and find clothes that made them feel good. And she was so talented at it and did it with such love and such passion, and I was just absolutely enamored with it."
Up until recently, the creator did not truly see herself as an artist. Coming from an artistic family, she realized that creating clothes could be something she loved to do. Inspired by TikTok designers and a pile of thrifted clothes that never fit perfectly, she was motivated to start designing and got her start in fashion. Last fall, in the middle of pandemic lockdowns, she received a sewing machine for her birthday and finally had the time to teach herself how to sew through a fun process of trial-and-error before taking sewing lessons from a woman she met at the farmer's market. 
Following her discovery for creating fashion, she found a creative hub on TikTok. She began filming herself in front of a sheet she hung up in her sunroom, documenting her trips to the thrift store, vlogging her journeys abroad, sharing her thought process while styling, and presenting her creations while she learned to sew. Since beginning, she has successfully built up a large following.
Her biggest advice for aspiring content creators is to stop waiting and go for it.
"Quit waiting for it to be perfect because it is never going to be perfect. Your content will never be perfect, your body will never be perfect, the space you are shooting in will never be perfect, the audio will never be perfect… It's never going to be perfect, you just need to create. You just need to do. Do first, think later," said Lily. "If you wait until you have enough money, or 'enough followers to talk like this,' or enough content, then you are just going to spend your life waiting."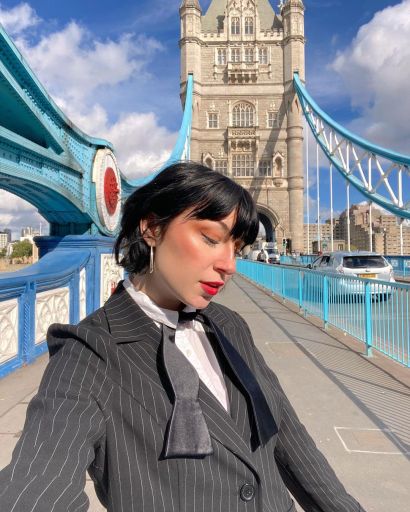 After graduating in May with a degree in International Business, Lily set out to travel again once restrictions were finally lifted. Her experiences abroad have shaped her style "massively." She pays attention to what people are wearing, compared to the fashion cliches of each culture, and incorporates it into her personal style.
The majority of her inspiration comes from her favorite trips to Paris and the French New Wave era. Ever since taking a film class in high school, she developed a love for the playful prints and feminine shapes each actress would wear in vintage French films, such as in The Umbrellas of Cherbourg. She also admires the female liberation and rebellion portrayed in American fashion from the 1920s and Old Hollywood. 
"'We are going to wear what we want to wear. We are going to cut our hair short. I'll wear men's pants if I want to.' Big jewelry, bright red lips — I just love the freedom and intensity of all of it," said Lily. "But also, the mix of masculinity with these very, very feminine textures. I think it is very fun to play around with different textures, different styles, different cuts. And I feel like the best eras that that happened in was the twenties and the sixties." 
This fall, she attended Paris Fashion Week for the first time. She told College Fashionista that you do not need to be invited to have an incredible experience. After messaging a small fashion account on Instagram and building a relationship with a fashion photographer on her first day, she received addresses to shows all over the city. While she appreciated each show she had the opportunity to watch, what she admired most was the culture outside each show, where people were connecting over a shared passion and dressing their best.
"You feel like you're lifelong friends, but you've only known each other for two days. But you're living this intense, really surreal experience together so it makes you feel close immediately," said Lily.
As she starts to step into the industry, she has begun to navigate how she wants to be involved. While there are beautiful sides to fashion, there are few she feels uneasy about. For example, she was slightly disappointed by the lack of uniqueness and creativity in some of the high fashion collections.
"Fashion should be about having a beautiful outfit that feels like you and expresses you in a unique way and that you had to work to create, and not just 'I can put on Prada too,'" said Lily. "This is what I want but how am I going to fit into these circles? How can I be in these circles in a way that is still authentic to my views on sustainability and personal fashion?"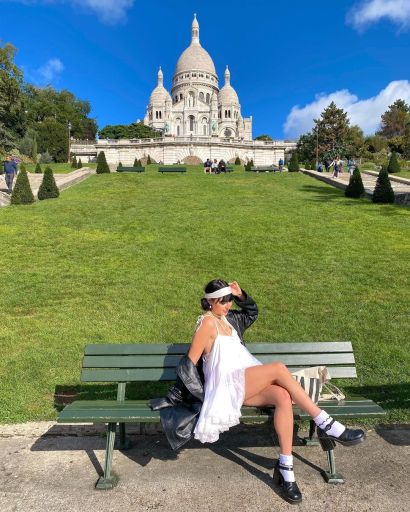 The designer deeply values sustainability and practices it in her creations. She grew up thrifting all of her clothes and continues to solely do so today. To her, corporations are the ones to blame for the destruction of the environment and depletion of people's quality of life.
"Fashion is such a cool and beautiful thing if we could get rid of these nasty parts of it — like people not being paid for their labor or dumping the chemicals and the dye from creating fabric into these rivers and ruining an entire population's access to real water. Like the s*** that goes on behind the scenes is so gross but fashion is so cool," said Lily. "So for me, it is so incredibly important to show people, you can be so stylish, you can be so unique, you can feel so confident in clothing, and it doesn't have to ruin other people's lives, which is what fast fashion is doing."
Lily takes pride in being true to herself when it comes to fashion. She does not feel pressure to wear what other people wear.
"If I like it, I like it. I really couldn't care less what anyone else thinks. And if they love it, that's awesome. That's fun. I don't want to sound like a jerk. It is so much fun to bond with people over clothing," said Lily. "But, if people are going to be like, 'That's weird!' I'm going to be like, 'Okay, buddy. Okay. Go put on your jeans, I don't care.'"
She uses what she wears to make a statement and introduce herself to each person she encounters. Fashion and content creation is her way of continuing what her mother started, and make her followers comfortable in expressing themselves through clothing.
"What I see in the next year is just creating a bigger community for me of people who I can inspire to wear whatever the f*** they want to wear," said Lily. "Share what I love and help inspire others to wear what they want to wear. Because that's all that matters."
Featured photo by @ebc.jpg.