Hey, Fashionistas! It is finally summer, and I am so excited to be sharing some of my fashion, beauty, and life tips here as a Style Guru on College Fashionista. My name is Awe Temiloluwa, and I am a sophomore at Georgia Gwinnett College.
Being able to share with you guys how my love for fashion grew has to be the best thing ever for me. This is mostly because I would not say I was the most stylish person when I was younger. I wasn't really the type that cared about how I looked; I thought being fashionable was stressful and expensive. However, as I grew up, I developed a sudden love for shopping; I learned to imagine the different ways I could style an outfit before buying it; I thought this was normal, because doesn't everyone try to picture their "outfit of the day" in their head before actually wearing it? I really didn't see myself as the fashionable type because I still had the mentality that being fashionable is all about wearing the most expensive clothing. I am not saying that if you wear the most expensive clothing, then you are not fashionable—I am saying that you can be on a budget and still look fashionable.
Fashion to me is an outlet of expression. I believe that you don't have to spend $200 on one outfit to look stylish. It is perfectly fine if you do have that money to spend on an outfit, but the ability to spend that much should not be a factor considered for being fashionable. I do not have a specific style, because I love to come out of my comfort zone and try new things just to see which works best for me.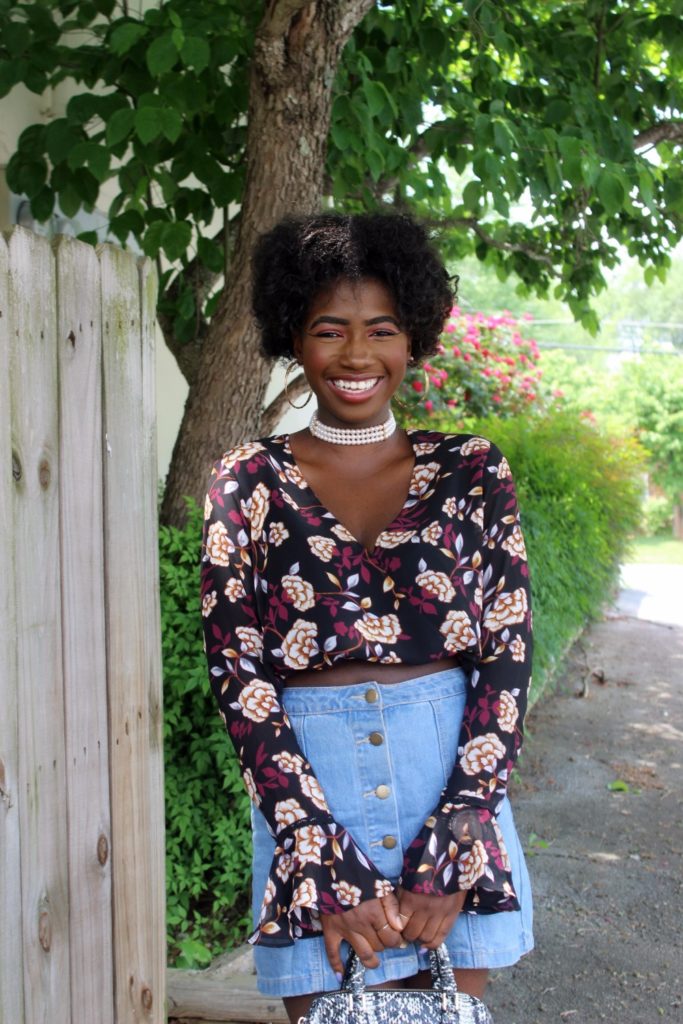 Now, moving on to my outfit, I decided to go with a simple, summery-yet-cute outfit. I styled this cute floral crop top from Forever 21 which I think gives me that girly type of look. And then I added this mini denim skirt also from Forever 21, because I feel you can never go wrong with a denim outfit. I am a huge Forever 21 fan; I feel their clothing is so great for the price. I have on a pearl choker from Fifth Avenue which was given to me as a birthday gift from my dad  with an animal print handbag by Cole Haan. To complete my look, I was sure to wear my cute smile because, "you are never fully dressed without a smile".
I am so excited to start summer 2017 by inspiring and helping you all build your creative minds!
Forever 21 is one store where I find stylish outfits that don't costing me an arm and a leg. What go-to savings store is that place for you? Let me know in the comments below!