Fashion is important because people represent themselves by what they wear. This is why it is important to have fun expressing yourself in different patterns and colors! Similar to my personality, my style is all over the place. For an ideal "Camilla" outfit, I try to mix vibrant colors, without becoming too chaotic.
For anyone that knows me, my go-to top is always a sleeveless turtleneck. In my opinion, this type of shirt is very classy, while not being too conservative by revealing one's arms. Plus, in this specific outfit, the black color is enough to keep all of the other colors in my outfit under control.
My bag has been an essential to me for a few years. It is almost like my personality security blanket. I started off with the plain brown bag from Anthropologie, which I immediately fell in love with for its simple but professional look. A while ago, I became obsessed with pins, and I decided to start building my collection onto the strap of my bag. This way, I have an assortment of colors, but the buttons themselves are displayed in a neat manner.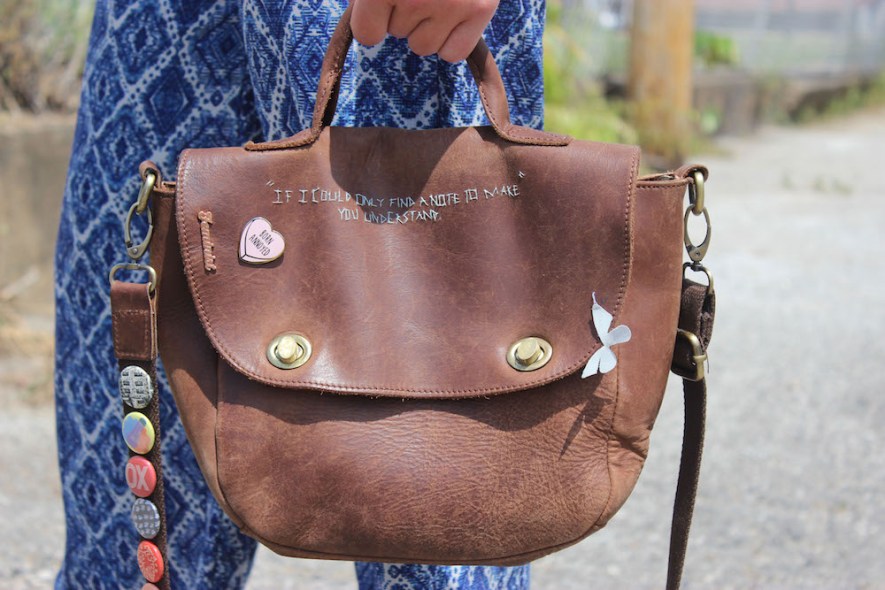 In the beginnings of teaching myself how to embroider, I embroidered the quote, "If I could only find a note to make you understand" onto the flap of the purse, for further customization. It is important to be creative with any type of bag, journal, or other items that you will be using often. For example, I had a shirt with many fabric butterflies sewn on, and when one fell off of my shirt, I simply sewed it on to my bag. In addition to all of the above, I have put on two enamel pins as finishing touches. The feminist pin is for women empowerment and the "born annoyed" pin is more of a comical feature.
The patterned pants that I am wearing in this look are one of the many colorful pants that I own. These types of pants are a necessity for me, because they are incredibly comfortable, as well as very stylish. With the crazy patterns and colors, they make anyone sure to pop out of a crowd! These specific pants are high-waisted and make my legs look a lot longer than they truly are. I love them because they add more chaos to my outfit, and the colors are beautifully mismatched with my bag.
What kind of style do you have? Show us on social media! Don't forget to tag @Cfashionista.