When you think of Euphoria, makeup is often one of the first things that comes to mind. The HBO series popularized daring and dramatic looks you may have saved on Pinterest or tried to recreate yourself. Euphoria makeup has notoriously inspired people to play with glitter, rhinestones, and invest in unexpected eyeshadow shades and palettes. Each character's look is unique, from Jules' experimental makeup to Maddy's bold fashion and Rue's all natural style. There's been a major shift from Season 1 to Season 2, impacting everything on the show, including the costumes and makeup. Simply put, Euphoria's makeup artist, Donni Davy, is changing the game. 
"Similar to last season, the makeup designs are all coming from a place of what the characters are going through," Davy told WWD. "It's sort of emotional glam, that's what I've been calling it this season. The approach is always to work collaboratively with the cast members and understand where they're coming from in a particular scene or episode and get their take on what their frame of mind is."
If you've ever recreated a Euphoria makeup look, you can thank Davy, who has her own makeup line Half Magic coming out soon. "It's definitely inspired by fantastical, heightened, twinkling, colorful makeup looks that you see on Euphoria, but also from the people who have recreated [the looks] on their own," she said," Davy told WWD.
On her Instagram account, Davy breaks down the makeup looks from Season 2, sharing techniques, products, and more. If you like beauty and Euphoria, she's a must on your Instagram follow list. Here's a roundup of Davy's most memorable makeup moments from Season 2 of Euphoria and her tips for recreating the looks yourself.
Maddy's Makeup Looks
This season we see Maddy Perez, played by Alexa Demie, wear a lot of bold liner. For this look, Davy shared Demie suggested black glitter on top of this fab sharp wing. The glitter used was "Back in Black" from Lit Cosmetic ($18). Davy also shared some of her favorite makeup products with Allure, and when it comes to eyeliner she loves Danessa Myricks Colorfix 24-Hour Color Cream ($18).
In Episode 3, Davy gave Maddy and Cassie Howard, played by Sydney Sweeney, mirrored liner looks. "The double wings totally mirror each other — and then there are actual mirrors in the scene AND there's Cassie's meltdown moment which mirrors her reality." Davy said on her Instagram account.
Demie often did her own makeup this season, she also frequently gave the makeup artists inspiration, sharing her vision for Maddy's makeup looks with them.
"The biggest thing about Maddy's makeup this season is that [Alexa Demie] took the lead on her own makeup designs. She came into the makeup trailer with established and well-thought out ideas for her looks, with her own character backstories. [Alexandra French] collaborated with Alexa to bring her ideas to life, picking out colors and textures in a more understated palette this season than we're used to seeing on Maddy," Davy shared in this Instagram post.
Jules' Makeup Looks
Jules Vaughn, played by Hunter Schafer, was often seen with fun experimental makeup in Season 1. This season, Jules' makeup was a bit more toned down.
"[Jules' makeup] is a little more minimal and a little less colorful across the board, but then there's a couple moments of extreme color. I think it's a little bit more unexpected, sort of manic maybe. It's all about the details. The looks aren't big. You won't see a big colorful eye, but you'll see these cool little details that are unusual," Davy shared in an interview with WWD.
Makeup looks like this one from Season 2, let us see the more mature Jules. "The inner corner placement of a matte black shape against a minimal eyelid backdrop feels less like makeup itself, and more just like a structural shape that draws us into her gaze during the NYE party," Davy shared on Instagram.
For the bowling scene in Episode 2, Davy did an abstract eye painting with bold colors. We see another abstract look with a bold liner in Episode 7 while Jules is watching the play.
Kat's Makeup Looks
Davy has shared the most behind the scenes looks of makeup for Barbie Ferreira's character Kat Hernandez on her Instagram.
"Instead of taking the gothxgrungexfairy-inspired direction that I had imagined, [Euphoria]creator/director/writer and the all-around visionary [Sam Levinson] challenged me to bring a playful freshness to Kat's makeup. You'll see that many of her looks involve a super clean lower lash line and bright colors. I interpreted this as Kat still being kind of new to wearing makeup, and still very much using it to help figure out who she wants to be," Davy shared in this Instagram post. For the party scene in Episode 1, Kat had an iconic colorful makeup look inspired by Heidi Bivens costumes for Kat herself.
In Episode 3, we see Kat in this adorable pink eyeshadow look with a heart design. Davy shares how she did the look on Instagram. "We found that using a liquid shadow as a base for this made the negative space heart pop the best," Davy shared on Instagram.
Davy also gave this great makeup tip based on Kat's blue makeup look from Episode 5. "Friends with hooded eyes, try this color block technique! Apply color right up through your crease and beyond it. Color-blocking is the easiest way to get a bold and graphic look that can also serve as a wing of sorts! It does not rely at all on where your crease is or how much eyelid space you have."
Lexi's Makeup Looks
Lexi Howard, played by Maude Apatow, has stepped up her fashion and makeup game this season. Davy shared that Lexi's look from Episode 1 is one of her favorites of the entire season.
"With [Maude Apatow]'s input, we decided to keep her makeup simple but eye-defining, and bring in a lip color that would tie into her incredible outfit…Maude tried some super vibrant fuchsia lip shades, but those felt too self-assured for the first episode, so they landed on this pretty shade of berry. Lexi's whole aesthetic and frame of mind just juxtaposes so much with Fezco's whole life basically, and it makes their NYE interactions SO endearing. This episode marks the start of Lexi's self-actualization journey, and you know her makeup will echo her character's evolution!"
For Maddy's birthday party, Lexi wore a more special makeup look.
"We wanted to showcase another type of wing, the downward turned more Twiggy style wing, accented with lower lash line dots. Instead of fake lashes on her lower lash line, it felt more Lexi-like for her to have drawn on her own unique version of something reminiscent of fake lashes. I love how this makes the look feel slightly less glam. And even though it's stylized, the look feels timid enough to suit our girl," Davy shared on Instagram.
There was more Twiggy inspired looks for Lexi to come. "In Episode 4 we see her first dabble in something Twiggy-esque, with clear 1960s influence, but this dark blue liner look is a touch more edgy and less babydoll," Davy shared on Instagram.
Cassie's Makeup Looks
Davy has also shared a ton of insight on Cassie's looks this season.
'She's a really big part of the storyline this season and goes through a lot of intense relationship-related events where she's very much still sort of in this mind frame from Season 1 where she's appealing to men,' says Davy. 'I thought she was gonna shift from like using makeup as a way to make her the most conventionally attractive kind of version of herself. But she uses makeup to kind of like try on these like different, very feminine versions of herself,'" Davy said in an interview with US Magazine.
Davy used small rhinestones and peach colors on Cassie in Episode 1, a contrast to Maddy's bold liner look. She also went with bare skin for this episode.
We see more sparkle on her in Episode 2. "A baby wing that melts into her inner lash line, topped with scattered tiny glitter bits for that cinematic twinkle that we live for. We lined [Sydney Sweeney] 's lower lashes to add dimension and contrast to her eye shape so the audience would be super drawn into her gaze, just like Nate," Davy shared on Instagram.
For Episode 3, Cassie's big Maddy-inspired style reveal, Davy did something special.
"The makeup goal was obviously to take Cassie to a Maddy-level of snatched, while showing the underlying manic state that Cassie's been in as she tries to get Nate's attention. Initially I envisioned a soft baby blue for the liner until I realized how much more a stark white would show up on camera on [Sydney Sweeney's] skin tone. The look had to pop so she could finally get Nate's attention! Conceptually, I loved the idea of creating a high impact look without the use of any vivid colors. For a color devoid of "color," white is actually super bold. It almost looks jarring in these stills — which I LOVE for this moment. And then there's the classic symbolism of white (purity and innocence) which is just a little bit ironic in this case," Davy shared on Instagram.
For the infamous country music star scene, there was more '60s inspiration.
"She's giving country music star. I knew I wanted to bring an ethereal soft 1960s energy to [Sydney Sweeney] for this look, so I pulled pastel looks with exaggerated eyelashes to get inspired. For anything that calls for a retro look, I love looking at makeup ads and magazine covers from whichever era I'm going for… I wanted this makeup to look beautiful and sweet on Cassie, and just a little bit babydoll costume-y. I love how her meltdown…erupts and like burns through this look, morphing it from soft delicate babydoll to something a bit more deranged. Seeing how actors bring makeup to life is the coolest part of being a makeup artist I think!" Davy shared in an Instagram post.
Cassie wears pink eyeshadow for NYE, and Davy shares a great tip on how to pull off the look.
"Don't be afraid to wear pink eyeshadow y'all! As long as you define your lash lines, even just with mascara (try blue mascara!) it won't look like "pink eye." Another fun thing to try with a pink eyeshadow look is lining your waterline with dark blue, plum or black eyeliner!" Davy shared on Instagram.
Rue's Makeup Looks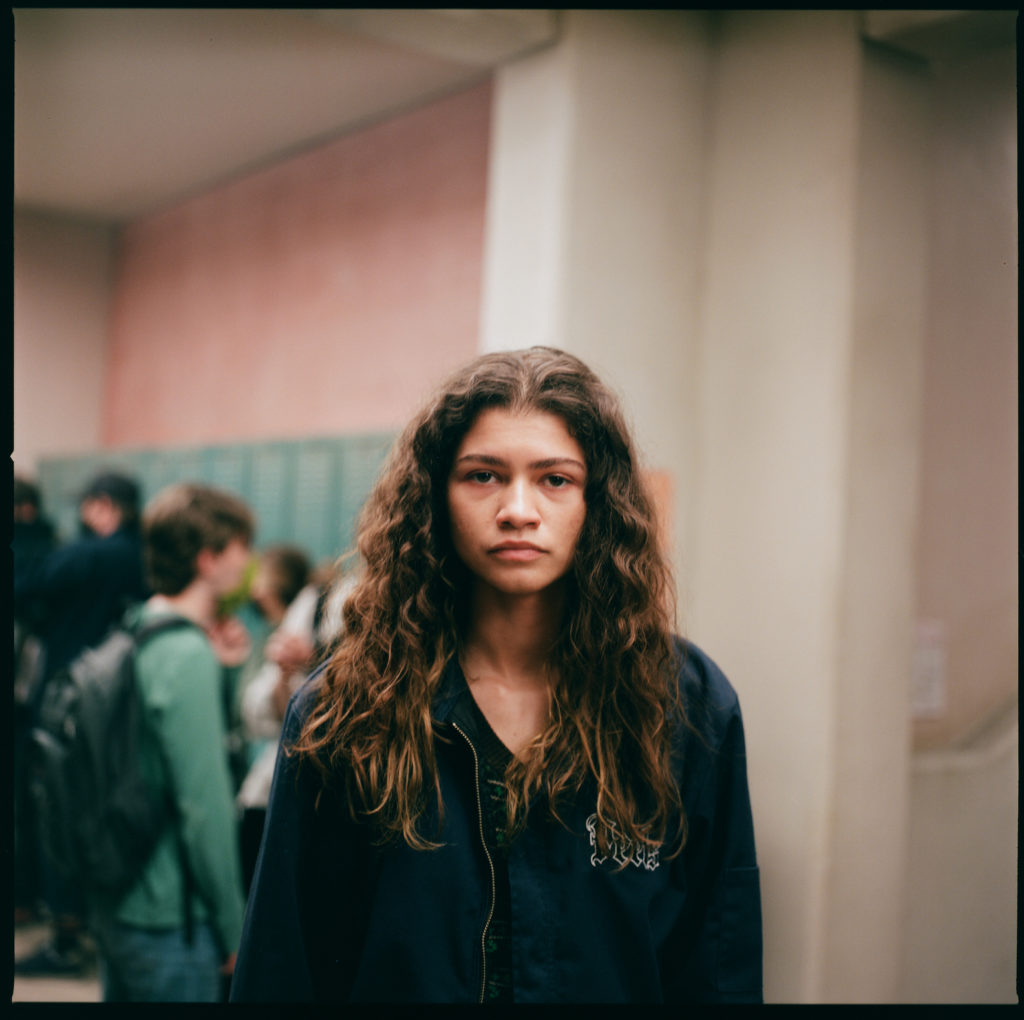 Last season we saw Rue Bennett, played by Zendaya, do some fun makeup looks. This season, she's kept it pretty natural. Zendaya is Zendaya, a natural beauty, so of course on that end it wasn't that difficult for Davy. Director Sam Levinson did ask for minimal foundation on the characters, Rue included.
"My department learned how to make the skin look really, really polished and fresh [without a full face of foundation] by using illuminating liquid skin products, like a drop of foundation and concealer to spot-treat," Davy said in an interview with US Magazine.
The Colorescience Sunforgettable Total Protection Face Shield Glow ($42) was used to emphasize the natural glow of the actors and the Chantecaille Future Skin Foundation ($79) was used as needed for extra coverage, Davy told Allure.
Each character has had a makeup evolution this season, and we're eager to await the iconic looks we'll see in the season finale. "The aesthetic of the show has changed a bit, so my work has changed a bit and evolved," Davy told WWD. "Certain parts got more minimal and other elements got turned up. I wasn't really sure how people would receive it. Like, did people just want to see the same big glitter neon looks? I don't know, people probably did, but I was really happy with how the looks turned out and the reception has been awesome."