After scrolling through Pinterest and Urban Outfitters apartment décor, I found myself having major room envy. Unfortunately, buying décor off of the Internet can be pricey, and you may not end up getting exactly what you wanted. Whether you're trying to spice up your décor or just want a craft to beat the heat, this will be sure to give you the high-end look for less.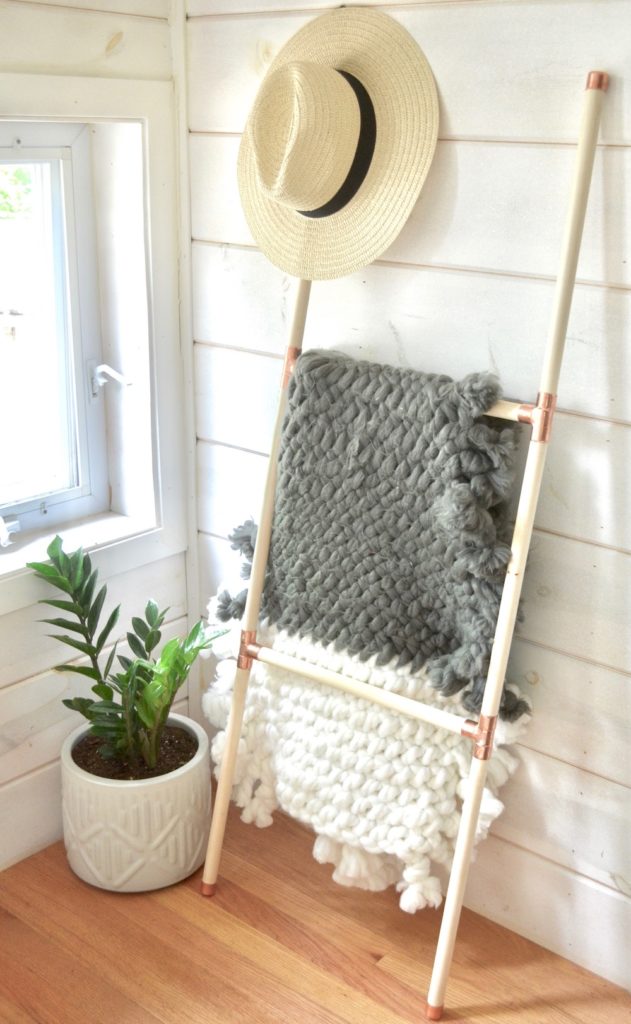 This DIY isn't only popular and trendy, but also insanely affordable. I purchased all of the material from Home Depot for only $20, which is a fraction of what you'd pay at a retailer or online.
Copper and Wood Ladder
This simple and modern ladder is not only an organizational tool but makes an elegant statement in any room. Create your own ladder that looks exactly like the one you'd see at Urban Outfitters, with minimal effort.
What you will need:
3 wooden dowels—I used 7/8 x 48"
4 copper T-shaped connectors—I used 3/4″
4 copper pipe caps—also 3/4″
A glue of your choice—I used E600, but epoxy putty or hot glue would work too.
1—Begin by using a measuring tape to mark off the width of your ladder. I divided mine into thirds, which brought it to be 16″. You will have 9 of these 16″ pieces once you are done.
2—Lay out your pieces of the ladder with the copper connectors to make sure that it looks even. Take off any stickers now before we begin gluing.
3—Apply a small amount of E600 glue to the insides of the copper connectors to secure the wooden dowels once they are in place. Stick three of the 16" wooden pieces out of the T-shaped connector. Do the same with the remaining three T-shaped connectors.
4—Cap on the copper pipe caps to the remaining parts of the wooden dowels that are showing.
5—Decorate however you please by adding comfy blankets, summer scarves, statement jewelry, or whatever else to personalize it and enjoy!
Be sure to snap a picture of your DIY ladder and tag @Cfashionista on social media! Comment below on how you would style this piece!