We've reached a point in the school year where it seems like everything could benefit from hitting the refresh button. After a jam-packed semester, we're all on the hunt for new inspiration to surround ourselves with. And sometimes, the best place to start adding new inspiration to is the space we call home. Whether your yearly lease is coming to a close or your dorm is starting to feel a little blah again, a quick décor update is the perfect fix. Below, shop our affordable picks for refreshing your dorm on a budget.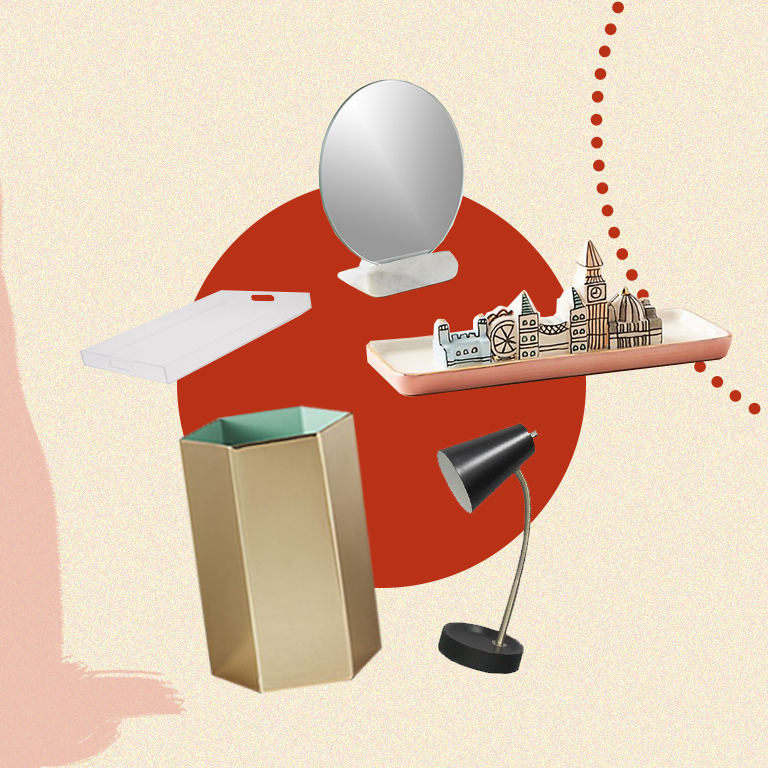 To Upgrade Your Desk
With a few new decorations, you can completely change the entire vibe of your study space. A print that you love or a unique knickknack for your tabletop will add new flare. And if your dorm desk doubles as your vanity, try adding a decorative mirror and a fun pencil cup to hold your makeup brushes for a refreshing, multi-purpose update.
Shop our picks: Anthropologie City Trinket Dish ($16), CB2 Round Marble Mirror ($30), West Elm Acrylic Tray Clear ($27), Room Essentials Task Lamp ($6), CB2 Pilar Gold Pencil Cup ($15)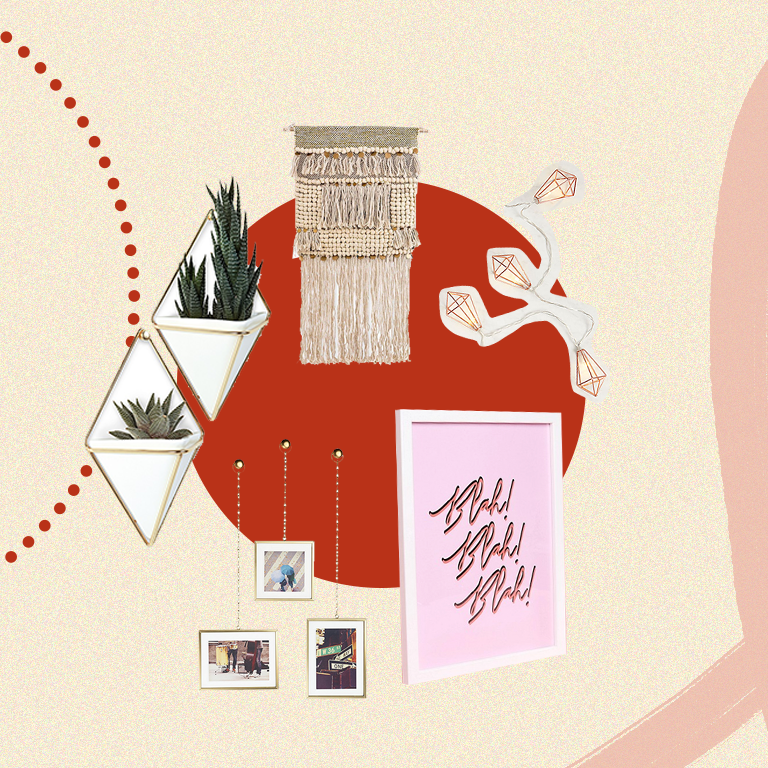 To Add to Your Gallery Wall
Hate empty white walls? Creating a gallery wall with a mix match of things that inspire you can be a great way to fill the space. Start with some funky string lights, and then add a few more statement pieces like a wall hanging or unique artwork. To finish, add a little life with some geometric wall displays to show off your plant babies in the cutest way possible.
Shop our picks: Umbra Fotochain, Multi Picture Frames for the Wall, Brass ($27), Paper Source Geometric Copper Lights ($15), Honeymoon Hotel Blah Blah Blah Pink Wall Art ($16), Karma Living Wall Hanging ($35), Umbra Small Trigg Wall Display Set of Two ($25)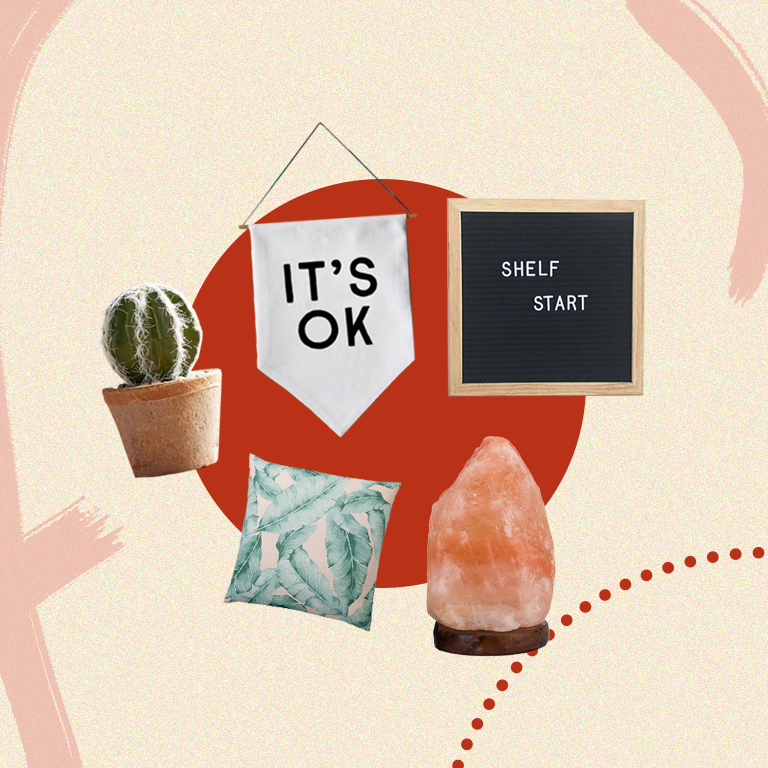 To Make It Insta-Worthy
If you're a lover of all things trendy but know redoing your room each time you fall for a new trend is tough on your wallet, stick to small pieces that will allow you to update your space without spending too much. Update your nightstand with a salt lamp and mini cactus, and add small details to your bed like a greenery-covered pillow. And no Insta-worthy room would be complete without some inspiring words, so set a letter board on your desk with a motivational quote and hang a simple banner above your bed to serve as the permanent Instagram moment in your room.
Shop our picks: Shelfstart 10×10 Oak Letter Board Black Small w/ Letters ($35), SkyLine Wears Himalayan Salt Lamp Natural Crystal Rock Salt Lamp USB Wire ($10), PBteen The Emily & Meritt Palm Print Euro Pillow Cover ($20), Pottery Barn Faux Potted Mini Cactus ($15), Wallbanners It's OK Wall Banner ($25)

To Channel Your Inner Minimalist
Even if 'the simpler the better' is your motto, there are still ways to update your room that will satisfy the minimalist in you. If you've found yourself with a few too many things, add a simple shelf to your wall and plain black side table next to your bed for added storage that won't overwhelm the room. An abstract print will fill empty wall space without being overpowering, and a cute white candle will finish the look while keeping it perfectly cozy.
Shop our picks: Project 62 Triangle Shelf Brass ($20), Lulu and Georgia Shapes on Shapes Print ($18), Crate and Barrel French Kitchen Marble Platter ($30), Finnhomy Small Round Side End Table ($28), CB2 Lily and Seagrass Soy Candle ($25)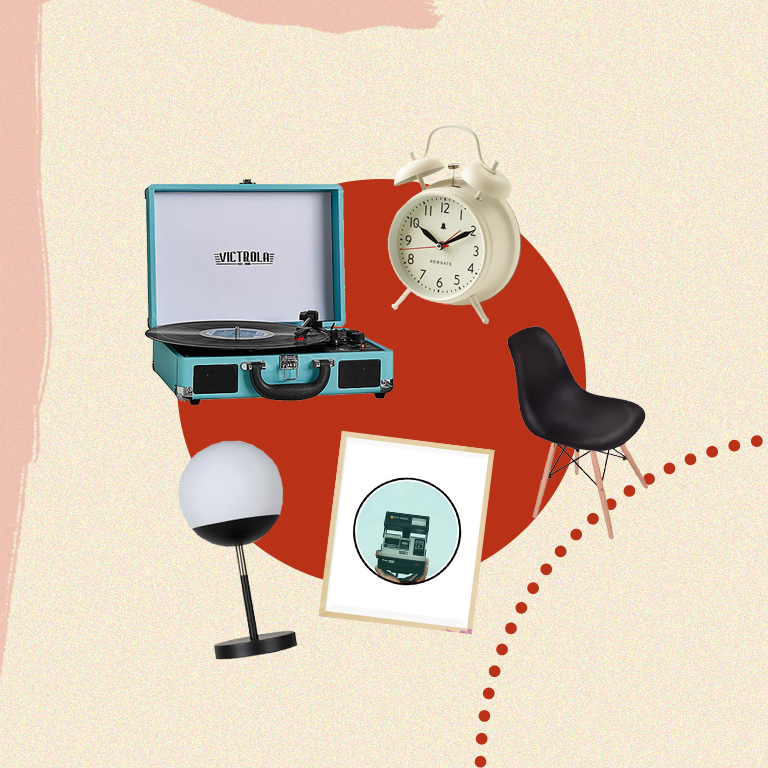 To Add Some Nostalgia
Just because it's a refresh doesn't mean everything has to be 100% modern. If you're old at heart, feed your vintage soul with a nod to the past. Hang some retro-inspired artwork, invest in a new mid-century-style chair, and find a fun lamp to add a throwback vibe. And of course, don't forget the old-school alarm clock and record player for your finishing touches.
Shop our picks: Newgate Clocks New Covent Garden Alarm Clock ($30), Project 62 Globe Head LED Table Lamp ($21), Victrola 3-Speed Bluetooth® Portable Suitcase Turntable in Blue ($50), Wayward Inspiration Polaroid Camera Wall Art ($5), Costway Mid-Century Modern Style DSW Dining Side Chair ($46)
How are you refreshing your room this year? Show us your dorms on Instagram by tagging @cfashionista!