I am back again with another fashion post! This time, I wanted to create a look with basics that you can wear throughout the daytime and into the nighttime. I know how busy life gets and sometimes, we don't all have that extra ten minutes after class to pick out an entirely new outfit to take on the town. Because it is summertime and I live in Nashville, the days can get super hot- like I'm talking close to 100 degrees hot! All you will need to recreate this day to night look is a bodysuit, a basic pair of jean shorts, two pairs of shoes, and two jackets of your choice. Keep reading to find out how this Fashionista styled her day to night look.
1—Daytime look. For starters, this Fashionista picked out this super cute neutral bodysuit and paired it with some mid-rise cut-off shorts. The good thing about wearing neutrals is that you can basically find them anywhere. If you are on a budget, then head to Forever 21 and shop in the basics section. On the other hand, if you want a good staple basic top, my favorite places to shop would be Revolve Clothing and Reformation. Bodysuits are the best to wear all day long because they will not bunch up and they look super sleek. These super cute denim cut-offs are perfect for running around all day and they will look cute all day long.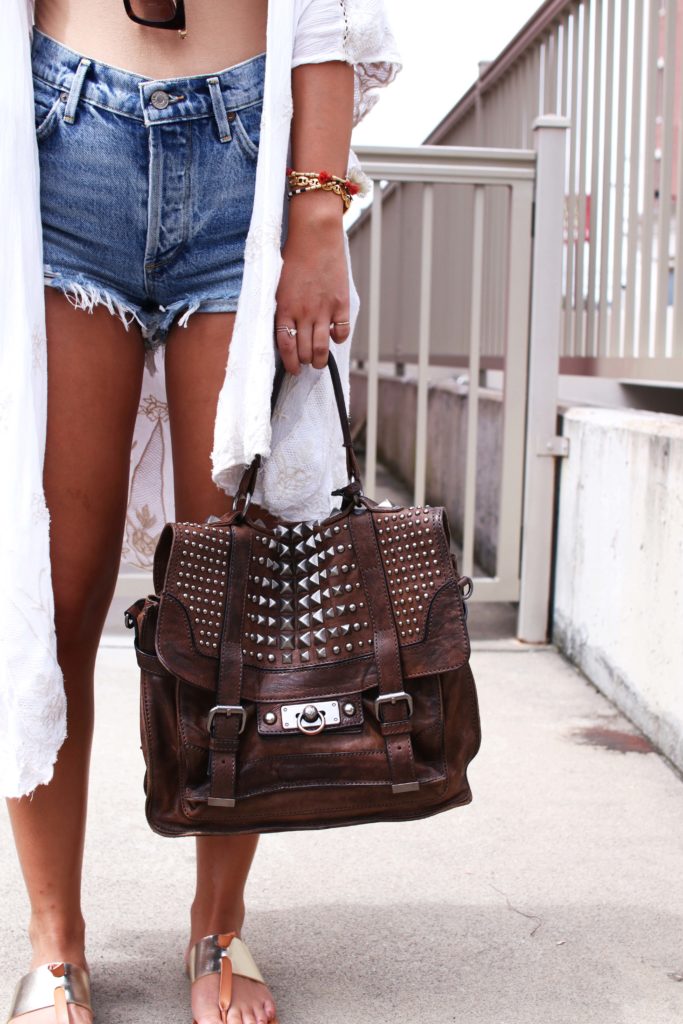 To make the outfit more casual, you can throw on a kimono for some added flare and an optional hat to protect your face from those hot rays. Sunglasses are the perfect accessories to any outfit because they are practical while still looking fashion forward. Make sure you add a bag like this Fashionista's, for makeup to touch up later. For additional comfort, toss on a pair of sandals and some bracelets to create the perfect daytime outfit! Whether you are going to class or just hanging with friends, you'll be sure to get some compliments on this look.
2—Nighttime look. Now I know that not every night can be spent in a cramped dorm studying, so I'm going to show you how this Fashionista transformed her look from daytime to nighttime in a matter of five minutes or less. Bold lips have always been a staple for the night so she first took a slightly darker lip color and applied that to her lips. My recommendations would be going for a nude, red, or dark purple lip. She swapped out her kimono for a cool leather jacket that gives the outfit an edgy vibe. Last but not least, ditch the sandals for some rad black booties to give the look a dressy feel.
I guarantee that every one of you can pull pieces similar to these from your closet to conquer daytime to nighttime! Don't forget to add your own personal touches to express yourself. Wearing an outfit that makes you look good, makes you feel good.
Let me know what your fashion staples are in the comments below or show us on social media @Cfashionista!