Chunky rings are all the rage, from colorful acrylics and translucent resin to braided gold and twisted metals. Decorating your hands is a great way to spice up a fit, and I am so excited to share my favorite places to shop for a gorgeous collection of knuckle dusters. You've seen them on the hands of all your favorite influencers and celebrities, now the secret's out — here's where to get your own!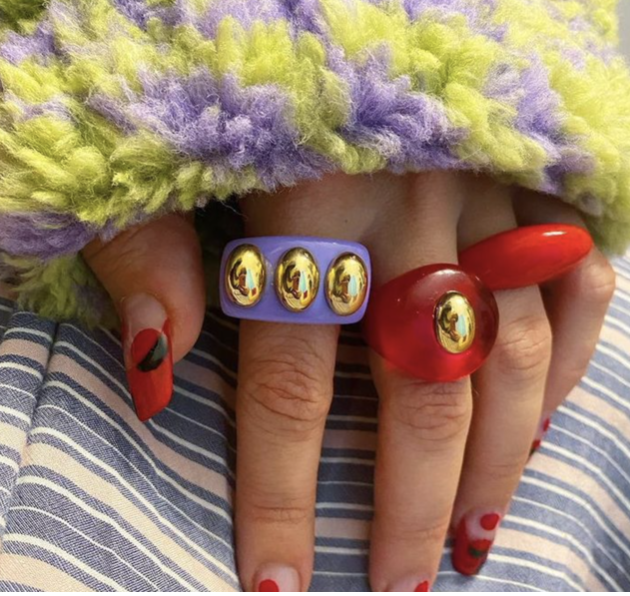 La Manso
La Manso is the Barcelona-based brand that's been leading the chunky ring trend. You've probably seen them all over Instagram, Tik Tok, and on the hands of every influencer and celebrity. The oversized, brightly colored and glittery rings give off major 90's schoolyard vibes, and are priced between $75 and $108. Inspired by her grandmother's love for Spanish costume jewelry, designer Adriana Manso started collecting bits of colored and glittery leftover plastic and upcycling them into rings. La Manso's mission statement is to be as "outrageously glamorous as possible," which is why each ring comes on the finger of a custom La Manso latex glove, with the promise that, "we cover your hand, whether you clean your dishes with glam, take your bike out on a rainy day, or grab a cold glass of icy mojito." Adding a ring (or two or five) to your collection will put you in good company — Miley Cyrus wore a set in the video for her single Midnight Sky, and Bella Hadid and Dua Lipa shared photos on their Instagrams showing off their ice.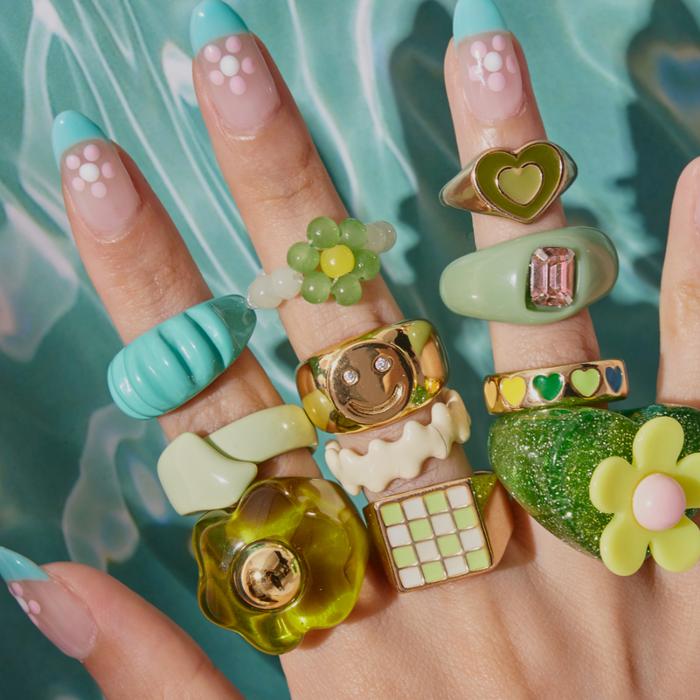 Snack Break
Snack Break was founded by a Californian-at-heart girl, "nostalgic for her carefree, high school days," Snack Break captures the laid back aesthetic of the 90's and the sunny days on the California coast. You can look cute and feel good about your purchase, since Snack Break donates 1% of their profits to a different non-profit every month, including women-owned small businesses, Planned Parenthood, racial equality foundations, the LGBTQ+ community, climate change and more. Treat yourself to some knuckle dusters and contribute to positive change while you do!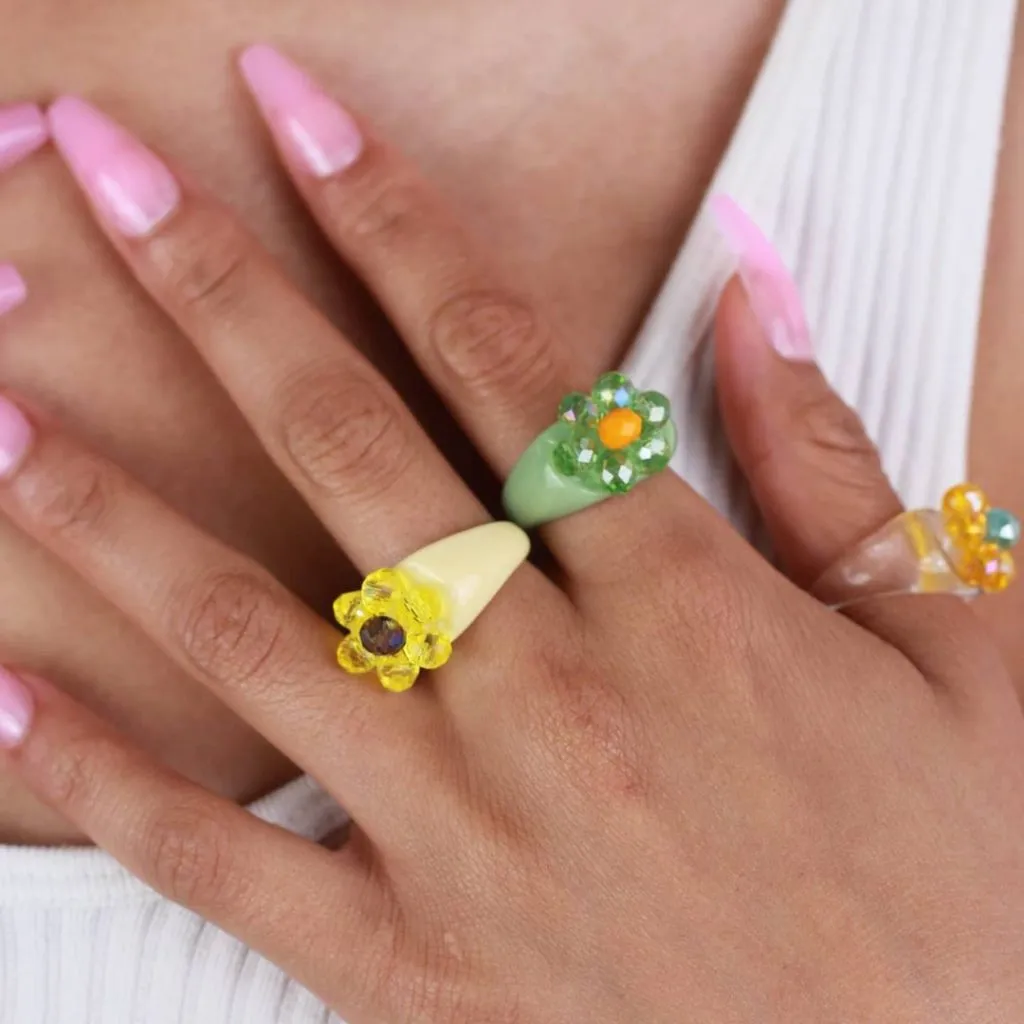 En Route Jewelry
En Route, a small jewelry brand based in NYC, is a favorite of Ashley (aka @bestdressed) and many other influencers. They offer a wide variety of pieces from chunky acrylics to dainty stone rings, and at a price point that's perfect for college-aged buyers. My personal favorite is their customized name ring — the perfect addition to set your collection apart. I'm also a huge fan of their beaded rings which give off major Y2K vibes and are essential for summer.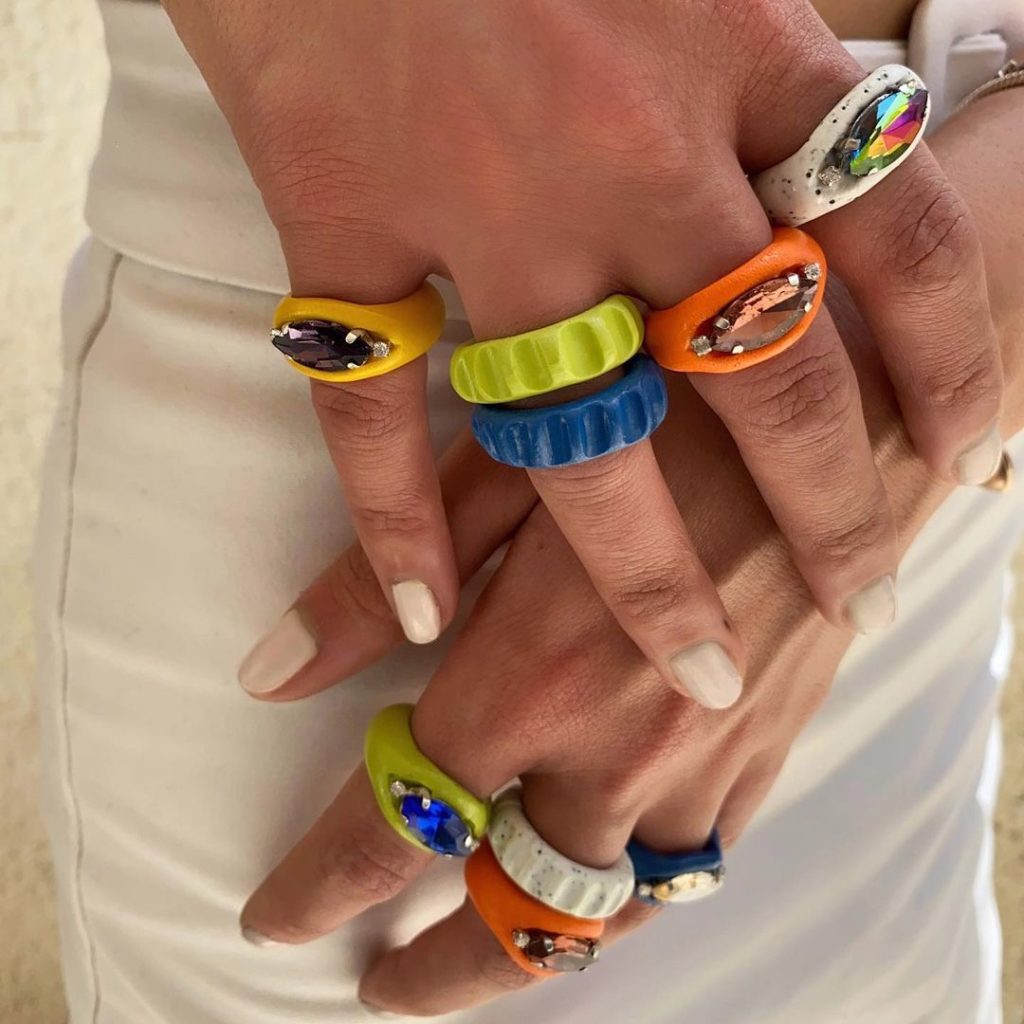 BARE Clay Jewelry
Are you on the hunt for those colorful and abstract clay rings that have taken over Instagram? BARE Clay is a small Instagram-centered business specializing in handcrafted, minimal and eclectic rings. They only drop every once in a while, so be sure to follow their Instagram page and stay updated on their new products!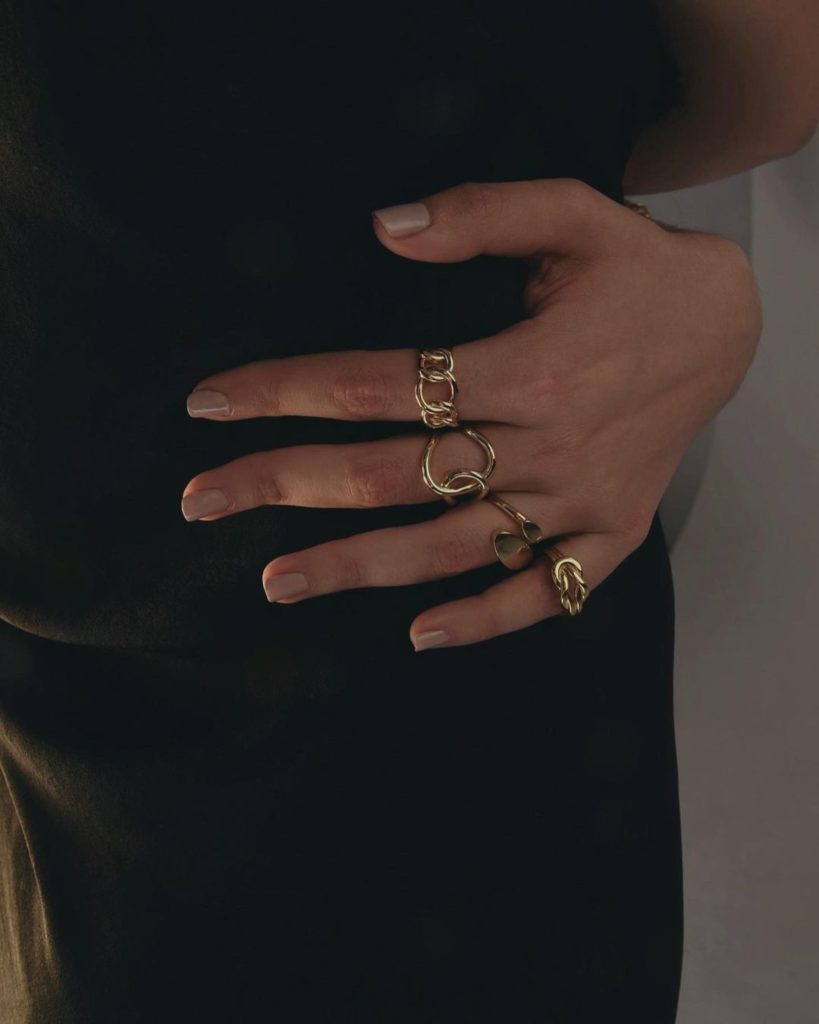 MiraMira NYC
If you're looking to go gold, MiraMira has everything your collection needs. The brand was founded in Manhattan by a group of friends who came to New York City to — like many others — make their dreams come true. The designers take inspiration from vintage elements to create a modern piece of jewelry with the foundation of "less is more." The brand is eco-friendly and aims to continue improving their sustainability practices as their business grows. Their rings range from $40-$180, depending on the materials used. Check out their Instagram and get your gold on!
Regardless of the style you're looking for, remember to shop small and shop sustainable! Supporting small and minority businesses helps us to do our part to better the world in our daily lives — and it doesn't hurt that you're getting some great bling while you're at it.
Featured photo by @ksurge