This week we are focusing on our second favorite thing to fashion—food! Dig in as we highlight some of CollegeFashionista's favorite places to eat and the foodie-entrepreneurs behind the brands all week long! Get in the action by sharing your favorite treats, sweets and even meats using the hashtag #CFeats.
Most people's third date involves some form of activity, possibly a meal and, if they are lucky, a first kiss. Rosie O'Neill and Josh Resnick's third date lead to something much "sweeter"—their gourmet candy boutique, Sugarfina. Charmed by the movie "Willy Wonka and the Chocolate Factory" (and each other), this duo set out create an elevated candy shop aimed at showcasing international candies and satisfying the sweet tooth of the Charlie Bucket in all of us. And so, Sugarfina was born. Now with five shops in California and a beautifully curated online candy shop, Sugarfina is bringing one-of-a-kind international treats to the US.
We caught up with O'Neill as she discussed the risk and sweet reward of leaving her career to create a real life "world of pure imagination."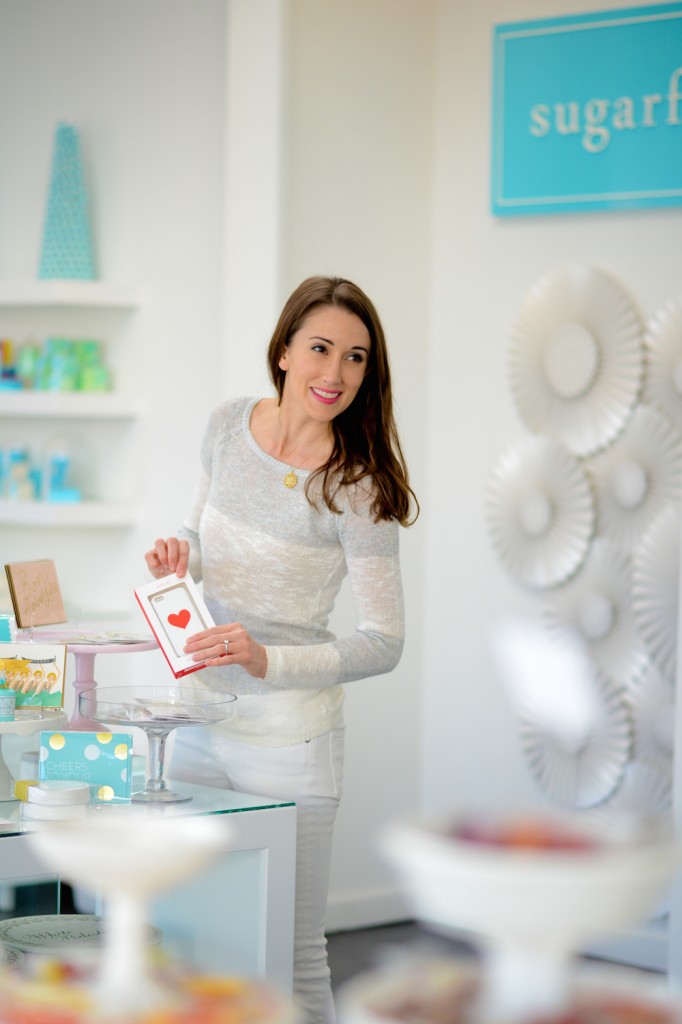 CollegeFashionista: Tell us about the date you went on with Josh (now fiancé) that inspired Sugarfina.
Rosie O'Neill: On our third date, Josh took me to an outdoor screening of the original "Willy Wonka and the Chocolate Factory." After the movie, we started brainstorming…why should kids have all the fun? Why isn't there a candy shop designed for grown-ups? We couldn't find anything like it, so we decided to create it ourselves.
CF: How did you make the decision to leave your job to start your own business?
RO: I had a wonderful career and a job that I really loved.  But when I met Josh, I realized that I wanted to live life bigger, and to go after and pursue things that I might have shied away from before. You only get one life, so why not live it to the fullest? The idea of starting a candy company was sort of crazy, but also really exciting. I couldn't stop thinking about it. We started the company intending for it to be a side business, but it took off faster than we could have ever imagined. So we quit our jobs and started focusing on it full time.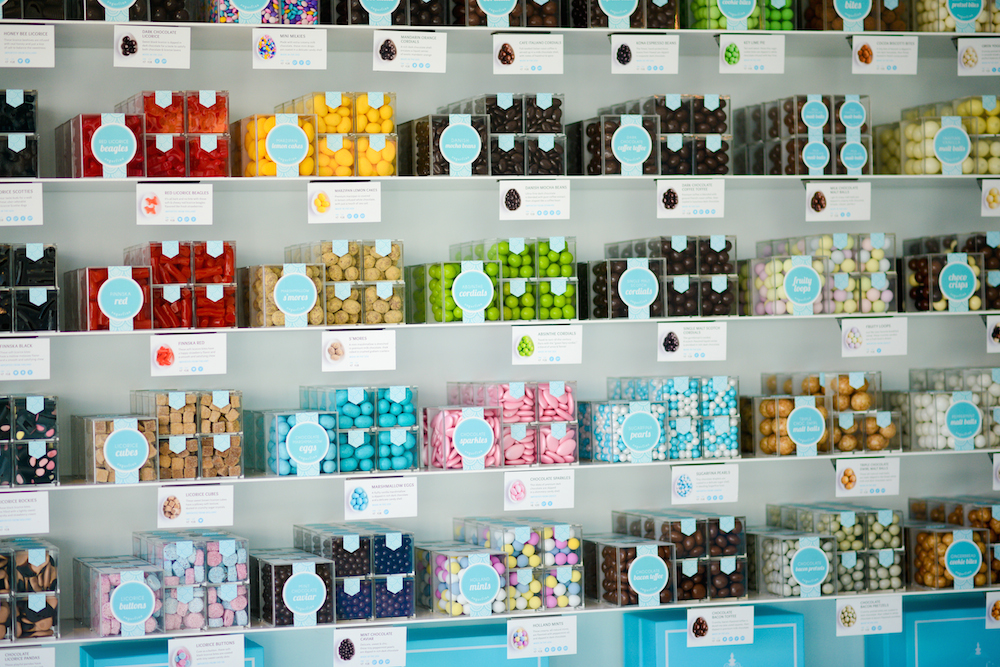 CF: How do you cut through all the competition? What makes Sugarfina more than just your average candy shop?
RO: Sugarfina is very different from any other candy shop, there's really nothing like it in the U.S.  We have a unique collection of sweets that you can't find anywhere else—more than two-thirds of our candies are exclusively available at Sugarfina in the U.S. We focus on beautiful, high-quality candies from around the world, like Champagne Bears from Germany, made with real Champagne, and chocolate-covered kumquats from Greece.  We also take a fresh approach with packaging. You won't find any scoops, bins or barrels with kids reaching their hands in. Everything at Sugarfina is pristine, clean and perfectly packaged, great for gift-giving or treating yourself. We even have a "Candy Concierge" that offers custom gifting and event services for weddings, showers and parties.
CF: Sugarfina offers luxurious yet unconventional treats. What is your favorite sweet treat?
RO: My favorite Sugarfina candy is Peach Bellini from Germany. It's exclusively available at our shop and one of the most delicious sour gummies I've ever tasted, the perfect balance of sweet and tart. On the chocolate side, I really love our Aphrodite Strawberries from Greece, a candied strawberry dipped in milk chocolate with a delicate candy shell. They look like beautiful pink speckled eggs.
CF: What is the most rewarding part of your job/starting your own business?
RO: We create things that make people happy, and that feels really good. I love the look on someone's face when they're trying one of our candies for the first time and they say it's the best thing they've ever tasted.
CF: What has been the biggest challenge and how did you overcome it?
RO: I have a tendency to be a workaholic, and running a company is a lot of hard work.  Finding that balance is really challenging, because there's always something important that needs to get done. I try to carve out moments for myself, whether it's an hour of exercise in the morning or a quick trip to the flower market for inspiration.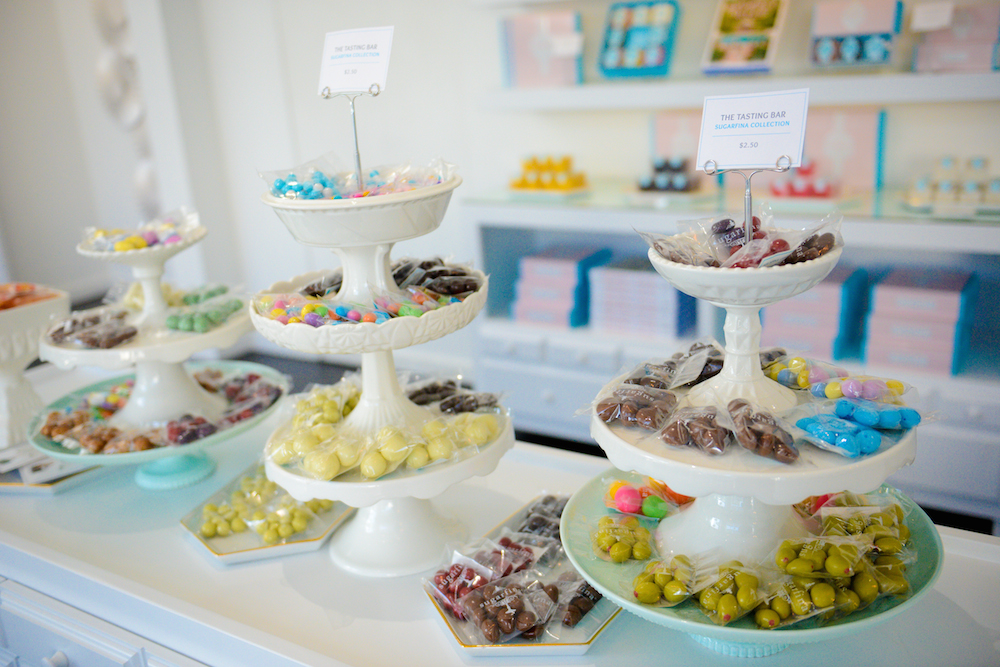 CF: What are your dreams and hopes for the company?
RO: We'd love to expand Sugarfina to many cities around the world, like London, Hong Kong and Sydney. I'm also really excited to build a great team of people who get to challenge themselves and do things they've always wanted to do. Sugarfina is a dream job for me, and I want to create a culture where it can be a dream job for everyone on our team as well.