Summer is almost here! It's a perfect time to go "all out" with your outfits, Fashionistas. However, for black women who are also Fashionistas, this is also a time to let your style speak through the natural glow in your skin. Black women utilize summer as a chance to harness their given glow with bright colors, bold hairstyles, and skin-baring outfits. It's one of the best seasons to flourish as a black Fashionista and give everyone a hint of what makes you you! Is it possible to be your own sunshine? Without a doubt!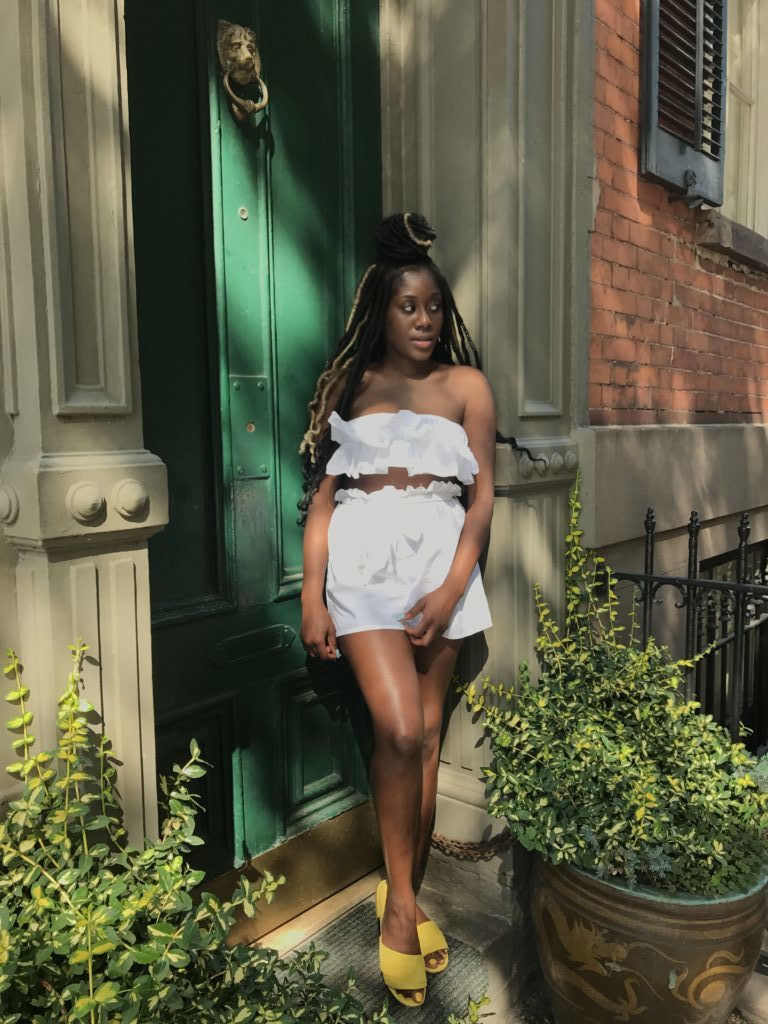 On my first sunny day out in the city, I chose to wear a white two-piece set with my yellow mules. This outfit was very bright and friendly and gave off simple summer vibes.
The top was cropped and ruffled, giving great air passage to cool off while still looking stylish. The bottom piece separated from the top, leaving me some room to show off some of my melanin glow between my stomach.
To top of this pretty simple piece, I touched on the colors that look best with my deep skin complexion. I paired it with these suede yellow mules to give the outfit some pop or color and glow along with the glow my skin was already providing. The mules gave the outfit a touch of magic, and they were simple and easy to walk around the whole city in if I wanted to!
The crown of my outfit was the Goddess locs I had in my hair for the first time ever!
Goddess locs is a form of Faux locs, with a curl pattern towards the end. With these locs, I am able to style my hair in various ways, such as the half-up half-down style which I have on with this outfit. They also give me the option of protecting and hydrating my natural hair with oils and my daily treatments while still standing out. The Goddess locs brought a complex look to my whole outfit, from the way it was styled to the colors within the locs.
A similar look can have you strutting through the city with some black girl magic without even trying. Look to the glow in your skin as an everyday inspiration when getting dressed this summer; it can easily help you be the sun and provide your own glow.
How do you incorporate your own natural traits into your style? Let me know in the comments below!