Navy blue has been worn by both royalty and blue-collar workers, sailors and entertainers, and women and men throughout history, and is still worn today. This color has the convertibility to transcend rank and class, making it one of the most classic and timeless colors in fashion. What caught my eye about this Fashionista on SCAD's campus was her ability to create an effortless preppy vibe with her simple look. Her navy T-shirt dress and striped flats hinted towards bourgeois without the fuss. For something similar, try this T-shirt dress from American Apparel and J.Crew Flats. This Fashionista added a touch of luxe by choosing to accessorize with a gold anklet and gold watch. This addition really adds dimension to an otherwise monochromatic outfit. To keep the look classic, make sure all your metals are uniform. However, its 2015! Mixing gold and silver is totally rad too! As neutral colors, both navy and ivory go just as well with silver jewelry, making this look even easier to add to your own wardrobe.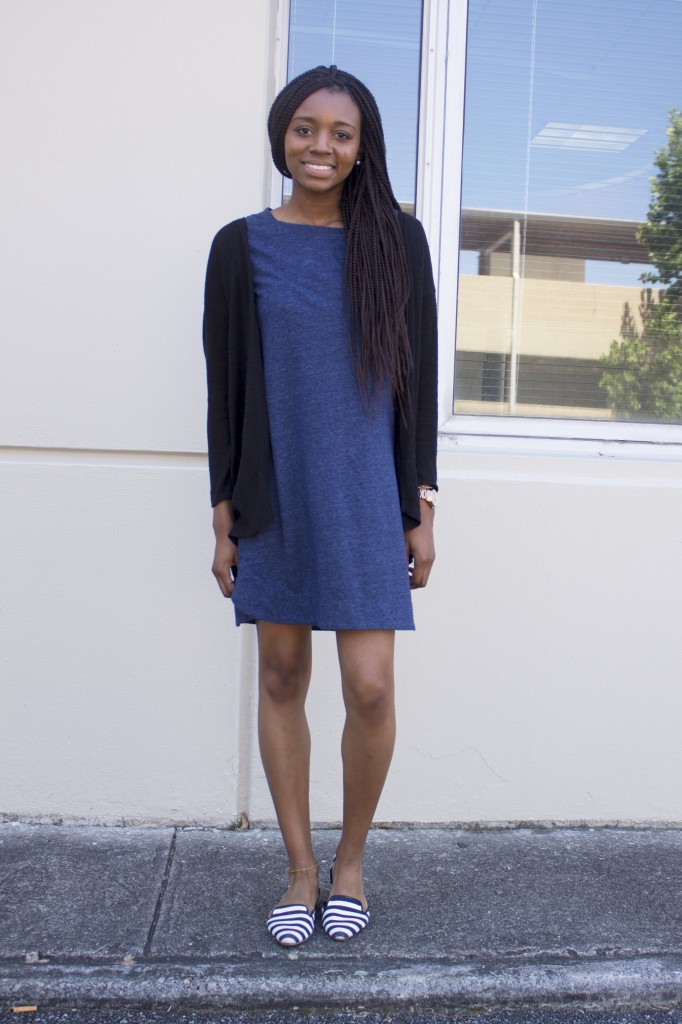 Take this nautical look up a notch by adding this Ralph Lauren blazer. This short-sleeve shirtdress from J.Crew is a nice alternative to the T-shirt dress, whether your going to class or going sailing. The collar and button-down front add a utilitarian edge to an otherwise classic look.
How To: If you love the classic preppy look but can't commit to the head-to-toe "members only" effect, try adding subtle details to your individual style. Neutrals like khaki and navy are imperative for a seafaring Fashionista as well as navy and white stripes. These details can be applied to shoes, dresses, blazers or even bags like this Kenneth Cole Reaction tote.