I cannot believe that I can finally cross Venice, Italy off my bucket list! It is one of the many places that I have dreamt of visiting. I absolutely love the atmosphere in Venice with the beautiful buildings, the delicious handmade food, and the cute shops. I will add that it was very hot and humid in Venice which made having gelato a must. But hey, I am not complaining. Since we were in Venice for only two nights; we attempted a walk through Venice.
We began this day on the beautiful island of Burano which is known for the colorful houses. My favorite memory from Burano was having gelato with the whole family while sitting on a ledge that led you into the water. After exploring Burano, we took a water taxi back to Saint Mark's Square to enjoy some fine homemade pasta. The taste of fresh pasta was unreal; I could eat that for the rest of my life and not complain. Now, we reached my favorite part of the evening: the gondolas. After seeing countless pictures and movies, getting on a gondola was a must. We rode the gondolas at sunset and I believe it is the perfect time because the temperature gets slightly cooler and the views mixed with the sunset are so beautiful.
Because I love Italy, my look for this summer day was inspired by the gondola drivers who wear red and white striped shirts. This striped ruffle sleeve top fit perfectly with my aesthetic and was light and airy for this hot day. I kept it basic with my bottoms and wore a pair of black leggings. I love this minimalistic yet trendy outfit because even though it was humid, the cotton material helped me stay dry without feeling icky.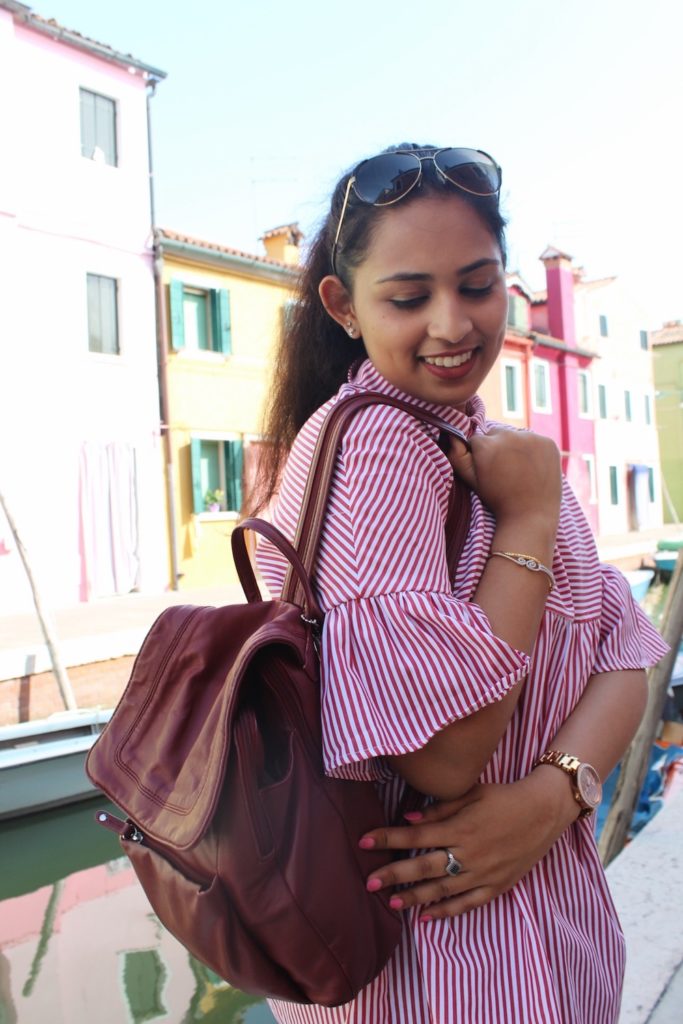 When traveling, I like to focus more on the outfit and keep it simple for shoes. I usually bring a pair of tennis shoes and a pair of sandals as my choice of footwear. Although both options seemed fitting for this look, on this day I decided to wear my Birkenstocks in the Arizona style. And for my favorite part of any outfit: the accessories. I wore a burgundy backpack to complement with my top. This backpack is suitable for traveling because you have the option to wear it as one or two straps. For jewelry, I decided on a gold bracelet, a black studded ring, my favorite rose gold watch, and you cannot forget your trusty sunglasses!
What are your summer outfit inspirations? Comment below and don't forget to tag us on social media @CFashionista!