In the workplace, what you wear says a lot about you. When you're being introduced to managers, CEOs and new clients, you'll want them to get a good first impression. Dressing professional with a hint of your taste will help you express what you're all about. This summer, I interned in New York City, and had to dress for work while keeping my sense of style intact.
There are a lot of directions you can take in deciding what you want to say about yourself in your daily work style. You can dress like a different person each day but still maintain your classic style. Here are a couple of guidelines I use for you to emulate into your business-y wardrobe:
1—I'm always hearing stories about my friends that were told to dress business casual at their new job, so they went out and spent a bunch of money on blazers and heels. Unfortunately, once they got to their workplace, they realized all of the employees only wear jeans and sneakers. Wait a week after working to decide what you're going to buy. After you get a feel for what everyone's wearing, you can decide if you want to dress up or down. You won't have an idea of if people wear jeans or not until your first day. Waiting out to buy clothes will help you feel more confident in your purchases, especially if you know you're going to have to invest in the essentials.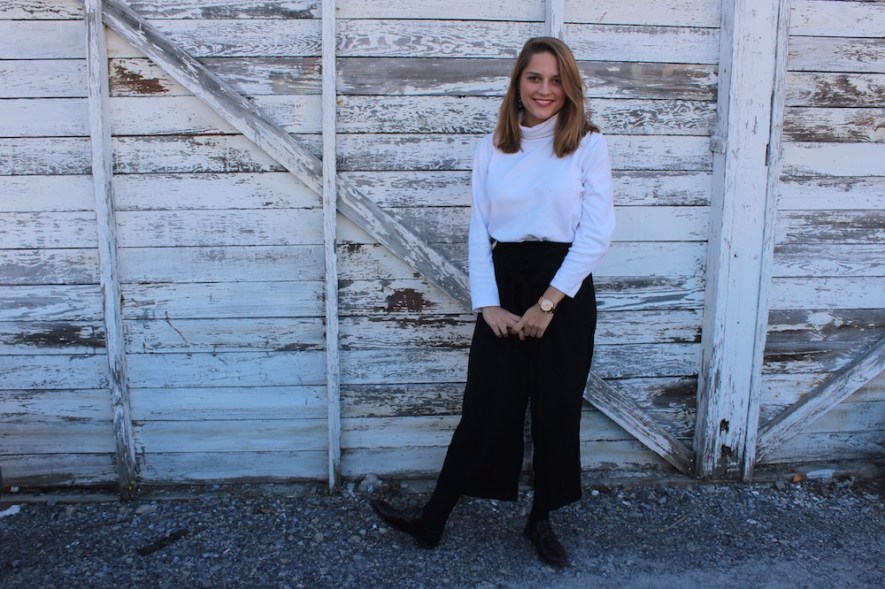 2—Clothes are expensive and to make the most of your money, invest in black and white classics. I'm talking black and white pants, cardigans, blazers, turtlenecks and t-shirts. In this outfit I chose a white turtleneck with some black trousers. I stick with the basics so I have unlimited options to mix and match with what I already own. Black and white will fit in no matter what season it is.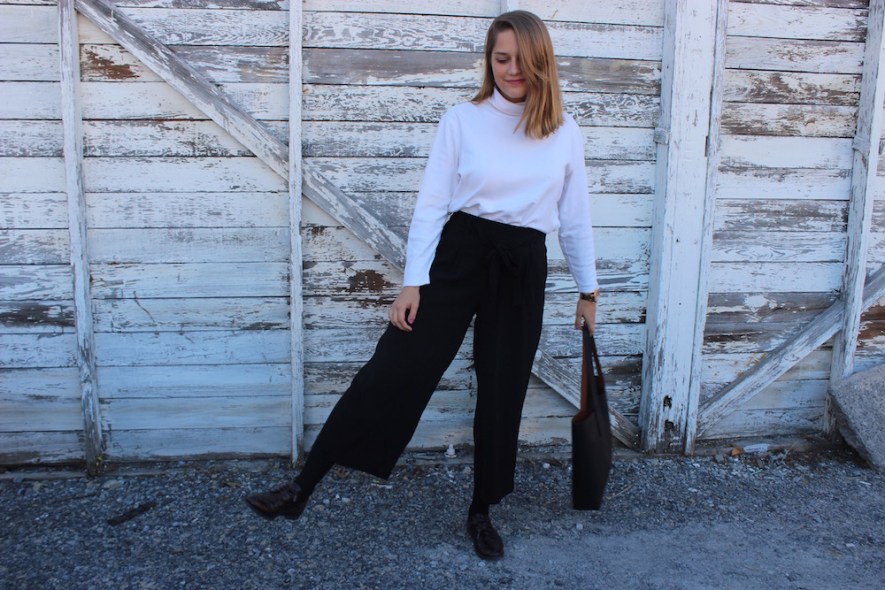 3—Now that you have the clothes, pay attention to important details. The right shoes, bag and accessories will create the scene for the right look. You don't have to blow money fast on a designer purse, but a nice leather purse will make you look more professional. This simple tote bag was super inexpensive, and it fit all of my books and laptop when I had to squeeze tight onto the subway during my commute. It also works for class because it's the right colors year-round. The more versatile the better!
4—Part of looking professional is knowing how to sync with the season. Blacks and whites will build your wardrobe and carry you through the year, but with the right colors and textures, you'll dress and wear the part of a NYC businesswoman on the streets. In my outfit, I added a casual cargo jacket and warm scarf. Be the queen of street style this fall and winter by adding cozy fabrics, wools and corduroys. Compliment your blacks and whites in the cold weather with deep maroon, gold, camel and olive hues.
5—The last tip on a list like this would usually say "be yourself when you dress up". But in the real business casual world, dressing up is a contest… and you have to win. When you're feeling uninspired for new outfits, you should follow Instagram accounts for inspiration. If you were to check my "Screenshots" section in my "Photos" section of my phone, you'd be overwhelmed with the amount of outfits on Instagram that I've screenshotted. I've started following many accounts that post business casual looks and I've created my own Pinterest Board to keep my ideas in one organized place. Keep track of celebrity inspiration like my favorites: Olivia Palermo, Alexa Chung and Leandra Medine.