Mastering more with less is something I discovered as I began transitioning from high school to college. I noticed how my style transformed along with the new obstacles I had to face as the years of college went on. Now, by my junior year, I have completely become in sync with this minimalistic style that has grown on me. A minimalistic Fashionista enjoys using small details as strengths, sporting neutral color palettes, and embracing simple silhouettes, because she knows less can give you more. Check out these easy tips to help you showcase your minimalistic style!
1—Choose simple silhouettes. When choosing silhouettes, it's best to choose a balance between conformity paired with something shapeless. In this look, I paired my lace-up leggings with this shapeless, oversize, high-low blouse. This allows surface details of clothing like ruffles, fringe, or lace-ups to be the focal point of your look.
2—Choose monochromes and shades over saturations. Over the years I began wearing more shades/monochrome colors, more black and white and replacing saturated colors. Shades of color tend to flatter skin tones much better and are super on trend right now (mauve, nude, olive). While shifting your color palette, you'll remain the same creative Fashionista you are, but you'll be using the minimalistic style to leave the same statement.
3—Swap your florals for some minimalistic prints instead. Avoid pairing multiple prints and instead choose one print paired with a solid color from another article of clothing. Florals are beautiful and very hard to give up, but sometimes all you really need is a classic pinstripe. Stripes and gingham provide the simpler alternative. A white T-shirt is instantly elevated with a gingham skirt. This tassel trim pinstripe shirt that I'm wearing here is simple and just as eye-catching as a floral.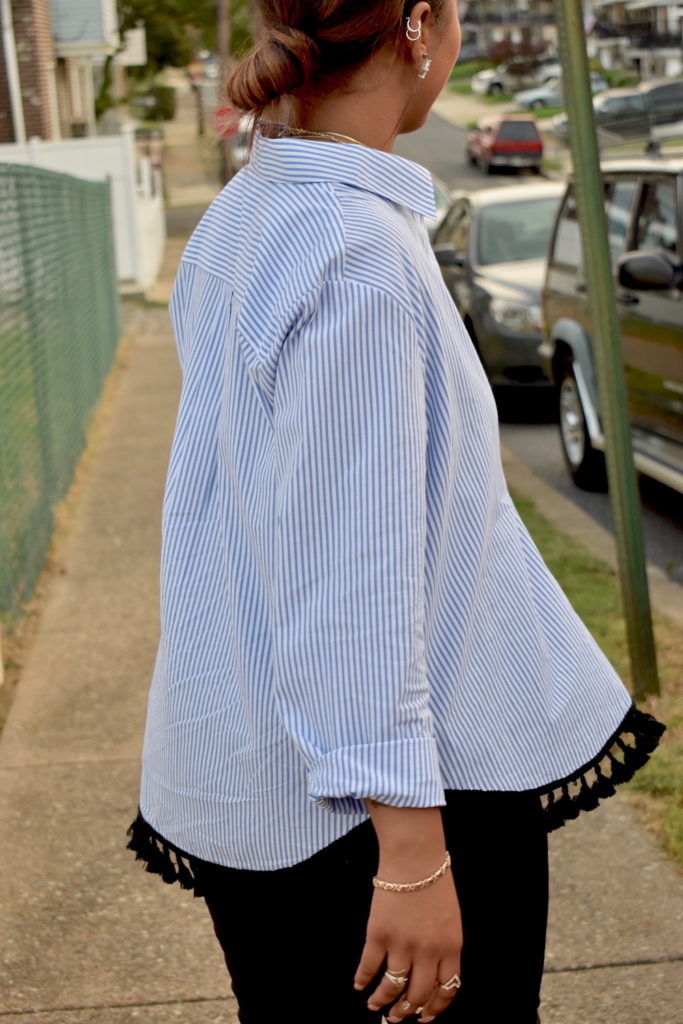 4—Stick to a solid color or textured shoe. Solid colors often enhance outfits perfectly; I promise less can be more! For this look, I wore my Coach slip-on sneakers which are perfect for many outfit creations. When strutting a minimalistic style, a printed shoe is fun, but not always necessary. Texture provides depth without being as vibrant as a printed shoe. Therefore, straps, rhinestones, buckles, clasps, or even a fashion-forward platform is truly all you need.
5—Layer with simple jewelry. Finally, finish off with some jewelry! I love jewelry, especially gold because it enhances my skin tone very well. For this kind of Fashionista, you don't need elaborate statement pieces. Instead, choose effortless jewelry, but several pieces of it. Hence, simple jewelry and lots of it is ideal for a minimalistic Fashionista. Since I layered my necklaces and rings here my look remained simple but fashionable.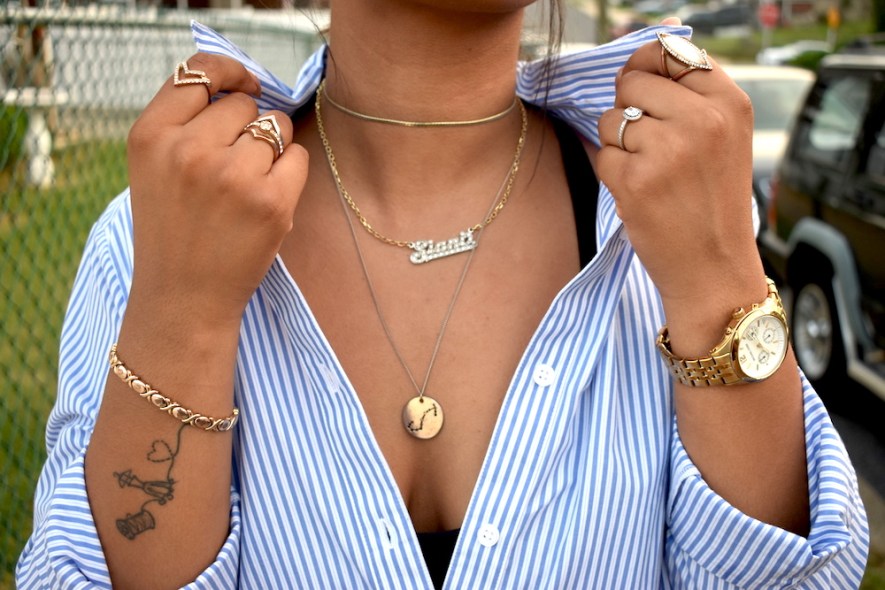 Now, I hope these tips were helpful. Show us how you rock a minimalistic Fashionista outfit on social media! Don't forget to tag @CFashionista.