Ever since middle school, I've loved watching makeup tutorials online and spending hours trying new products in Sephora. With the weather beginning to warm up, I thought I would share one of my favorite eyeshadow looks. Inspired by the sunset, this eyeshadow look is adored by beauty gurus, celebrities, models, and makeup artists. The subtle but gorgeous pink and orange tones make this eyeshadow wearable for every day. Here are the steps I took to achieve this look!
1—Prep and prime your skin. This is such an important step in any makeup look. I started off by thoroughly washing my face with the Aveeno Clear Complexion foaming cleanser, which is a fantastic product for sensitive and acne-prone skin. Following up with moisturizer and serum, I used the Dermologica Clear Start Matte Moisturizer and the Glossier Super Pure Serum.
2—Use orange, burgundy, and gold eyeshadows. Prep your eyeshadow by using the Urban Decay Primer Potion. Next, use any orange, burgundy and gold shadows you own to create the sunset eyeshadow. My favorite palette for this look is the Kylie Cosmetics Burgundy palette. Using this palette, I mixed the shades Beach and Penny and blended them into the crease of my eye. I then used Brick and Burgundy in the outer corner of my eye. Last but not least, I layered a creamy metallic shadow named Naked all over my lid.
3—Lashes, Lashes, Lashes. Next, curl your lashes and put a set of falsies on. Make sure to curl your real and false lashes together for a more natural look. I like to apply a thin line of eyeliner to hide the band of the lashes.
4—Time for Foundation, Bronzer, and Blush. Apply your foundation. For this look, I applied the Clinique Beyond Perfecting Foundation and concealer. Then, I warmed up my skin using the Too Faced Chocolate Solei Bronzer in the shade medium deep. Too Faced also makes the most beautiful blushes. I used the shade, Sparkling Bellini. It's a gorgeous mix of coral and pink, and I think it complements the eyes perfectly.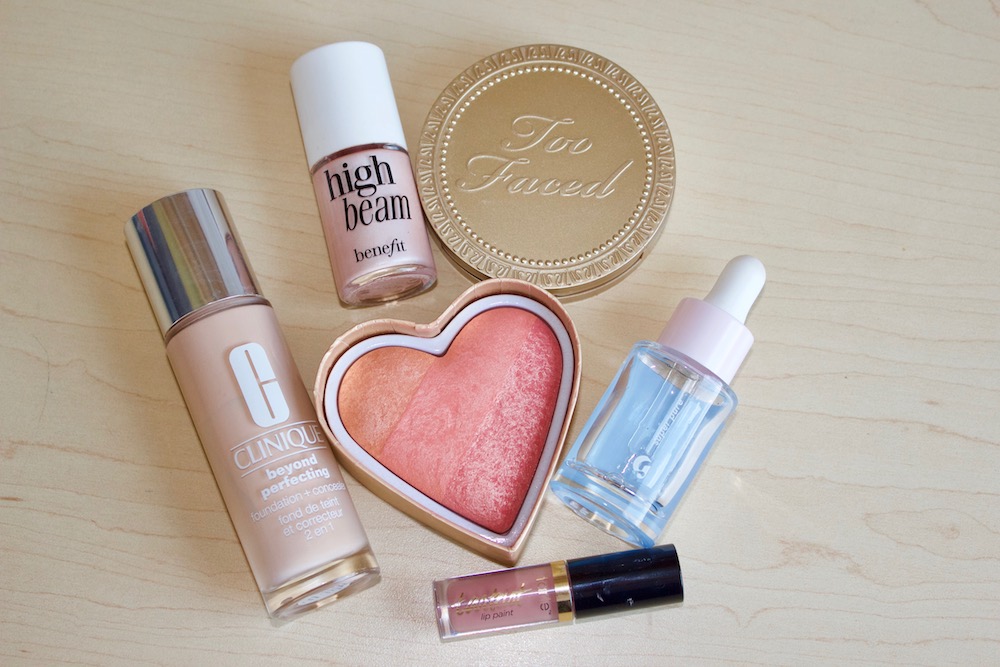 5—Lastly, Lipstick. Apply a simple nude lipstick to keep the focus on the eyes. The Tarteist liquid lipstick in the shade Birthday Suit is the perfect nude that I think looks great on any skin tone.
I paired this look with a simple blush dress and nude heels, which is perfect for a night out or date night. The very delicate and subtle dress keeps the attention on the makeup look.
I'd love to see any makeup looks you create this summer, so be sure to upload your favorite looks to Instagram and tag @CFashionista.