With Halloween just around the corner, I hear an excuse to play around with creative makeup looks and dress up. Here at College Fashionista, I think it's safe to say we can all get behind costume season. And, what completes any fit or costume more than the makeup? CF has detailed five makeup looks for this spooky season that are your guide to a groundbreaking costume. Now throw on that makeup headband (or bunny ears, halo, space buns…), and let's get started with the looks!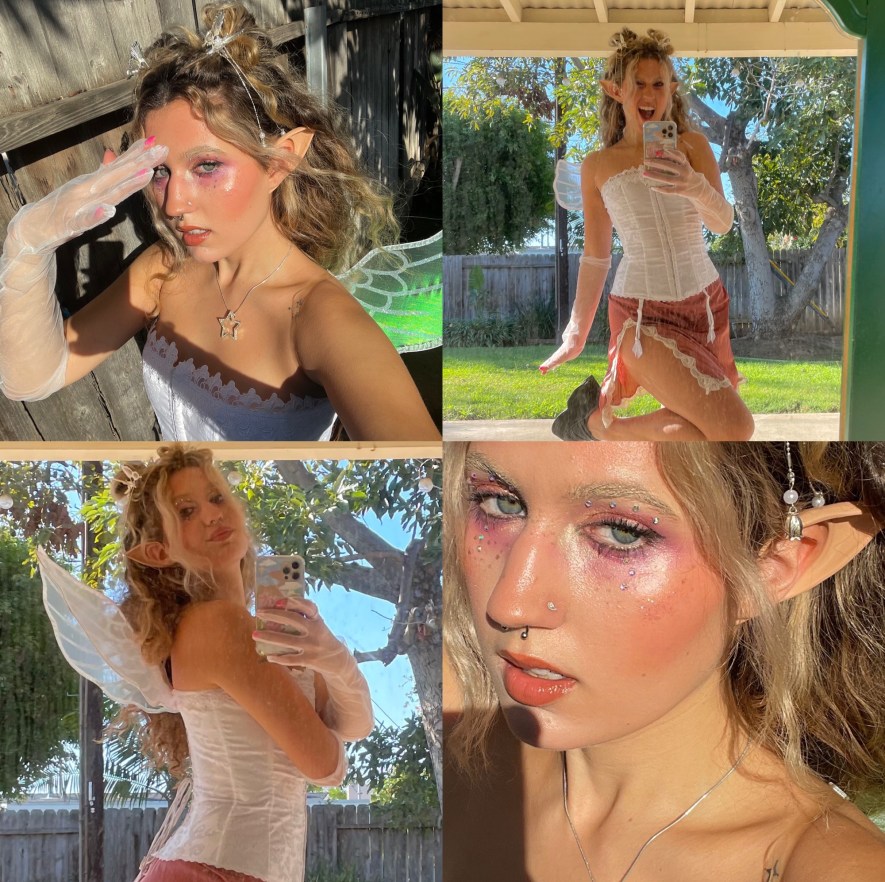 01. Garden Fairy
Introducing: this darling garden fairy! Makeup essentials for this look include glitter and a freckle pen. Two freckle pens that work beautifully are the Freck pen by Freck Beauty which is perfect for natural-looking freckles, as well as the Colourpop eyebrow feather pen. Big doe eyes and pops of color will make for a dreamy fairy. So, let's transform!
After prepping your skin, begin with your go-to base glam. Foundation, concealer, powder, then bronzer and blush; feel free to go extreme with these two steps as we want the skin to be as colorful as possible. Add as many faux freckles as your fairy heart desires and blend them out with your finger. When it comes to eye makeup, utilizing pinks, oranges, and glitters will create an eye-catching fairy look. You can amp it up by adding purpley pink eyeshadow under the eyes for an accentuated eye bag illusion. Euphoric rhinestones are perfect for this look as you can add them to the eyes, around the freckles, or all over!
All you need for this costume are a pair of wings and pointy ears while the rest of the outfit is something you can DIY with your closet. Silk dresses, lace, flowy skirts, and patterned tights are perfect for this look. Accessorize with glitter, glitter, and oh yeah… more glitter. Now spread your wings and fly!
02. Twiggy
60's cultural icon and model, Twiggy can be recognized for her iconic baby blue eyeshadow and big-eyed eccentric beauty look. For face makeup, your everyday tinted moisturizer, concealer, and blush will do the trick. To achieve the blue eyelids, use a blue cream eyeshadow or eyeliner stick for your base. Pro tip: use a baby blue powder eyeshadow on top of the creme for longer-lasting pigmentation!
With a black eyeshadow and a thin eyeshadow brush, follow the curve of your eyelid to create that half-circle look. Next, using a precise black eyeliner such as this Essence liner for the extension of the bottom lashes, draw a bunch of little lines that extend from your bottom lash line to imitate accentuated lower lashes. A small angled brush with concealer will be your best friend in creating this look if shaky hands decide to make an appearance.
Lastly, pop on some baby pink lips, slick back your hair, and throw on anything fun colored that gives '60s. In the words of Twiggy herself, "Fashion should be stylish and fun". She gets it.
03. Ragdoll makeup
Essentials for this makeup look include both white and black cream foundation base like the ones in this two-pack. First, apply the white cream base all over your face and make sure to set it with a translucent powder. Setting cream products is so important in ensuring the cream product stays in place from day to night. Trick or treat!
Add some stitching detailing around the mouth and wherever else you choose with the black cream makeup using a thin angled brush and set again with powder. Now you're ready to fill in the eyes with the color of your choice! You can use another colored cream makeup for this step, or blend your favorite eyeshadow on top of the white cream base to fill in the eyes. A colorful palette, such as Colourpop's "Fade Into Hue", has a variety of pigmented colors with easy blend-ability, perfect for this look and a bunch of others.
Before blending color around the eyes, use white eyeliner to line your waterline for some contrast. Next, start with a circle outline of color around the eye sockets and blend the color all over and in that circle. To bring together this dramatized ragdoll makeup, draw on some extended bottom lashes with a thin black eyeliner and utilize mascara OR pop some false lashes on both your top and bottom lash lines! Adding these false lashes to your bottom lash line will really open up your eyes, resulting in that spooky doll effect. Pop some blush onto the cheeks, the nose, and add a lip color of your choice; when in doubt, red lips it out.
This makeup look is perfect for the Halloween season because it's character based and easy to get creative with! Some costume options include patchwork tops or dresses, white, black, or gray tights, legwarmers, and heeled boots. Let's see how you ragdoll!
04. Violet Beauregarde (Willy Wonka & the Chocolate Factory)
To execute Violet from Willy Wonka, you'll need some purple/blue eyeshadow and a whole lot of chewing gum!
For this look, think full-face glam! Pretty pink eyeshadow on the eyelids paired with pink blush will create the perfect Violet-esque look– add some black mascara or false lashes to achieve that drama, and let's get to the fun part!
For the purple and blue nose, Beauty Bay's "Midnight 9" palette is perfect. Apply a combination of blues and purple hues to the nose using a blush brush and blend outward. Add your favorite lippie and pop in some chewing gum while you apply your bleach-blonde wig. Dress up in your favorite blue or purple dress or top, pair with some loafers or Mary Janes, and what's that? "Violet, you're turning… violet!" Serve.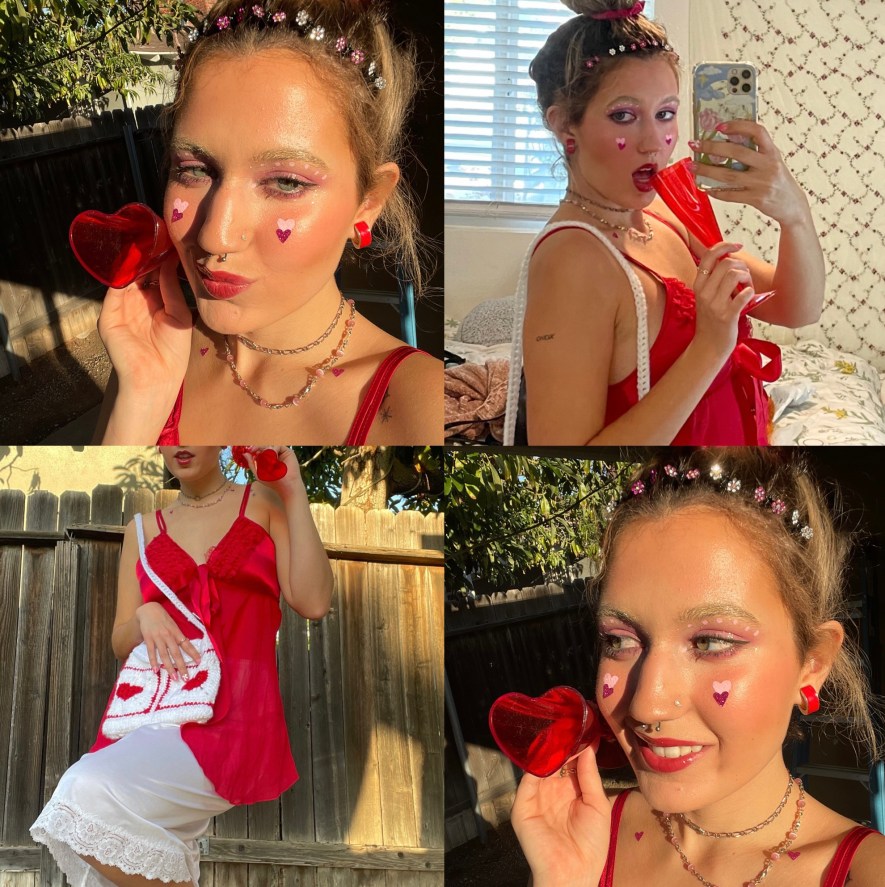 05. Cupid
How cute is Cupid? Sending hearts all over the sky and stuff. I must have been struck because I'm all over this look for this Halloween season.
What you'll need: any pink, red, and white eyeshadows, eyeliners, and lipsticks as well as your creative instincts. Start with a full glam base: foundation, concealer, blush and highlighter for days. What next? Go absolutely crazy with those pink, red, and white products, and layer up your costume in those same Valentine's day shades. Glitter gloves, angel wings, or a bow and arrow to accessorize, and voila! Let's fall in love!
Brb, time to do my makeup.
Featured Image via @katiiekleiin. Design by Her Campus Media.