We all have that one friend that reminds us never to wear white after Labor Day. Luckily, white jean season is among us! Every summer I invest in about two to three pairs of white jeans. A great pair of white jeans is essential to my wardrobe because year after year, the trend never seems to go out of style. White jeans can be dressed up for a Sunday brunch or dressed down for a day at the ballpark. However, I have figured out how every Fashionista can stand out in a pair of white jeans from her closet.
1—Denim top. Denim tops are most certainly in style this year and are especially popular for summer holiday parties. They can also be worn to a casual event with leggings or dressed up for a fancy night out on the town. Denim tops come in all different styles and look amazing on every body shape! A denim button-down pairs great with white jeans. Any shade of denim will complement white jeans perfectly.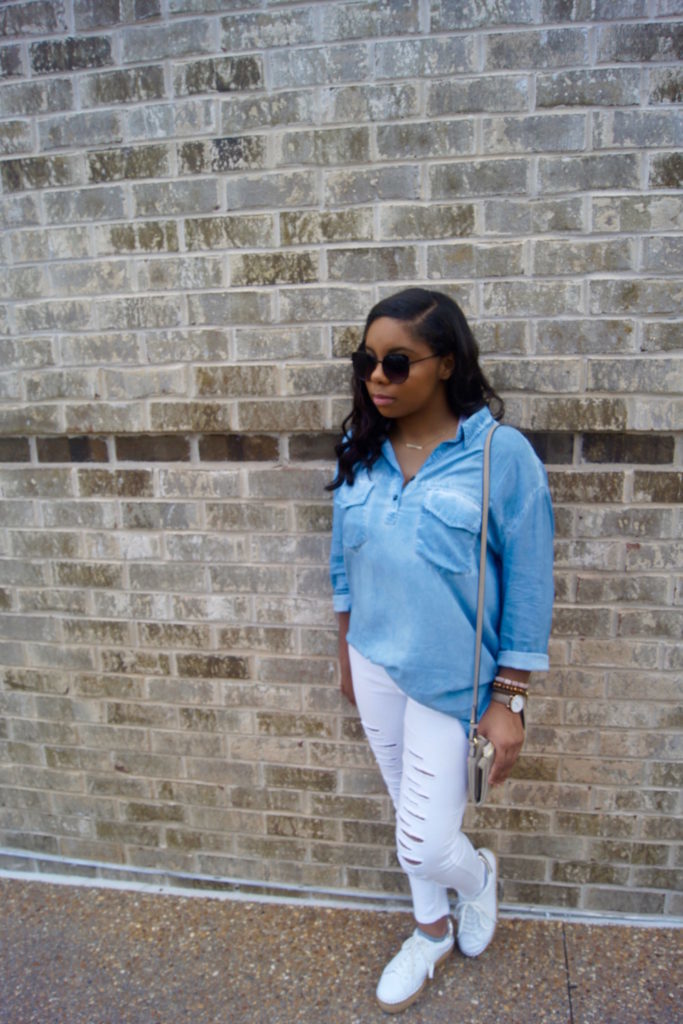 2—Glam shoes. This summer I ditched all of my basic tan sandals and decided to try something new. When I first laid eyes on this pair of white espadrilles it was most definitely love at first sight. I love how simple they are, yet the gold heel and fiber sole give me the chance to stand out. Espadrilles have become my go-to shoes this summer because they are stylish and comfortable. Any pair of shoes with gold embellishments or a unique sole will give you a great look with your white jeans!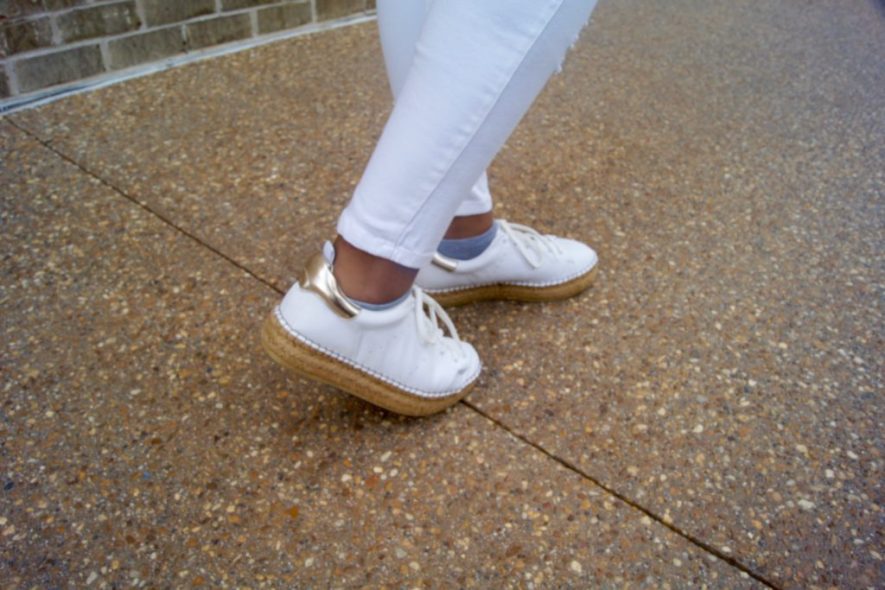 3—Jewelry. My love for bracelet stacks has grown tremendously when I realized how much they can transform an outfit. Beaded bracelet stacks are versatile because you can throw them on with your swimsuit at the beach or pair them with your favorite watch. My second favorite jewelry trend this summer is bar necklaces. Bar necklaces are perfect for Fashionistas like me who enjoy simple jewelry but also want to make a statement. My gold bar necklace is embroidered with my Greek letters and has become my go-to necklace this summer. The jewelry I styled with this look is simple yet gives more life to my favorite pair of white jeans.
How do you stand out in your favorite pair of white jeans? Show us on social media! Don't forget to tag @Cfashionista.