Every year there is always buzz, build-up and speculation over one of the hottest contested titles—song of the summer. You know that jam that comes on and just encapsulates all the sunshine, late nights and warm weather shenanigans in three-four minutes of catchy lyrics?
Much like fashion trends and who is hotter—Ryan Reynolds or Ryan Gosling—the song of the summer always brings about much debate. But the best thing about all three of these questions is that there is no right answer! Everyone's a winner!
So, we asked our Style Gurus—"What is your song of the summer?"
While we have highlighted some of their picks below, you can get your hands on all their selections in the official "CollegeFashionista's Songs of Summer" playlist. Be sure to follow the #RAD playlist for hours of summer fun music curated by some of CollegeFashionista's Style Gurus!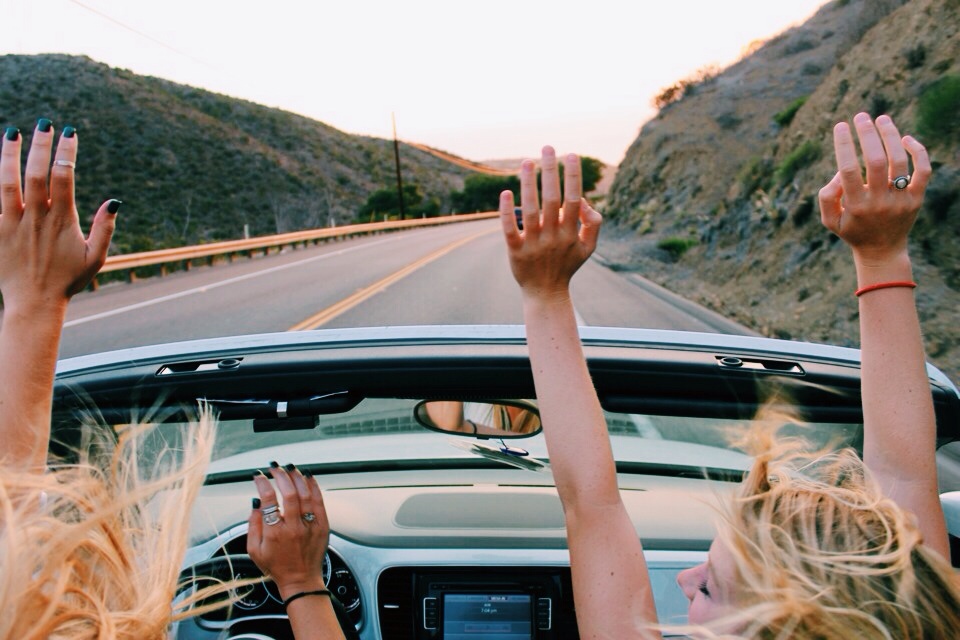 "'Can't Feel My Face' by The Weeknd. The beat and lyrics is perfect to blast in the car, at home or through your earphones during anytime of the day."—Danielle Thomas, Harold Washington College
"'Coffee by Sylvan Esso'… such a jam!"—Meagan Sapashe, University of South Florida
"'Yoga' by Janelle Monae. I am in love with this song, I feel it makes you feel free spirited. With this song I feel like I am so prepared for summer with its upbeat tune. The careless lyrics that truthfully can seem to be empowering for women that at the end of the day you just have to dance to. Breathtaking."—Brittney Melton, East Carolina University
"'Lean On' by Major Lazor & DJ Snake. Summer is all about hanging with friends and family, having those people to lean on when the school year starts again. There is always a point in the school year when I reach my breaking point and it feels great to have someone to lean on. I think it is a great new version to the old goodie, 'Lean On Me' by Bill Withers."—Megan Brueske, University of Minnesota
"'Roses' by The Chainsmokers featuring Rozes. The song has a super chill beat but still gives off that happy good times vibe. Its the perfect song whether you are out on a run, taking a summer road trip, getting hyped to go out or even daytime BBQ or beach day. Also, whenever the beat drops in this song I can't help but find myself smiling."—Kelly Henderson, The Catholic University of America
"'Want To Want Me' by Jason Derulo. For some reason this song puts me in the most lighthearted and happy mood every time I listen to it. It's super fun and pop-y and makes you want to sing out loud and dance like an idiot."—Anna LaPlaca, UCLA
"'Honey, I'm Good' by Andy Grammar. This song is just so much fun and instantly puts me in a great mood. Not to mention the music video is super cute with a bunch of couples at different stages in their relationships. A song that is positive always wins for me."—Gabby Piloto, University of Florida
"'Black Magic' by Little Mix. It has a great beat for dancing or just chilling out with friends. I think that it's also a great anthem for girls during the summer to just let go and have fun with love and life."—Julie Bastulli, The Ohio State University

"'Where Are U Now?' by Skrillex, Diplo and Justin Bieber. It's so full of energy and gets me ready for every day in the summer."—Shelby Stivale, Indiana University
"'Wild Child' by Kenny Chesney. I feel like this song is an accurate description of me. It's not your typical country song about girls in bikinis. Kenny talks about real women being their true self, which makes this a great song to blast in the car going down a highway with wind in your hair."—Alexandra Barone, Kent State University
"'We Are The Kids' by Walk The Moon. This song embodies the feeling of invincibility that summer often instills in people. When the weather is warm and skies are blue, you feel you can do anything and this song perfectly describes that feeling."—Ally Zacek, DePaul University
"'Single for the Summer' by Sam Hunt. First off, he's gorgeous. Second, this song reminds us to live up the three short months we have without being tied down to anything. Have fun, let loose and make some serious summer memories!"—Blaine Hostetler, The University of Akron
"'Cheerleader' by OMI. This song oozes summer; it's island vibes gives off a cool summer feel. It reminds me of beach days and fruity drinks. Whenever this song comes on the radio I am sure to turn it up and open the sunroof, that way I can sing my heart out!"—Tori Carr, Kean University

"'I'm Good' by The Mowgli's. The Mowgli's make bright indie pop music that always makes me think of summer. This song is all about being content with how your life is, and I think that kind of relaxed positivity is what summer is all about. It's such a mood-lifting song that when I listen to it, I can practically feel the sun warming my face."—Kristina Dehlin, Illinois Wesleyan University
"'Young Blood' by Bea Miller. It just makes me want to go out and check everything off my bucket list! It makes me think of my life as a movie montage."—Alanna Kouri, Florida State University
"'Young & Crazy' by Frankie Ballard. When summer rolls around and the temperature goes up I always turn to country. I love this song because it reminds me to live in the moment and appreciate this time in my life during which I can take chances and have fun!"—Victoria Chardiet, Pratt Institute 
"'Stare Into the Sun' by Graffiti6. This song is an oldie but a goodie. It has the perfect upbeat summer rhythm and it can be the perfect bike ride, summer walk or drive song. Plus, how could a song that mentions the sun so often NOT be perfect for the summer?"—Veronica Garcia, James Madison University
"'Good For You' by Selena Gomez. It just gets me pumped for the day. I blast it and sing to myself in the mirror as I'm getting ready in the morning!"—Chastity Orellana, West Virginia University
"'Fight Song' by Rachel Platten. I added this song to my gym playlist a week ago and it has quickly rose as my most played song. The beat and words are extremely uplifting. My mood instantly improves when I listen to it and helps me get through tough long distance running workouts."—Audie Lauf, Illinois State University

"'Talking Body' by Tove Lo. Each note sends happiness throughout your mind and makes you just want to sing it over and over…which I do!"—Ashley Williams, Ball State University