This just in: there's a new 'It Crowd' on the Upper East Side and their outfits will make you want to eat your heart out. The highly anticipated Gossip Girl reboot is finally here, complete with the original costume designer to leave us in awe of everyone's looks once again! Eric Daman designed over 200 costumes for the show, reflecting each new character's personality and current trends.
Personally, I think the reboot's fashion choices are spot on for TV's next generation of Manhattan teen elites. But CF community members and OG Gossip Girl fans all had differing opinions of the show's fashion evolution. Read on to see what their favorite looks have been, how the new series compares to the original, and to decide for yourself whether or not you're inspired to dress like the new characters.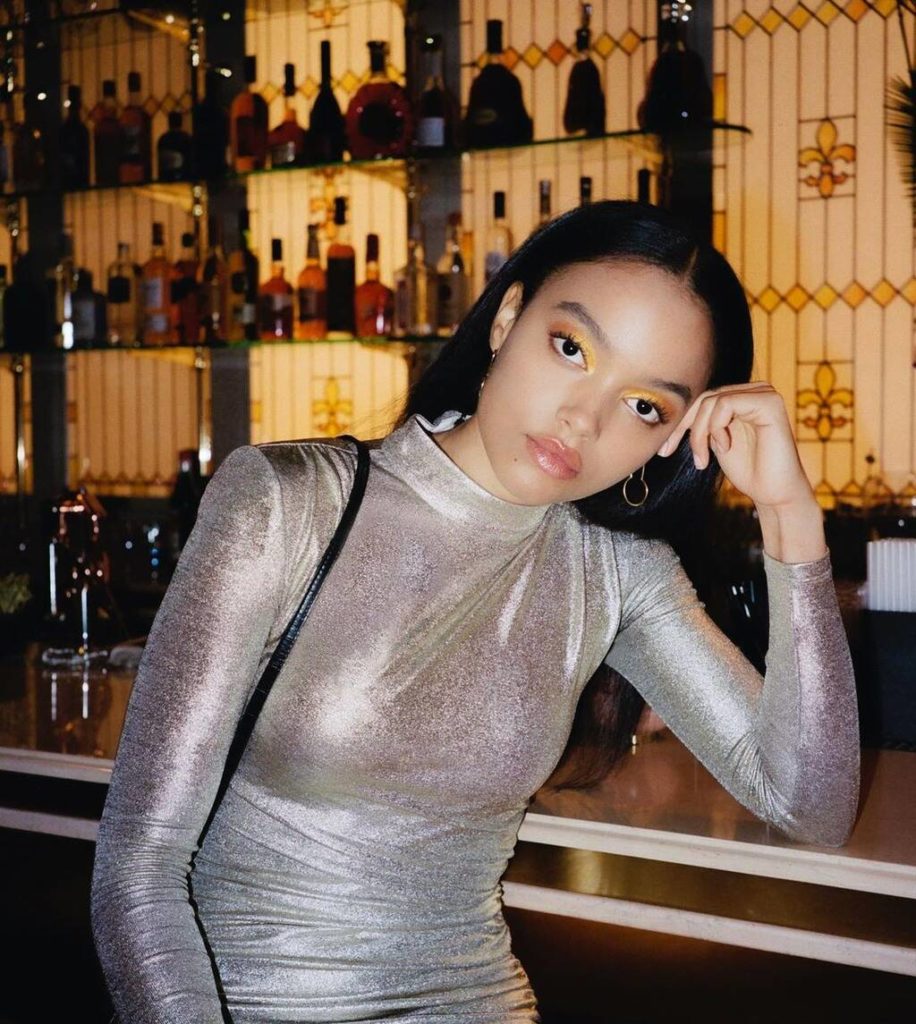 "My favorite look has been Zoya's (Whitney Peak) metallic mock neck mini dress from episode one," said CF community member Emma Atchison. "I definitely think that Gossip Girl, in its time, has always had an undeniable social influence on fashion and style."
Zoya Lott (or who Gossip Girl likes to call Little Z) has a young, effortless, and oftentimes casual personal style. But we do see her dressed up in a couple of scenes while trying to fit in with her fashionista classmates. Her dress from the lounge/bar scene in episode one is a pale gold Alice + Olivia gem, both show-stopping and very current.
"As iconic as some of the looks were on the original Gossip Girl, a lot of those trends have been worn out or are now looked at as dated," Emma continued. "I think the clothing choices of the reboot definitely reflect current trends, with oversized sweatshirts worn by Zoya Lott and biker shorts worn by Julien Calloway (Jordan Alexander) being two of the countless examples of a shift from the familiar preppy, traditional outfits worn in the original version. I think both shows have a lot to offer in terms of fashion but are vastly different, because let's be honest, Blair Waldorf would never have been caught dead in a pair of sneakers (an item that has become prominent in the reboot)."
"Anything Audrey (Emily Alyn Lind) wears is my favorite! She is a style icon," said CF community member Angela Amarilla.
Audrey Hope, heir to a fashion empire and Constance Billard resident mean girl, has a classic and preppy style persona, reminiscent of Blair Waldorf from the original series. Audrey personalizes her school uniforms to perfection, with designer clothing items and accessories. Her oversized sweater vest from episode three is Balmain Spring 2021 Ready-to-Wear.
"The OG Gossip Girl had less of an impact on my style and more of an impact on my personality and attitude – which I can accredit to Blair, who will always be my favorite Gossip Girl character," Angela said. "The reboot, on the other hand, has actually influenced my style for back to school. I really want to integrate some of the more preppy yet still cool pieces into my wardrobe this fall. For example, I thought argyle sweaters we're actually horrendous until I saw Audrey using them to layer and wear oversized."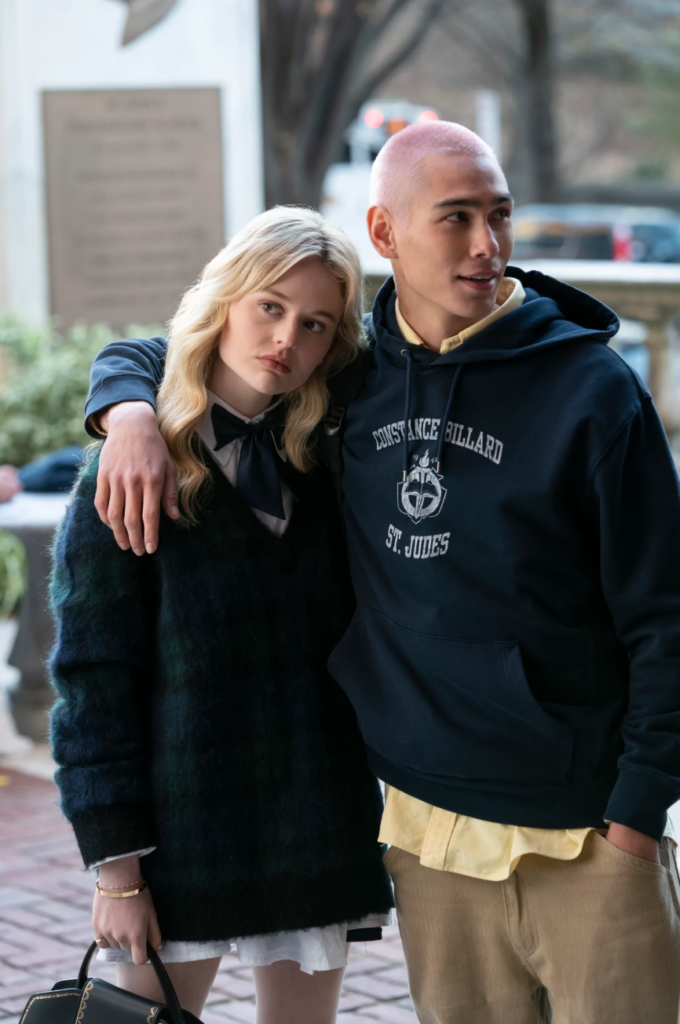 "I think my favorite looks of the reboot so far have been the school uniform looks," said CF community member EnJanae' Taylor. "Audrey's oversized sweater look in particular was one I loved."
One of my favorite looks as well, Audrey's oversized plaid sweater from episode one is Michael Kors Collection.
"I love a good posh school girl look and they all have been serving," EnJanae' continued. "Growing up watching the show, I would always get inspiration from Blair to add a headband and a bow to outfits, and Serena to top off my outfit in the winter with a nice coat. Looking at the reboot, I get major fashion inspiration from every episode! I actually went shopping after watching and picked up some pieces inspired by the looks on the show. I'm obsessed!"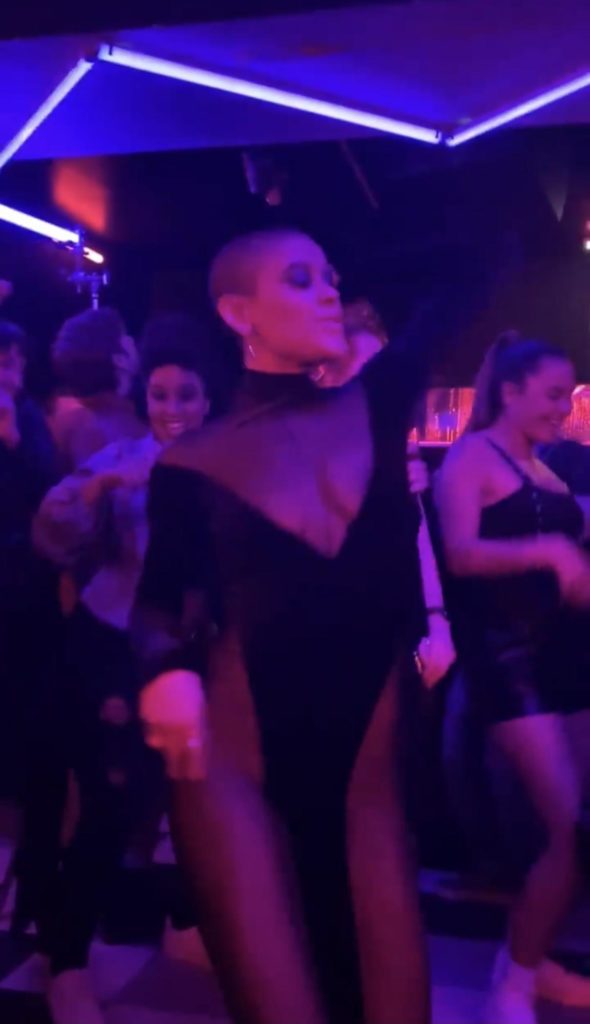 "My favorite look so far was the velvet and mesh bodysuit Julien wore in the club," said CF alum Sakira Jones.
Julien Calloway, or the reboot's proclaimed queen of the Upper East Side, has perhaps the most daring and fashion-forward sense of style in the series. Her sexy and sleek black catsuit from episode three is by LaQuan Smith.
"Personally, I like the fashion of the old Gossip Girl better because they fit more of the rich aesthetic, while the new fashions are daring but more casual. My style is very different from the OG Gossip Girl's wardrobe, but I have incorporated some items, such as pops of color, lots of accessories, and matching sets. Recently, the reboot has inspired my style a lot because I love street style and the clothing is centered around that. The new Gossip Girl is way more trendy," Sakira said.
So, what do you think? Will you continue drawing classic style inspo from Blair and Serena, or give the new girls in town a chance? Let us know down below. Until then, xoxo.
Featured image by HBO Max